Dil Dhadakne Do joins the debate over the role of women in India, says Mohammad Asim Siddiqui.
There is an abundance -- and redundancy -- of speech, characters and theories in Dil Dhadakne Do.
The poetic sensibility of Zoya Akhtar's earlier film Zindagi Na Milegi Dobara has been replaced by prosaic chatter in her latest one.
The verbal element, or should we call it verbosity, overburdens the film. This is because the Akhtars do not want their contemporary feminist message to be missed by the audience. The eagerness to 'explain,' whether through a running narrative voice or the strategic placement of a character like Sunny (Farhan Akhtar) is all too evident.
The film belongs to that category of artistic productions -- many postmodern novels exemplify this better -- which demonstrates an awareness of the current discourses on gender, power and ethics. The intelligent wit in the film, a hallmark of the Akhtars, and the noble intent that informs the film throughout make Dil Dhadakne Do eminently watchable.
Dil Dhadakne Do self-consciously joins the debate over the role of women in an India which is confident of its place in the world and can give China a run for its money.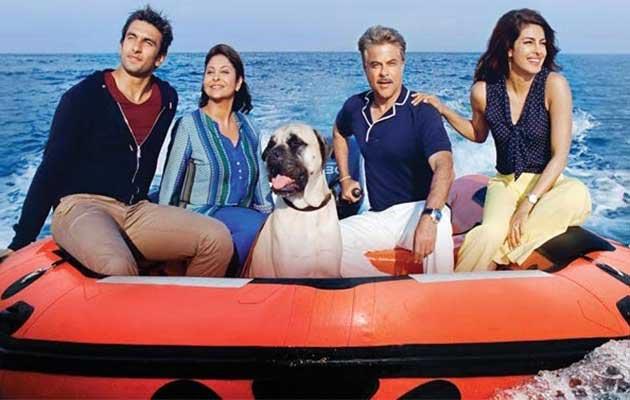 Image: Ranveer Singh, Shefali Shah, Anil Kapoor and Priyanka Chopra in Dil Dhadakne Do.
In a significant scene where Manav's (Rahul Bose) and Aisha's (Priyanka Chopra) families sit together to find a solution to their marital problems, the easiest solution that is offered is motherhood.
Once a child is born to a woman, so goes the argument, she would be busy with its upbringing and the marital issues, thus displaced, will appear 'solved'. It is the immanent female self that is emphasised in this solution.
Historically, the force of this argument has been so powerful that it has turned women into the second sex. French thinker Simone De Beauvoir (author of The Second Sex) was one of the early feminist thinkers who attacked the notion that the happiness and fulfillment of a woman comes from her marriage, especially if she is properly provided for. De Beauvoir asked women to transcend their reproductive cycle.
But the easy manner in which the issue of divorce is taken up in the film raises more questions.
True, that a good percentage of families are living undivorced and the Mehra family is a typical undivorced family. But as Neelam Mehra (Shefali Shah) says, 'Which family is without problems?' and 'Husband and wife are not brother and sister.'
True, also, that in most such cases, women are the main sufferers though many men, especially in an urban set-up, would disagree.
The film almost announces marriage as an obsolete institution because, in most cases, compatibility will remain a distant dream.
Though in the endless gossip sessions in the film, worried mamas and nosey aunts seem to enact Jane Austen's husband-hunting world ('It is a fact universally acknowledged that a single man in possession of a good fortune must be in want of a wife'); but the intelligent and enlightened lot in the film turn Austen's logic on its head.
Shoojit Sircar's recently released Piku also toyed with the idea of the irrelevance of marriage or at least suggested that it is not the be-all and end-all in the life of a modern, financially-independent woman.
What Dil Dhadakne Do categorically suggests is the importance of agency for a woman. The choice is of utmost importance both for a man and a woman, whether it be to fly an aeroplane and not run the family business or to start a new business and not become a rich and indulgent housewife.
For a woman, it is even more important as she has to fight the historical baggage of a narrowly-defined role in a patriarchal set-up. The film unambiguously makes the statement that it is her transcendent self, the self which refuses to be trapped in marriage and motherhood, which should be the ultimate goal. If, in the process divorce is used as an easy option, so be it.
Aisha takes pills to avoid pregnancy even though her husband and his family are keen that she delivers a baby (the contraceptive pill has played a very important role in women's emancipation, giving them greater control of their bodies). Aisha pursues her passion to become a successful businesswoman instead.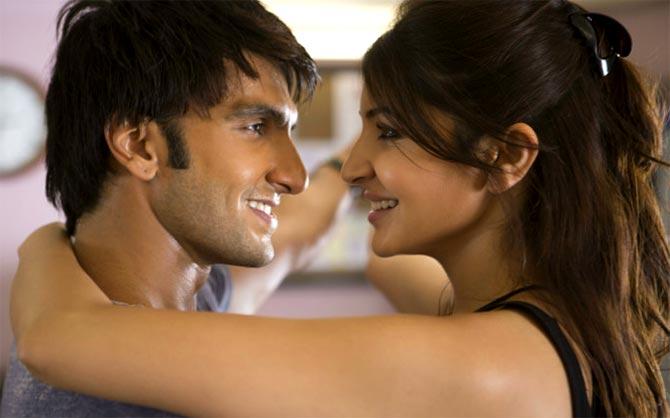 Image: Anushka Sharma and Ranveer Singh in Dil Dhadakne Do.
Agency and choice are particularly important in the case of Farah, the Muslim woman played by Anushka Sharma.
Perhaps sick of the stereotypical Muslim characters of Hindi cinema, of late a whole new crop of directors has given us some 'normal Muslim men and women'.
We can quickly recall Farhan Qureshi of 3 Idiots (played by R Madhavan), Sarfaraz of PK (played by Sushant Singh Rajput) and Syed Afroz of Piku (played by Jishu Sengupta).
The Muslim woman dancer in Dil Dhadakne Do is different from the frequently-encountered Muslim courtesans and prostitutes of Hindi cinema in an important sense: She exercises agency and choice.
Her Muslim identity -- of which she carries no marker -- is used simply to shock not only the Mehras, including their 'enlightened and emancipated' daughter Aisha, but also the audience that has been lulled into recognising a particular kind of Muslim woman character on the screen.
The signature of the Akhtar family is everywhere in the film. The ethos of an India on the move, represented so well in many of Farhan Akhtar's films, is faithfully present in Dil Dhadakne Do.
When they wrote for Yash Chopra, Salim-Javed's lead characters would invariably be rooted in their Punjabi ethos. The Mehras of Dil Dhadakne Do succeed the successful Punjabi businessmen of the 1970s in a globalised India.
Yash Chopra's formula of 'follow your heart' -- repeated by Salim-Javed in a number of films -- also gets repeated, again in a new form.
A note of caution is, however, sounded by Farah. Follow your heart you must, but there is no getting away from 'some hard work' whether you dance in a bar for a career or turn your hobby of flying an aeroplane into a career.
Mohammad Asim Siddiqui teaches English at the Aligarh Muslim University.