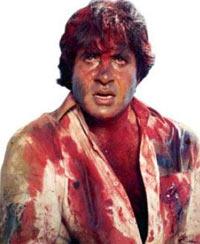 Suparn Verma, director of films like Ek Khiladi Ek Hasina and Acid Factory, recounts the course Mukul Anand's award-winning film Agneepath took upon its release and how the remake might fare on Thursday, when it opens in theatres.
It was the first year of my professional life in 1996 when I met director Mukul Anand, I was a fan of
Insaaf
and his craft and had an opinion about his scripts.
He met me with an open mind and large heart, answered all my questions with complete magnanimity and won me over. He was my first fanboy experience and one of the few who didn't disappoint.
In 1990, Mukul had been termed a whizkid. In 1990, he released the first of his four films with Amitabh Bachchan,
Agneepath
, till the superstar went on a hiatus.
Agneepath
had the legendary actor experimenting with his signature voice. It had notes inspired by
Scarface
and some elements of underworld kingpin Manya Surve. It was a good film, but a box office flop.
The makers redubbed the film with Bachchan's original voice, but nothing changed.
Lots of reasons were thrown in the post mortem, but honestly I find it reasonable to say it was a film ahead of its times just in terms of sensibility.
It remains one of my favourite Bachchan films with him as Vijay Dinanath Chavan (though with the exception of half-a-dozen films I love him in everything he has done) and the blood-soaked poster. Mithun Chakraborty won the Filmfare award with his superlative Krishnan Iyer, M A, Naariyalpaaniwala and the other legend I have had the fortune of working with, Danny Denzongpa as Kancha Cheena.
While interacting with Denzongpa when I made my film
Acid Factory
we would discuss
Agneepath
and his other Mukul Anand film
Hum
, the most and he would have the most vivid recollections and act out details from scenes, some of which were left on the editing table.
I still can't forget the scene when Vijay runs into the
chawl
and castrates the rapist played by Deepak Shirke. The low angle shots, the use of steady cam, the burnt out sky, the lighting, I have seen that scene so many times in my life just to learn from it.
The other scene is when Vijay drops from the helicopter, swims the simmering blue Mauritian water and meets the man in white, Kancha
Cheena, a scene so well done I am sure Brian De Palma would have approved.
I was in Mauritius during the shoot for my film
Yeh Kya Ho Raha Hai
and the first thing I noticed was the colour of the water. Those were the days when there was no digital intermediate, Anand and his amazing director of photography Pravin Bhatt got the colour of the water to the perfect azure blue.
My only problem with
Agneepath
was Rohini Hattangadi as Vijay's mother. Her whole track irritated me to the core, though some would argue she was needed for the emotional core and to argue the whole good versus evil, but am sure Mukul himself would have done away with her track if he remade the film today.
Twenty-two years later, producer Yash Johar's son Karan remakes the first of his father's film.
I think his timing couldn't have been better, because today you have an audience that understands that a remake is also a reinvention and not necessarily a scene by scene remake of the original.
We are living in the era of writer Steve Moffat reinventing Conan Doyle's
Holmes
and actor Benedict Cumberbatch reinventing the definitive Holmes on television enacted by Jeremy Brett.
Going against the grain, debutant director Karan Malhotra and Johar have cast Hrithik Roshan instead of the more obvious choice of Abhishek Bachchan as Vijay Dinanath Chavan and an absolutely new Kancha Cheena in the form of a Kurtz-like Sanjay Dutt.
In doing that they have smartly set the table for a reinvention and not a simplistic remake, using the skeleton of the previous story, yet creating a newer villain and characters like Rishi Kapoor's Rauf Lala and Priyanka Chopra's Kali and deleting some beloved ones like Mithun Chakraborty's Iyer, which the actor owned completely.
My gut feel is that the new
Agneepath
will be a fun ride and a huge box office hit. I wonder what Mukul would have done if he was remaking his beloved film.
I'm a mere member of the audience, yet
Agneepath
is a very personal film for me, because in 1996 Mukul came into my life and in 1997, I wrote his obituary. He was 47.
In 2012, his dream will be recreated once again, fittingly by the same production house.
Karan Johar is not just paying a tribute to the courage of his father, but to the vision of a man called Mukul Anand who didn't live to see his dreams realised.
Come January 26, I will be watching a first day first show after a long time and saying hello to an old friend.