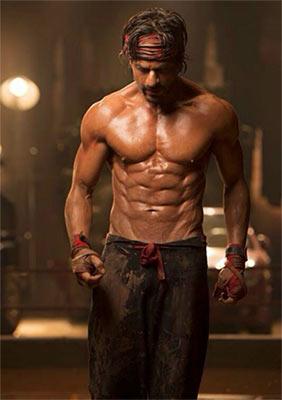 Having captured media attention when Shah Rukh Khan displayed a six-pack for Farah Khan's Om Shanti Om, seven years later he was determined to better his feat in the soon-to-be-released Happy New Year, writes Malavika Sangghvi.
"I know, to the outside world it seems very glamourous and it seems a lovely life to live, but it's not as easy and as glamourous as it looks," said Bollywood's reigning superstar Shah Rukh Khan, or SRK, in what must be an understatement of epic proportions.

Consider Khan himself.
Nearing 50 with a body that's taken severe beatings, including chronic back and neck issues and battling a manic work schedule, the star has managed to pull off the near impossible task of achieving every teenage boy's fantasy -- a washboard-flat, eight-pack abdomen.

Those who know Khan and his recent medical travails, his erratic lifestyle and eating habits and his sleep deprivation (he is addicted to video games and gets by on a few hours of sleep each night) are astounded by this latest feat.

"Most 20-year-olds who work regular office jobs and have packets of time on their hands, cannot manage even half of what SRK has managed," says one gym rat in awe. "To think that along with everything else going on his life -- the shoots, the promotions, the endorsements, the dance practices, the tours and his mandatory social and media appearances -- he could take time off and work at achieving one of the best bodies in Bollywood is just unbelievable."

Of course, SRK's interest in upping the prevalent Bollywood pack count was not entirely altruistic. Having captured media attention when he bared his body and displayed a six-pack for Farah Khan's Om Shanti Om, seven years later he was determined to better his feat and flaunt an even more spectacular body for the soon-to-be-released Happy New Year.

The backbreaking, unforgiving regime this must have required can only be imagined. As any one who aspires to a similar goal knows, not only is an eight pack a result of exercise but of stripping the body of every smidgen of fat so that the muscle beneath shows up.

This means being so strict with your diet that you have to eschew all but the most lean and protein-rich foods. No samosas and cutting chai on the sets during the tea break with the rest of the cast, no comforting Chinese takeaway in your van during lunch time, no wine, biryani and ice cream at night when you return home.

Invited to visit the stars of Happy New Year during its shooting, I was struck by what the actor ate when I joined Farah Khan and her cast in her van during the lunch break.

While the rest of us partook of the sumptuous, catered food comprising Indian, Chinese and continental fare, peppered with home-cooked tiffin brought by Farah, Shah Rukh nibbled at a piece of chicken on his plate.

Most of the time, though, he was busy tying and retying the crepe bandage on a recent wound on his shin, unwilling to attract attention as he bantered with Boman Irani, Sonu Sood, Farah and Vivaan Shah about filmi lore.

It was only when Sood noticed that Khan was unable to manage administering the bandage and that the wound was running and sore that the attention shifted to the star and he got help.

I recall asking him if he ever craved peace and quiet, away from the craziness of shooting and crowds.

"I'd go mad," he said. "I wouldn't know what to do with myself!"

And then he limped off to complete a complicated fight scene.