'Are we seeing the beginning of the communalising of one of the most iconic film industries in the world?' asks Vanita Kohli-Khandekar.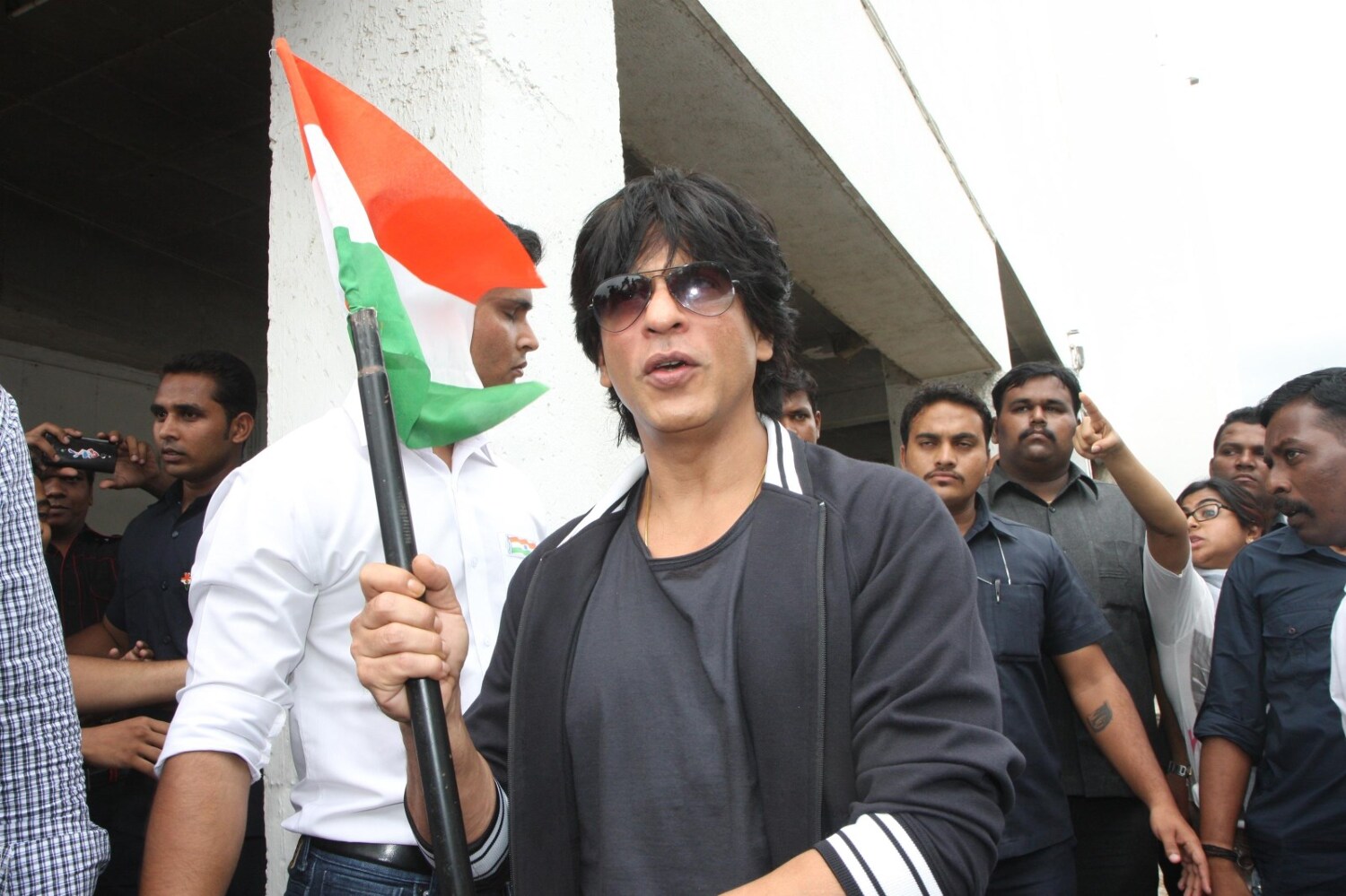 In the late eighties Shah Rukh Khan, a boy from a modest Delhi family, tried his hand at theatre, TV and then films.
He was noticed in Deewana (1992) and Baazigar (1993). But he really burst onto the national consciousness with Yash Chopra's Darr (1993).
Khan has gone on to become one of India's biggest superstars after Amitabh Bachchan and Rajinikanth.
His fans span the developed world in the US, Germany, the UK and Poland, to countries in South America, Southeast Asia and Central Asia.
Over the last 20 years his films have brought in an average of 50% to 60% of the revenues Indian films make overseas.
Much like Bachchan, Khan comes from an educated family, is erudite and witty.
He is routinely invited to speak to students at Yale, the IIMs and other places.
His speeches, popular on YouTube, are insightful and self-deprecating -- they make India proud.
Chopra did not choose Khan because he is Muslim. Nor did the audience.
His hits such as Dilwale Dulhania Le Jayenge or his flops like Ram Jaane did not happen because he is a Muslim.
His religious identity is irrelevant -- he is an Indian superstar, period.
There are indications the India in which Khan came to be is changing.
Filmmaker Sanjay Leela Bhansali was attacked on the sets of his film Padmavati in Rajasthan.
The provocation -- the film contained 'objectionable' scenes between a mythical Indian queen and a Muslim monarch.
In 2016 the release of Karan Johar's Ae Dil Hai Mushkil was held up for having a Pakistani actor.
Many such instances are now used to tar Indian cinema.
There has been -- especially in the vicious, rumour-laden world of social media -- a steady, acidic, communalising and dehumanising of Hindi cinema through mutilated quotes, innuendo and photoshopped pictures.
On WhatsApp groups and Facebook people exhort each other not to watch films starring Muslims in lead roles.
There are several non-resident and resident Indians -- within this reporter's circle of friends -- who did not watch Dangal. It starred Aamir Khan who had spoken against intolerance.
How did we reach here?
Till about three, four years back, it was rare for most Indians to think of their film heroes as Hindu or Muslim.
Bachchan, a Hindu, is an icon for all Indians. There has never been a campaign from non-Hindus to not watch his films.
Ditto for Dilip Kumar (Yusuf Khan), Raj Kapoor, Dev Anand, Rajendra Kumar, Rajesh Khanna -- all the superstars of yore had a following among Hindus, Muslims, Christians, Parsis and other Indians. They played characters from different communities.
Bachchan's Iqbal in Coolie (1983) and Aamir's Bhuvan in Lagaan (2001) was loved by all Indians.
Are we seeing the beginning of the communalising of one of the most iconic film industries in the world?
India's cinema is a proud hallmark of its soft power -- eliciting both admiration and anxiety.
Baz Luhrmann (Moulin Rouge, The Great Gatsby) among other film-makers are inspired by its narrative style.
Gangs of Wasseypur, The Lunchbox and Masaan are among the dozens of Indian films feted at international films festivals.
The success of 3 Idiots (2009) in China created internal discussions within that country on how it could improve its 'soft power' quotient.
India is among a handful of countries that has a vibrant, commercially dominant local film industry that is not swamped by Hollywood.
This is because it is inclusive, meritocratic and has a completely local creative idiom.
It is, arguably, one of the few professional spaces where Indians don't face any caste, class or religious discrimination.
As an outsider the only thing you really need is talent and grit.
Ask Nawazuddin Siddiqui, Vishal Bhardwaj, Deepika Padukone or Kangana Ranaut.
There are two arguments against the worry on creeping communalism.
One, these incidents are outbursts by the fringe and film-makers should really learn to stand up for their creative convictions when attacked.
Two, Indians vote for their films with their hearts and wallets, not their religious identities.
That is why this industry survived over 100 years of State neglect to become a clean, studio-led, institutionally financed, creatively vibrant business.
And that is why in spite of an online slander campaign Dangal is on course to make Rs 600 crore in box-office collections across the world.
Don't miss reading the FEATURES in the RELATED LINKS below!