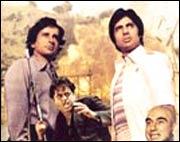 First things first, Shaan is an extremely original film. Seriously. While Sholay was a great take on spaghetti westerns, Shaan was a full-blown homage to all things 007, with tons of masala thrown in.
But the resultant chicken tikka Bond did not really work as a whole. Now, 25 years after first not quite setting the box-office alight, Ramesh Sippy has re-released his multistarrer, which seems a pretty darned cryptic decision.
Return of Ramesh Sippy's Shaan
Shaan, while an enjoyable and over-the-top look at campy good-ole Bollywood madness, unfortunately happens to be a very dated film today. Yes, it's fine for a few chuckles as a late night television rerun, but watching it on the big screen isn't the best plan. Which explains why, at the plushest of Mumbai multiplexes, in the film's first week of release, there are exactly five people in the theatre with me. Also, despite what Mughal-e-Azam's fabulous restoration might be misleading you to believe, Shaan's print doesn't seem to have been touched up at all, forcing you to peer indulgently at drab, occasionally grainy pictures. And ear-hammering background music that a Bachchan couldn't sit through.
Speaking of Bachchan, it's unbelievably refreshing to see the old Amitabh on screen. We're now so used to the product-plugging and mediocre acting sexagenarian with the highlighted hair, that this version seems like someone else. A lithe, attractive young man with a striking resemblance to Abhishek, actually.
Shaan takes us back to when Amitabh was cool as cool can be, and his strength really was the affable ease with which he acted. Suavely sauntering with his necklace-concealing cane, or super-cheesy as a jewel thief impersonator with jacket collar firmly within teeth, Bachchan always came across as immensely likeable.
While Amitabh's heroine, the dazzling Parveen Babi, is without doubt the best and most timeless thing in the film, the rest of the casting hasn't been given that much attention. Shashi Kapoor is fine as usual, playing adequate second fiddle to the real stars. In this film, he barely has a change in wardrobe! Of course, given AB's hideous clothes, that might actually be a good thing. He's also straddled with Bindiya Goswami, an otherwise attractive plain-Jane here thrown into conwoman garb and topped off with oversized sunglasses. Not a good idea, and quite clearly a last minute substitute for an unavailable Ms Malini.
The extras are all surprisingly familiar, each of them relatively oft-seen faces in the world of character cinema, the pack led from the front by the omnipresent Mac Mohan beard. Speaking of bearded highlights, look, there's Mazhar Khan, suffering from a lack of legs and digital imagery enough to make the background look even slightly real!
In a horrible superimposition, Abdul the beggar [why does he have his own song? One assumes this is the part of the soundtrack listeners would flip the cassette's side for, and something that caused RD Burman great pain] floats across the front of the screen, as a very different Mumbai shimmers clumsily behind him. This is fantastically bad cinema, so bad it's great fun.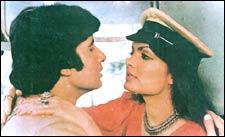 And then there's the bhaiyya angle, which today gives us the surreal sight of BJP Member of Parliament Shatrughan Sinha taking deep breaths and taking potshots at Congress MP Sunil Dutt. Both of them well past their prime, hamming up their parts with weary unenthusiasm, joined in the clichés by another then-movie staple, Raakhi.
The jewel in the slipshod crown, however, is the villain. A precursor to Amrish Puri's immortal Mogambo, Kulbhushan Kharbanda's Shaakal is lifted straight from Bond. And he's a seriously evil man. The 'khush hua' despot from Mr India was a zany madman too over the top to be believable, but Shaakal is a bitter and sadistic man who seems, in comparison, alarmingly real. Well, with the exception of the silver-heeled shoes and, in another inspired discovery of chroma-key superimposition abilities, normal aquarium fish magnified to circle the screen 'menacingly' behind him. But then Kharbanda's acting makes up for it, and he ends up being badder than Bond villain Blofeld himself.
And the absurdity is magnificent. Sunil Dutt -- kidnapped, car and all, by four trucks in a rather slick action sequence -- tries to play it smart with Shaakal, and makes a run for it, diving into the sea. But Shaakal Island, a very Dr No setting that we're introduced to, complete with trilling Usha Uthup and a well-shot helicopter ride, isn't that easy to evade.
As he swims onto a rocky beach, he turns around to hear the sound of barking. He's being chased! Inexplicably, this awesome pursuit is by beagle puppies, a whole swarm of pretty cute dogs yelping relentlessly towards him, slow enough to let the portly Dutt run onto the beach, where a sten-gun (this was the sensational weapon of the time) in the hands of Shaakal spells out his doom. Why Snoopys instead of Alsatians or Dobermans? Budget constraints, or the whimsy of the great bald scoundrel? Just another of cinema's undying mysteries.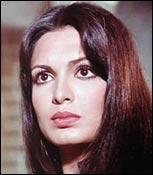 The film has its high points, and some scenes are shot with finesse. The attempt is obvious -- this was trying to be a big budget Hollywood style action film -- and the ambitious script sometimes goes through surprisingly fine detailing.
The music is excellent, the soundtrack scoring highly on the all-time bestseller list, with RD Burman going campy and big band enough to please Albert Broccoli. And then there are the moments which almost make up for it all: Shashi pretending to be a cop, pointing a ridiculously tiny pistol at Bachchan; tee-shirt clad Amitabh with a monstrous white jacket on his shoulders, which he holds on to while he runs, instead of simply wearing it; the way Vijay (the perennial AB name) sets up Ravi (Shashi) to get Raakhi Bhabhi's inevitably stinging 'Nahin!' slap when they break to her the news of Dutt's death; and then there's the beautiful Parveen Babi, who will be missed greatly.
But all in all, this isn't worth a rerelease. Despite a cool Amitabh Bachchan, Mr Sippy, this film just ain't no Don.