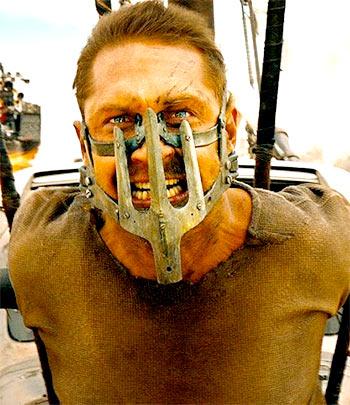 Mad Max: Fury Road has a very realistic chance of sweeping the Oscars, predicts Raja Sen.
Oh, what a day. What a lovely day.
The Academy Of Motion Pictures Arts and Sciences took it upon themselves to reward the most critically acclaimed action movie of the decade by showering it with nominations, and thus does the epic Mad Max: Fury Road weigh in with a whopping 10 nominations and a very realistic chance to sweep the Oscars.
Ten nominations, however, is still less than 12 -- and that's the count Alejandro Gonzales Inarritu's latest film The Revenant has racked up, thanks to nods in the acting categories for Leonardo DiCaprio and Tom Hardy.
And yet I feel it is Hardy's other film that will win.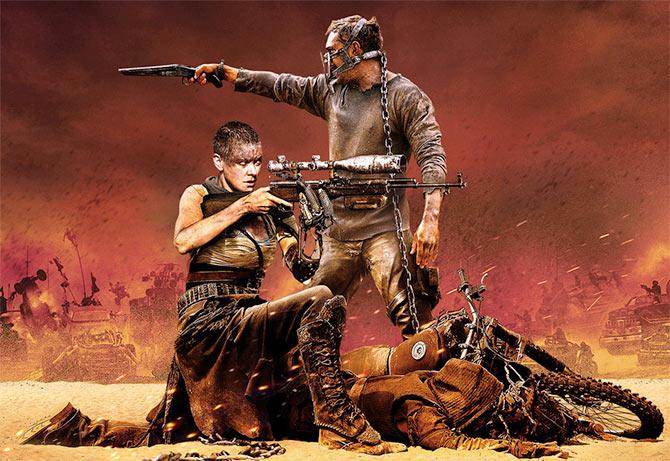 IMAGE: Tom Hardy and Charlize Theron in Mad Max: Fury Road.
The Academy is bound to embrace George Miller for his visionary action epic, a film that redefines storytelling rules, throws exposition out the window, and keeps the audience breathless. Unlike The Revenant, which, for all its merits, is being talked about as a rather tough watch.
There are six other Best Picture nominees this year, and they are Bridge Of Spies, Brooklyn, Room, Spotlight, The Big Short and The Martian.
Let's drop The Martian from the conversation already, because, despite Ridley Scott and Matt Damon, it is too modest a little film for us to seriously consider.
Of what remains, Bridge Of Spies seems to have edged in as an old-school prestige picture, while Room and Brooklyn are too far out on the fringe -- as they say, the nomination is award enough for these films.
The surprise omissions in this category are films like Carol, which got tremendous reviews, and The Hateful Eight, which, quite frankly, is too grotesquely violent for the Academy's traditional tastes.
What remains are Spotlight and The Big Short, and while both are exceptional movies -- the latter is, so far, my pick for film of the year -- I fear they may eat into each other's votes.
Which would leave Max, everyone's favourite action movie, in line for a shot at greatness.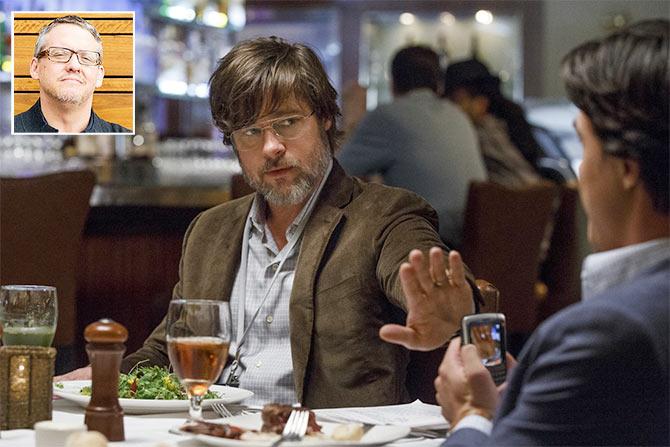 IMAGE: Brad Pitt in The Big Short. Inset: Adam McKay.
The Best Director category, similarly, should applaud the audacious work of Adam McKay in The Big Short, a triumph of storytelling, but the Academy loves the triumphant return of the veteran.
And I see much love for 70-year-old Miller and Max here.
Inarritu is, naturally, less of a threat considering the Mexican won just last year and America -- the nation that might soon be ruled by Donald Trump -- may not want to pat him on the back again quite so soon.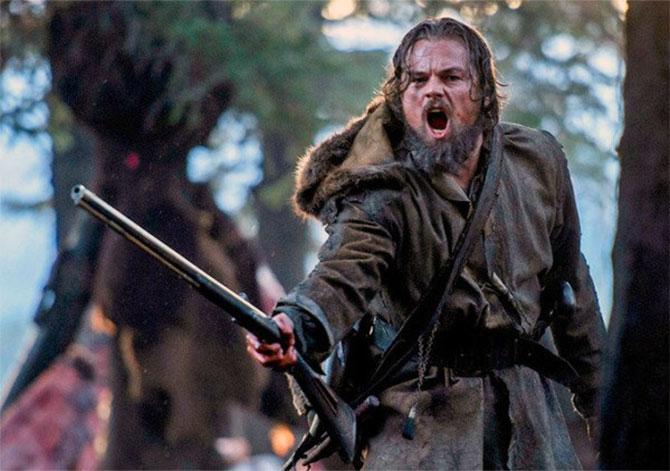 IMAGE: Leonardo DiCaprio in The Revenant.
Two categories have been declared a 'lock' this year: The Best Actor race is said to be tipped irrevocably in favour of Leonardo DiCaprio and his grueling work in The Revenant, and this may well be so.
This is the actor's sixth nomination and his lack of gold has become a punchline.
Even though Michael Fassbender's performance in and as Steve Jobs shows spectacular finesse, Leo may edge him out this time.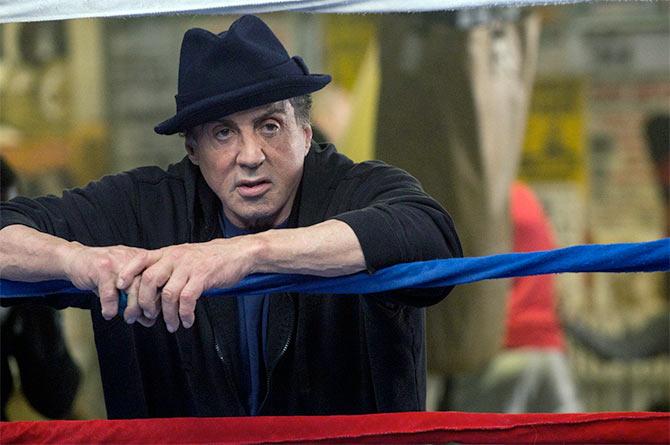 IMAGE: Sylvester Stallone in Creed.
The second category everyone considers a done deal is Supporting Actor, where all of us are just rooting for Sylvester Stallone to win.
The 69 year old has delivered a helluva performance in Creed as he gave us a sensitive and vulnerable version of Rocky Balboa, and just picked up a Golden Globe for it.
Despite the presence of stunning actors in this category like Christian Bale (The Big Short) and Mark Ruffalo (Spotlight), it looks like this should be Sly's year.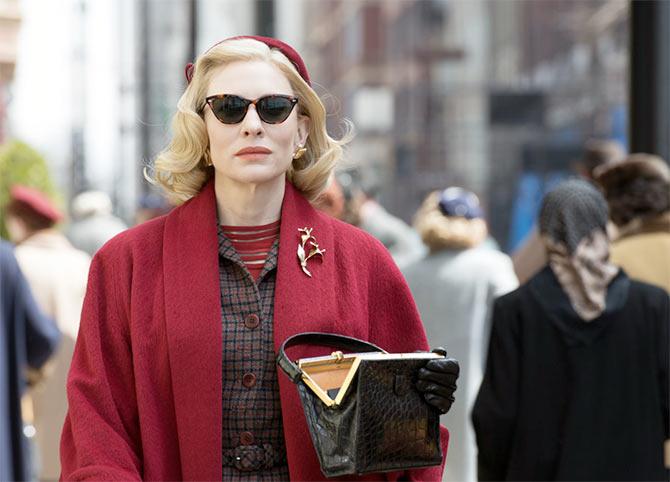 IMAGE: Cate Blanchett in Carol,
The race for Best Actress is getting more interesting as time ticks on.
Originally looking like a one-horse situation for Cate Blanchett's superlative work in Carol, the last few weeks have seen a groundswell of support for veteran Charlotte Rampling in 45 Years.
Meanwhile, Room is one of the year's most acclaimed films and shouldn't go empty handed, and a win for actress Brie Larson would be one that everyone could support.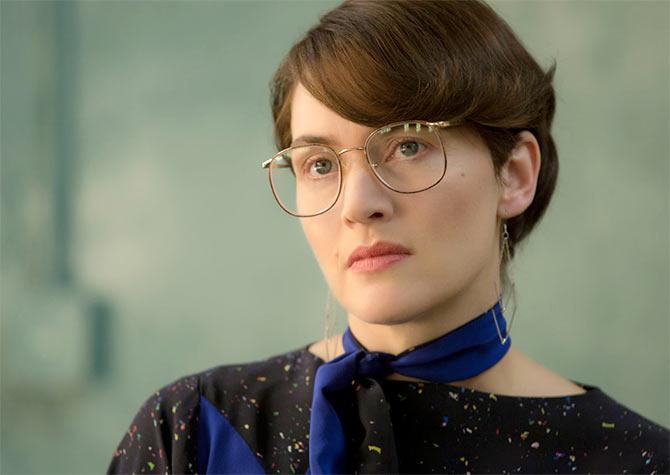 IMAGE: Kate Winslet in Steve Jobs.
Similarly open is the fight for Best Supporting Actress.
Featuring Rachel McAdams (Spotlight), Alicia Vikander (The Danish Girl), Rooney Mara (Carol), Jennifer Jason Leigh (The Hateful Eight) and Kate Winslet (Steve Jobs), there is no clear front runner and a bunch of terrific performers, each of whom could very well be the only big winners for their representative films.
All bets are off.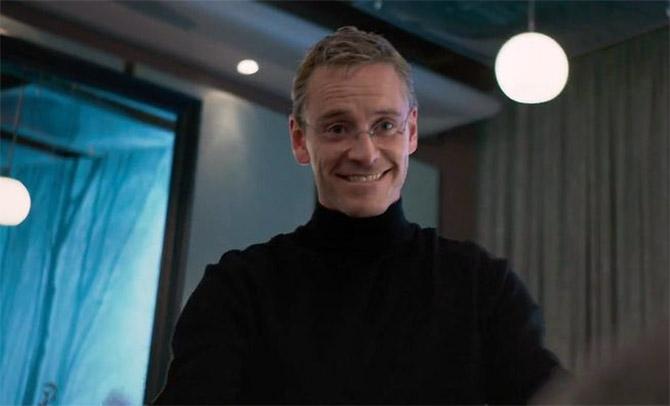 IMAGE: Michael Fassbender in Steve Jobs.
A big twist lay in the Screenplay categories where apparent front runners Aaron Sorkin (Steve Jobs) and Quentin Tarantino (The Hateful Eight) were shunted entirely, showing perhaps that the Academy prefers fact over fiction, at least when it comes to history.
Pixar's Inside Out made the jump to the big league and should, I feel, pick up the Original Screenplay trophy while the Adapted Screenplay better go to The Big Short for turning a superb book into a startlingly good film.
Everything else will be a toss up.
If, when we tune in on February 29, everything starts going the way of The Revenant, it could perhaps pip Max to the post, but don't count on it.
All signs right now are pointing to a huge sweep for Mad Max: Fury Road, and George Miller is definitely getting Best Director.
I'll take whatever odds you offer on that one.