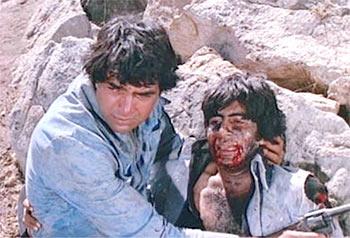 Raja Sen gives us a hint: It was all because he used a coin wisely.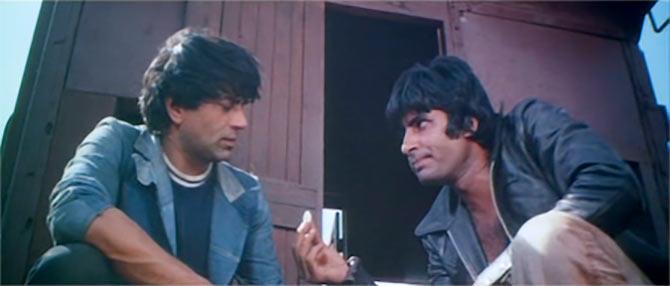 IMAGE: Veeru and Jai in Sholay.
It is temptingly easy to dismiss the cinematic coin-toss as a bit of chicanery, just another convenient plotting trope.
Characters go down one road when they so easily could have strolled down another, and the road they choose is the one picked by the writers, with heads or tails (or neither) doing the rationalising for them.
Yet there is something classically timeless about relying on something so basic, so universal, so instantly echoed around the world -- and making it work.
The set-up is simple, thrown up at will.
The trick lies in the consequences; it's all about sticking the landing.
A really good coin-toss is hard to forget.
One of the most memorable tossers in all cinema is Anton Chigurh, the villain in No Country For Old Men, the Coen Brothers' adaptation of Cormac McCarthy's novel. Played -- in an Oscar-winning turn -- by Javier Bardem and a jagged-fringed haircut, Chigurh is a nightmarishly calm killer who mows down the innocent, but pauses to flip a coin before it -- as if to give them a last glimmer of hope.
Or to not take all the credit for their death.
It is hard to imagine McCarthy, that grizzled Pulitzer Prize winner, being inspired by a Batman villain, but Chigurh's methods do indeed quite mirror those of Two-Face, who has always been more fearsome on the page than the screen, played to cartoonish effect by Tommy Lee Jones in Batman Forever and insipidly by Aaron Eckhart in The Dark Knight. Not that these didn't have precedent; gangsters and mob bosses have tossed coins ever since George Raft started it all in the 1932 Scarface.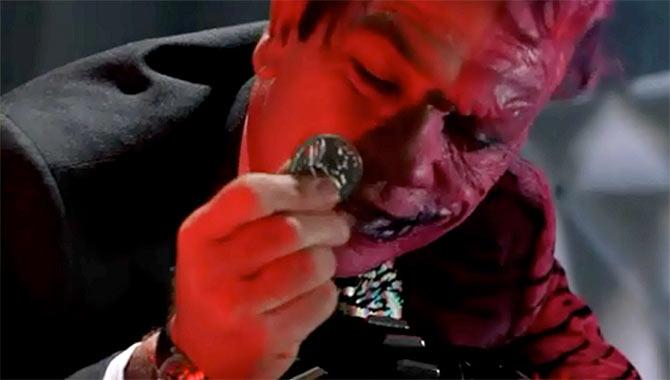 IMAGE: Tommy Lee Jones in Batman Forever.
The entire act might not be as existential.
It could, of course, quite simply be big bad kids toying with their food; a trivial amusement, a flick of thumbnail against coin before the actual ringing of the death knell.
It is also often said that the result of the toss matters less than what one hopes for as the coin is flipping through the air. This is why regardless of heads or tails, some villains end up pulling the trigger anyway.
Less bloodthirsty coin-tossing is par for the course in buddy-movies, often with some nudge-nudge wink-wink sleight of tongue as in Andaz Apna Apna, where Aamir Khan's Amar hoodwinks Salman Khan's Prem with a 'Heads I win, Tails you lose' toss. By the time the slackjawed Salman figures out he's actually won, a triumphant Aamir is long gone.
What makes us trust in this random 50:50 toss?
The question was most profoundly debated in a 1953 Donald Duck comic where the phenomenon of using a toss to determine all decisions was dubbed 'Flipism.'
Donald, after meeting the weird Professor Batty who tells him to trust in the coin and follow Flipism, loyally does what the tosses tell him, landing up in a world of trouble and blaming the coin.
Yet others are more discreet in their use of the same.
It is only at the end of Asimov's wonderful short story The Machine That Won The War that we learn that the omniscient all-powerful computer wasn't really being consulted because one of the protagonists had been tossing a coin to make all his final decisions.
Sometimes the coin doesn't come up heads or tails.
In Frank Capra's classic Mr Smith Goes To Washington, for example, the only reason James Stewart's Mr Smith gets to go to Washington is because a governor is trying to choose a senator between rival candidates Mr Hill and Mr Miller. He tosses a coin which lands on its edge, which leads him to drop both candidates and choose Smith.
For Ramesh Sippy's Sholay, screenwriters Salim and Javed stole the trick from the underrated 1954 Western, Garden Of Evil, where Gary Cooper and Richard Windmark draw cards to see who will stay back and fight the Apaches pursuing them. Windmark, the 'winner,' stays and dies.
In Sholay, Jai, played by Amitabh Bachchan -- whose coin always comes up heads -- stays, saves the day and eventually dies.
Jai's trick coin became the stuff of legend, the kind of thing that films of today would have merchandised like crazy.
What is most notable looking back at Sholay's screenplay, however, is the fact that because Jai was cheating, it made all the tosses he'd seemingly 'won' over the course of the film all choices he had made instead of choices they'd stumbled into out of randomness.
Therefore, despite Dharmendra's Veeru staying alive and getting the girl and the flashier songs, and Sanjeev Kumar's Thakur getting his hard-earned revenge by the final reel, the sequence of coin-based decisions ultimately makes it clear that Jai is the protagonist, the man who chose the way the story winded, and the true hero of Sholay.
And all because of how wisely he used a coin.
OUR SHOLAY SERIES