'Show me songs that become larger than songs better than Dylan's.'
'Show me words that are like the master key to every human emotion under the sun better than Dylan's.'
'And show me someone who tosses it all out like Dylan does, every time,' says Mango Indian.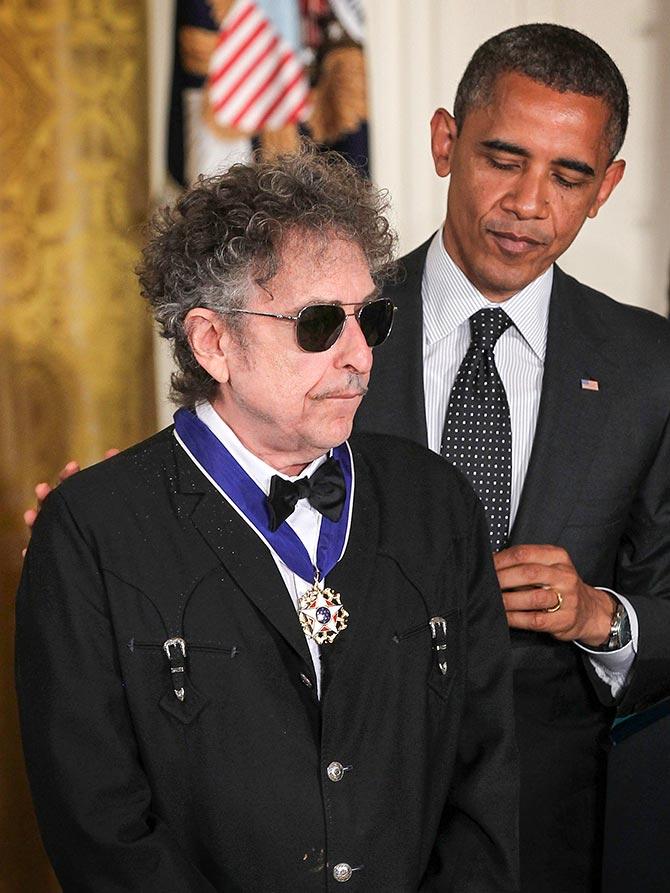 IMAGE: Bob Dylan is presented with the Presidential Medal of Freedom by US President Barack Obama in May 2012.
The Medal of Freedom, America's highest civilian honour, is presented to individuals who have made especially meritorious contributions to the security or national interests of the United States, to world peace, or to cultural or other significant public or private endeavours.
Photograph: Alex Wong/Getty Images
So the only man to make a face like a scowling owl while the world's most powerful head of State hung a medal round his neck has been awarded the Nobel Prize for literature.
I'm sure you don't care, neither do I.
Probably the man who wrote 'I have dined with kings and I've been offered wings but I've never been too impressed' doesn't either, at least publicly.
'Here's what I love about Dylan: He was exactly as you'd expect he would be,' Barack Obama had said of meeting Bob Dylan, of course much before yesterday when he became the first self-proclaimed 'song and dance man' to be chosen for the Nobel.
'He wouldn't come to the rehearsal; usually, all these guys are practicing before the set in the evening,' Obama had added. 'He didn't want to take a picture with me; usually all the talent is dying to take a picture with me and Michelle before the show, but he didn't show up to that. He came in and played The Times They Are A-Changin. A beautiful rendition. The guy is so steeped in this stuff that he can just come up with some new arrangement, and the song sounds completely different. Finishes the song, steps off the stage -- I'm sitting right in the front row -- comes up, shakes my hand, sort of tips his head, gives me just a little grin, and then leaves. And that was it -- then he left. That was our only interaction with him. And I thought: That's how you want Bob Dylan, right? You don't want him to be all cheesin' and grinnin' with you. You want him to be a little skeptical about the whole enterprise. So that was a real treat.'
So you see, all you carpers that Dylan's Nobel is graffiti on the hallowed halls of literature can carry on your shoulder a Siamese cat all you want.
From Kolkata, home to the maximum number of critics per square inch of area in the world, to Hari Kunzru (congratulations if you know him), there's worthless foam from the mouth at Dylan's Nobel.
As if the man who has spent most of his life scrubbing clean of the dirt of fame is to blame for all denied worthies. To you, I say 'astronaut' -- as the fictional Dylan said in the impressionistic film I'm Not There when asked by a journalist if he would say a word for his fans.
Never mind that Blowin' in the Wind reverberated hours before Dr Martin Luther King's 'I have a dream' speech in Washington, DC.
Never mind that his imagery has found its way into everything from a sermon by the Pope to very often in legal judgments to scientific research papers.
Never mind that his songs remain relevant far beyond the boundaries of rock and roll or poetry.
Never mind that generations continue to get addicted to his drawl.
I was there for the Bob Dylan festival in Shillong this year, organised for the last 44 years by local legend Lou Majaw. And when you hear him sing 'Ah but I was so much older then I'm younger than that now', you really believe him.
A school full of little girls rocking out at 11 am -- with the Catholic nuns having a hard time containing the boisterous imps in white and blue uniform -- as Lou and his battle veteran band belted out Dylan for them was a sight that will stay with me far, far more than the snarks and quips of literature's self-proclaimed saviours.
Last heard, Lou -- whose own songs are just as timeless and who just underwent a life-saving surgery -- is planning a big gig to celebrate the Nobel notch. May he stay forever young.
Show me one man whose body of work encompasses such consistent universality as Dylan.
Show me songs that become larger than songs better than Dylan's.
Show me words that are like the master key to every human emotion under the sun better than Dylan's.
And show me someone who tosses it all out like Dylan does, every time.
So, yeah, I couldn't care less about the Nobel to the man whose songs will keep me company as the spring turns slowly to autumn.
He just has won the last award left to throw away carelessly. This is not the first time he has been placed on a pedestal, neither the first time he has been called 'Judas'.
He has never bothered with the blood on the tracks after spilling it out on record. He has always moved on and proved that but for the sky there are no fences facing.
Deal with the Nobel Prize for Bob Dylan, dear carpers, and you can always turn to his songs for solace in any situation like I do.
Don't think twice, it's alright.