From their first meeting to the last, Dev Anand etched himself on Dinesh Raheja's heart and mind.

"I can't think of a single person who disliked Devsaab. He is a clean-hearted person who has only friends, no enemies," actress Raakhee Gulzar had once told me while we discussing the co-star, with whom she had worked in Banarasi Babu, Joshila, Lootmaar and Anand Aur Anand, as part of my research for a book.

She added, "He was my family's favourite matinee idol, and my brother would put up his posters on the cupboard."

Today, sadly, the star who adorned the posters of some of the biggest blockbusters is no more.

On a wintry Sunday morning, at 7.45 am, I was jolted awake by an SMS. It read, 'Abhi na jao chhod kar. Dev Anand no more.'

I rubbed my eyes in disbelief. One never associated Dev with death, only life. The life force raced like an F1 car through his veins and he was always abrim with positivity. I had the notion that he would outlive all of us; as if the legend that the evergreen star had drunk the potion of eternal youth was fact and not fanciful fiction.

Long before I met Dev Anand, I seemed to know the man. Not only had I seen, and enjoyed, almost all his films (this was before the series of quickies he made in the 1990s and the noughties), I had also spoken often to his close associates like his Des Pardes writer Suraj Sanim.

Suraj shared innumerable anecdotes about Dev Anand. He pooh-poohed the idea that Dev was fastidious about his diet: "He eats everything including pickles and Parathas." (Whenever I met him, though, I always found Dev to be a frugal and careful eater).

Suraj also confided, "Devsaab is increasingly refusing to collaborate on his films -- he wants to write, direct, produce, edit. if he had his way he would take on all the departments."

When I first went to interview the legendary star in the 1980s, the subject I chose was daunting -- I wanted to analyse the reason for a spate of recent failures made by his home banner Navketan -- Ishq Ishq Ishq, Jaaneman, Heera Panna, Lootmaar and Swami Dada.
I did a brutally honest and incisive analysis, in conjunction with Dev, on the decline of Navketan; a banner that had once produced a long string of much-beloved films like Baazi, Taxi Driver, Nau Do Gyarah, Kala Paani, Kaala Bazaar, Hum Dono, Tere Ghar Ke Saamne, Guide, Jewel Thief and Hare Rama Hare Krishna, all of which were adroitly poised on the cusp of art and commerce.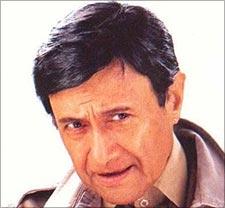 Dev took each question on the chin with a dimpled smile, and told me, with enviable conviction, "I make films that I believe in. Maybe they are ahead of their times."

After the article was published, I didn't call on Dev since I thought I had started on a wrong footing. But I had misjudged his large-heartedness. He was very magnanimous, or maybe too confident, to take umbrage. He greeted me with a cheery hello and made me feel completely at home when I dropped in on the sets of Anand Aur Anand.
Seated atop a tall ladder with a boom in his hand, he was playfully tossing balloons to his latest discovery Natasha Sinha, and asking his son Suneil Anand, whom he was directing for the first time, to emulate him.

During the lunch break, when I told him that I found it odd to address him as Devsaab, he simply said, "Call me Dev." I did, and he spoilt me. After that, I call Amitabh by his first name too. Blame it on Dev.

Thereafter, I did several interviews in which he spoke with refreshing candor. Dev was that rare major name who was easily accessible on the phone. He would pick up the phone himself and say 'Dev here' in his can't-be-mistaken voice. I remember celebrating several of his birthdays at his Pali Hill penthouse. He would barely glance at the cake, but would enjoy being the center of attention in his colorful cravats, jackets and trousers.

Once, while discussing Dev's style quotient with Sadhana, a style icon of the 1960s, who was known for her Audrey Hepburn-like fringe, I discovered that she was a huge fan of Dev and Nutan from her school days. Later she worked with Dev in Hum Dono, Asli Naqli and the never-released Saajan Ki Galiyan.

She said, "He was so suave. Have you noticed how Dev is never seen in a dhoti on screen? After working with Dilip Kumar in Insaaniyat -- a film in which he sported a dhoti -- Dev told me he swore never to wear one again."

The dhoti disappeared from Dev's closet to make room for colourful scarves, green shirts buttoned up till the chin, yellow trousers and interesting hats. He wore them with panache, both on and off screen. Even otherwise, the man wore many hats -- he was constantly multi-tasking, always ambitious, always aiming for the skies.

Dev Anand's ambitiously scaled Guide (1965) is one of my favourite films. It was a fitting rebuttal to his detractors who questioned his inclusion in the hallowed Raj Kapoor-Dilip Kumar league.

Directed by his talented brother, Vijay Anand, the film had Dev playing Raj, a voluble tourist guide who supports danseuse Rosy (Waheeda Rehman) in her bid for self-expression and freedom from marital unhappiness, but is not above thoughtlessly exploiting her for personal gains. Combining style with substance, Dev gave an affecting performance as a man grappling with his emotions in his passage through love, shame and salvation.

At most times, however, flamboyant musicals and noirish thrillers were Dev's forte rather than emotional sagas. Had Dev Anand agreed to star in the whodunit, Teesri Manzil (the role eventually went to Shammi Kapoor) besides the through-the-roof blockbuster Johny Mera Naam (1970), he would have scored a one-two knockout punch.

These two Vijay Anand-directed musical thrillers (yes, thanks to the boisterous Shammi Kapoor and the dapper Dev Anand, Hindi films can boast of musical thrillers) are eternal favourites for most of my generation.

Unlike most of his 1950s and 1960s contemporaries, Dev remained an in-demand romantic hero into the 1970s. He was 55 when he cast alongside 20-year-old Tina Munim in the successful Des Pardes and he began to be called the eternal star.

However, after an immensely successful streak as a producer, his directorial career was checkered. He began with a big-budgeted non-starter Prem Pujari, segued to successes like Hare Rama Hare Krishna (a cult classic because R D Burman's Dum Maro Dum changed the sound of music and Zeenat Aman modified the definition of the heroine), and Des Pardes. But this was followed by several films that felt like pungent news items that had lost their edge when they were made into full-length features.

Dev, however, had no room for nostalgia, regret or grudges. When Zeenat opted to work with Raj Kapoor in Satyam Shivam Sundaram, Dev was upset; but he didn't bad mouth her. Instead, once bitten twice shy, he decided to not become possessive about his discoveries.
He made Tina Munim an overnight star with Des Pardes, but let her flow with the tide and ebb away. Jackie Shroff was also his discovery -- he was cast as Shakti Kapoor's sidekick in Swami Dada -- as was Tabu, who debuted with his Hum Naujawan.
Unfortunately, Dev's Midas touch failed when he tried to launch his son, Suneil Anand with Anand Aur Anand. Unfortunately, in his latter day films, even Dev's charm failed to disarm viewers.

But Dev's spirit remained indomitable. He told me, "I am on a high because I have seen it all, experienced it all, learned from it all, and am still passionate about films."

I met Dev Anand for the last time at the February 2011 premiere of the colorized version of Hum Dono -- his 1961 classic in which Dev essayed a double role opposite Nanda and Sadhana. The industry was there in full strength -- Salman Khan, Aamir Khan, Govinda, Shatrughan Sinha, Dharmendra, Ashutosh Gowariker -- and Dev drew applause each time he spoke onscreen. It was good to see him at the receiving end of adulation, for his work and for the person he was.

After a long speech, the legend, then 87, looked exhausted. As he clambered up the stairs to his seat at the back of the theatre, his aides and absolute strangers rushed forward to help him up the stairs. But Dev politely and firmly refused all help and climbed the stairs, unaided.

That's my last image of Dev Anand. Ever resolute, ever urbane and totally focused on the goal ahead.

Dev once told me, he would like to die with his boots on. On December 3, 2011, he slipped away while in a London hotel. He had come there to recuperate, and rewrite Hare Rama Hare Krishna in a bid to recreate history.

He died on his couch while asleep. I wonder if he had his boots on.

More Tributes:
When Dev Anand visited the Rediff office
Dev Anand taught me what it meant to be hip, cool and Indian
What made Dev Anand different from Raj Kapoor, Dilip Kumar?
'You will always remain our Hero, Devsaab'
Dev Anand, The Star who became the Sun
Meeting Dev Anand