Khan is a four-letter word that spells box-office magic.
When Mangal Pandey was released in 2005, Aamir Khan was asked how long his luck would work at the box office. "At least for another 20 years," he had replied.
It looks like the actor's prophecy was spot on. And that seems to hold true for the other two Khans as well.
The year 2007 was dominated by Shah Rukh, Salman and Aamir, who delivered the biggest hits of the year. The only other actor who came close to them was Akshay Kumar with hits like Namastey London, Heyy Babyy, Bhool Bhulaiya and Welcome.
One actor who could have taken on the Khan might -- Hrithik Roshan -- did not have any release.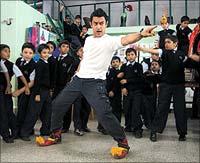 So it was the Khans' playground with Shah Rukh leading the pack. The stupendous success of Om Shanti Om and Chak De! India only helped solidify his King Khan status. Salman's Partner and Aamir's directorial debut Taare Zameen Par were the other big hits from the Khan fraternity.
So exactly how does the Khan magic work?
According to Spice Marketing Communication Agency trade analyst Prabhat Chaudhary, "All these Khans are pre-liberalisation period heroes and have established a certain fan following. Their audiences and fan base have grown up with them so to watch their films is like an event for Indian families.
"There is a generation of loyalty in Indian families for the Khans and that has remained the same," he adds. "This generation just refuses to let them go. That loyalty base has not shifted to any other hero in the last so many years and that is the reason for the Khans' rule."
And so year after year, for the last 20 years, one of the Khans has always managed to deliver some of the biggest hits at the box office. If Aamir started the hit trend with the success of Qayamat Se Qayamat Tak, Salman continued the run with Maine Pyaar Kiya, followed by Shah Rukh's Baazigar and Darr.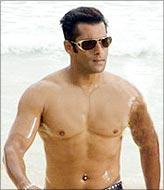 Salman then followed up with the smash hit Hum Aapke Hai Kaun. Not to be outdone, Shah Rukh delivered the all time hit, Dilwale Dulhaniya Le Jayenge.
And the Khan gold rush did not stop there. Up next was Aamir's Raja Hindustani followed by Sarfarosh and then the Oscar-nominated Lagaan.
Dogged by controversies galore, Salman's popularity never dipped. His film Tere Naam created a record of sorts at the box office by getting the biggest opening in 2003.
So does having a Khan surname guarantee success in Bollywood? "It is not like that," says trade analyst Vinod Mirani. "They have done good work and all three -- Aamir, Salman and Shah Rukh -- have gained from it.
"There were other Khans too in between -- Zayed, Fardeen and even Arbaaz -- but none of them clicked in a big way," he continues. "The only other Khan that clicked off late was Saif Ali Khan after Hum Tum became a big hit."
About Saif's success, Mirani says, "It is a question of sustainability in the industry. One has to sustain for long and there is a great chance that one or the other film will click for sure."
Mirani points out that Amitabh "Bachchan too had 12 flops in a row before he delivered a hit in Zanjeer. He didn't give up and tried till he succeeded. Once you succeed then a couple of flops are pardonable in the industry because you have already created a loyal fan base."
So is it just sheer doggedness that guarantees success?
According to another trade analyst, Taran Adarsh, "One has to admit the fact that all three -- Aamir, Shah Rukh and Salman -- have worked hard to become successful. They have always chosen the best scripts for their films and so also (have had)luck, which everyone needs in life."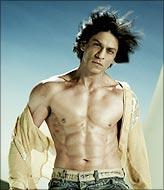 So will the same hold true for the others?
On condition of anonymity, a trade analyst points out, "Sparks were shown by Ranbir Kapoor, Shahid Kapur and even Neil Mukesh. They are good but they still have a long way to go. Till then, the Khans will rule.
"Indian families," he continues, "keep some money aside from their monthly budget to watch a Khan film and that is going on for the last 15 years. That is a worrisome trend because the film industry has not produced any new big stars."
Till it does, we have the Khans.
Ask what works for him at the box office, Salman Khan told rediff.com an interview, "It is my ability to pick up the right scripts. I am a writer's son (Salim Khan of Salim-Javed fame) and I know which film will work and that is the reason my films work.
"I can pinpoint the script that will catch the fancy of the audience and will never let it go," he added. "I put a great deal of attention on it, and therefore my films work.
"I feel everything is destiny," he continued. "If something good is written in your fate it will happen and that is what has happened to me. If I was not an actor, I would have been a painter probably."