Advertisement
July 20, 2007 14:40 IST


Partner is yet another David Dhawan laugh riot. 

Inspired by the Will Smith-starrer Hitch, Partner, starring Salman Khan [Images] and Govinda, works wonderfully because of the chemistry between the two central characters.

Prem (Salman) plays a love guru, who gives advice to people who cannot win the hearts of the women they are in love with.

Enter Bhaskar (Govinda [Images]), who is in love with Priya (Katrina Kaif), who is worth Rs 1,000 crore.

Also Read: David's blue eyed boys

Bhaskar asks Prem for some love advice. Prem turns dissuades him because he feels Priya will never fall for Bhaskar because of their financial disparity.

The way Govinda manages to convince him is a treat to watch. His comic timing, his dancing abilities -- despite of the evident flab -- makes you wonder why our film industry has ignored such a talented actor for the last four years.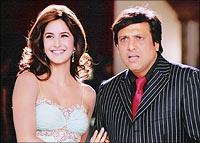 Salman, on his part, plays the dude, and gives Govinda -- who seemed to have been overshadowed by Akshay Kumar [Images] in his last film Bhagam Bhag -- enough scope to perform.
I repeat, the actors have great chemistry --  you never feel one is trying to outdo the other.
Sajid-Wajid's music and the lyrics and dialogues by Sanjay Chhel make this film work even better. The one-liners are hilarious, and very original.
Also Read: Salman's hit 'Partner'ships 
Katrina does not have much to do except smile.
Lara Dutta, who plays a reporter, clicks more pictures than writing stories. One wonders if she is a reporter or a photographer. Her chemistry with Salman is great, however, and it's time she gets her due like her contemporary, Priyanka Chopra [Images].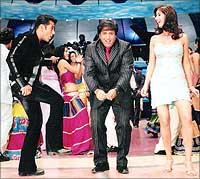 Among the film's low points is Rajpal Yadav's character, Chotta Don. It is an imitation of Shah Rukh Khan's [Images] Don. Later in the film, Yadav's character just disappears.  
Also Read: When Salman shook me!
Also, the film's end is very abrupt. 
But despite the shortcomings, you will not feel disappointed because you will have had a good laugh through most of the film. A must watch.
Rediff Rating: