Advertisement
August 24, 2007 17:08 IST


Sajid Khan was a groundbreaking anchor.

His television show Ikke Pe Ikka waxed sarcastic about Bollywood's blues, ripping films apart ruthlessly as Sajid, a mimic as funny as any, lapsed into inspired absurdity as toupee-twirling jokester Kishan Jhuthani, who called jokes 'chatoklas.'

Viewers of the show would also remember Sajid looking back at overacted scenes, setting up meters to gauge the level of hamming in a particular performance, the exact number of times a wounded Manoj Kumar said 'nahiiin' with heightened melodrama.

Today, Sajid's first film is out. And as can be expected, he reins in his actors well, Akshay Kumar [Images] and the gang not overdoing their lines or killing the farce. Great. Unfortunately, Sajid, too busy keeping an eye on his actors, falls into the trap himself:

The director hams.

And so it is that we're taken through a contrived, pained plot about three bachelors and an infant. The question is obvious: Is this a remake of Three Men And A Baby?

Nope, but -- and this is indeed a rare statement -- I wish it were.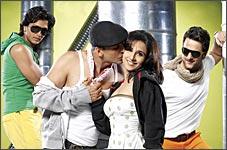 I sincerely wish Khan had shamelessly lifted the story and scenes from the 1987 film, replacing Ted Danson with Akshay. Even the casting works. And for all the talk of plagiarism, we'd have had some decent, albeit 20-year-old, laughs.
Unfortunately, the director opts here for originality, and forces us to sit through an unending film (there are at least five distinct full-length plots thrown into the mix) with nothing but poor slapstick, marred further by major doses of melodrama. Ouch.
Which is why we have scenes of three men doing their best Tony Montana impressions with baby powder instead of cocaine, and just a few shots away we have Fardeen Khan [Images] driven to a desperate namaaz at a hospital -- right next to a Christmas tree, mind you. Holy schmaltzy Kuch Kuch Hota Hai's ghost.
The actors do okay, but are trapped by the script and Khan's surprisingly, disappointingly, heavy-handed handling of emotion. Akshay Kumar inevitably manages to salvage some laughs, channelling his Garam Masala [Images] and Jaan-E-Mann characters. Fardeen's not too bad, clearly at ease playing the brat in male-bonding comedies. Riteish Deshmukh [Images] is reliably credible, but it's the kind of role he needs to stear clear of now. Vidya Balan [Images] looks pretty, but all she does in the film is get lied to -- perhaps an indication of how she signed on after reading this script.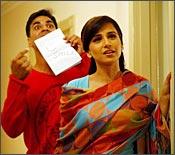 Sure there are a few laughs. Khan comes up with a great idea to introduce the Shah Rukh Khan [Images] cameo, something all audiences will lap up. Akshay creates some fantastic moments, as does the impeccable Boman Irani. But the problem is that Sajid doesn't seem to know when to end the joke, stretching the tired slapstick to unbearable proportions.
Sajid, dude, make a Borat-style film with Kishan Jhuthani. Or try horror shorts like in Darna Zaroori Hai [Images]. This moronic film is less than you're capable of. Far less.
Rediff Rating: