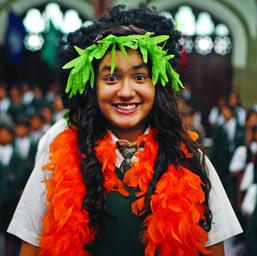 The cheerful arrival of Gippi is an indicator of the healthy trend that Bollywood has given up with the formula films, writes Ankur Pathak.

Much to the delight of its patrons, Bollywood is challenging its staid notions of normalcy.

In the recently released trailer of Gippi, we see the titular adolescent girl, and some of her friends battling with puberty. One talks about her growing breasts while the other disappointingly mentions the impending and irksome menstrual cycle that is about to hit them.

Gippi is the manifestation of a time-frame every girl has been inevitably a part of. Turbulent, troublesome, terrifying yet celebratory, it echoes the reality of adolescent imperfections and the agonising phase of growing up.

What is special about the film is this theme, conveyed in colloquially bold banter, about the time in a girl's life that Hindi cinema didn't talk about. And now one of the country's premium production houses has produced the film which is also directed by a woman.

Last year, we saw many films whose commercial success surprised almost everybody, including their makers. One of them was the Shoojit Sircar-directed Vicky Donor, a film that focused on sperm donation -- an unspoken activity in Indian society.

By making the imperative conversation about artificial insemination enter the boardroom from the bedroom, it also proved that a director doesn't have to stick to the formula if he possesses the conviction and the courage to be adventurous. The film's success reflected an attitudinal shift in the taste of Indian audiences towards a more progressive way of thinking.

Gippi appears to be thinking along similar lines. Not only is its theme one that is traditionally believed to make for awkward conversations, but it seems to be asserting that Indian audiences are now willing and open to make those conversations. This, in itself indicates the fertile
growth of our cinematic taste buds and mirrors our preparedness to engage in a dialogue concerning such significant yet sidelined subjects.
When you look at the trailer of
Lootera,
produced by Anurag Kashyp and directed by Vikramaditya Motwane of
Udaan
fame, you see how a story set in the 50s is tailored for contemporary audiences. Introducing the two leads, the film exhumes a sweeping vibe capable of an epic romance, but instead of giving us the traditional and assured promise of love, it hinges on the uncertainty of it.
Like
Lootera
's longing romance, present-day Hindi cinema is becoming serendipitously nomadic. It is drifting toward an advantageous region, one where our staid notions of normalcy are getting challenged.
In the ensuing process, audiences aren't merely enjoying content because it makes for a refreshingly entertaining watch, but these movies are systematically influencing mainstream socio-consciousness with topics that would have been frowned upon had they been even thought of a few years ago. The once-tabooed is ambitiously making its delayed entrance in theatres and penetrating the largely conservative Indian mindset that infamously opposed even the portrayal of kissing scenes and themes of adultery at one point.
So what is driving the change? Since time immemorial, Hindi cinema has subscribed to the formulaic largely because of the pressures of the marketplace. But contemporary filmmakers are inspired by a rather different ideology. Instead of succumbing to the demands of the mainstream -- something that makes for a claustrophobically restrictive creative space -- filmmakers today are confronting it by sculpting products brimming with irreverence and conceptual originality.
The cheerful arrival of
Gippi
is an indicator of that healthy trend. Films featuring sperms as superstars or periods as a commonplace occurrence, increasingly discard the taboo and the stereotypes attached to these perceived social stigmas, lending them educative acceptance, something the people of our country can benefit from a great deal. And Gippi is one curious young superwoman heralding that change.