Although famously reclusive and fitful in his creative output, Daniel Day-Lewis's decision to hang up his boots feels both untimely and unexpected, says Sukanya Verma.
'Seeing Daniel, I always think about how we all came from the jungle and, in that jungle, there's a wild boar running at you. Now, there's only one place to hit the boar with a dart to stop it dead in its tracks. The person throwing the dart must have a huge adrenaline rush and yet be cool as a cucumber. Daniel has that weird, strong ability.'
-- Jim Sheridan, who directed him in My Left Foot, In The Name of the Father and The Boxer.
'I think directors arrive at Daniel when they're looking for other people. There are a lot of sides to him. Unlike many actors who give you everything in every film, he gives you only those colours that apply.'
-- Philip Kaufman, who directed him in The Unbearable Lightness of Being.
'I got to see and experience Daniel's evolution, from the day he said yes to the day he came on the set as our 16th president. That was its own reward. And it brought everybody's game up. He brought so much inspiration to every actor he acted with, and even actors who never had a scene with him. Just knowing he was playing Abraham Lincoln, everyone brought their game to a new height.'
-- Steven Spielberg, who directed him in his dream project, Lincoln.
'I saw him in My Left Foot. What I saw was the dedication. After about 10 minutes of the picture, I had forgotten he was an actor. At the same time, I saw him in The Unbearable Lightness of Being and I liked his sense of romance and the way he moved into the frame. He floated. He had a sense of stature to him.'
-- Martin Scorsese, who directed him in Age of Innocence and Gangs of New York, on his first screen impressions of the actor.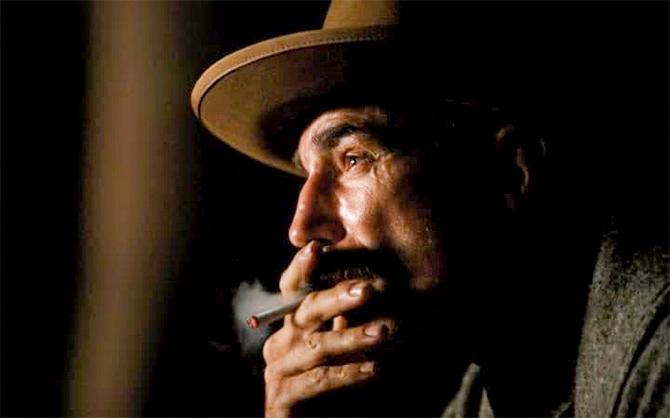 IMAGE: Daniel Day-Lewis in There Will Be Blood.
Praise pours at the very mention of this man whose small but sterling oeuvre has reserved its place in the pantheon of acting gods.
That Daniel Day-Lewis is a masterclass in acting, the greatest of his generation, a gem so rare and dazzling he adds value to everything just by association is by no means an exaggeration.
Day-Lewis' unique approach to his artistry or what he considers mere 'details' may attract undue attention but in view of the spectacular results it provides, nobody in his right mind has ever complained.
Although famously reclusive and fitful in his creative output, the 60 year old's decision to hang up his boots feels both untimely and unexpected. Here's hoping he'll change his mind.
We offer five good reasons why DDL should not quit acting.
1. Cinema needs a perfectionist like DDL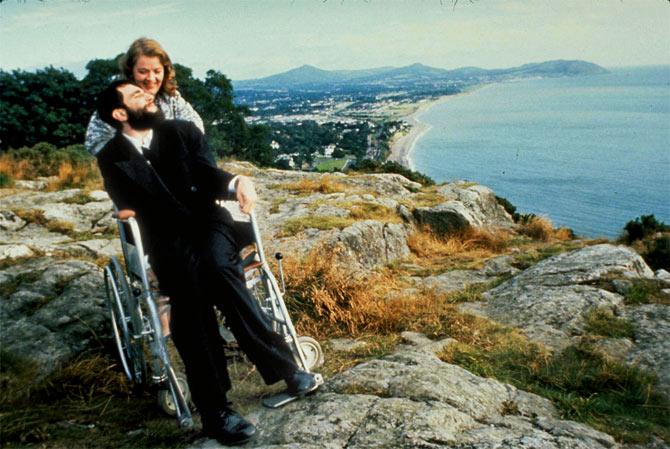 IMAGE: Daniel Day-Lewis in My Left Foot.
At a time when art feels driven by commerce more than ever and tentpole entertainment is threatening the survival of quality filmmaking, where will you find purists like DDL who spend months learning Czech to get an accent right in The Unbearable Lightness of Being, starve and stay in isolation to understand the state of mind of his character In The Name of the Father, learn boxing from a former world featherweight champion for over a year till he resembled one in The Boxer, stick to a wheelchair and insist on being spoon-fed to stay in the character of a painter suffering from cerebral palsy in My Left Foot and go through all sorts of hardships and emotional strain to become the person he was portraying for screen?
Stories of his intense method acting, one that he so loathes to talk about at the risk of being labelled a mad genius, are what contribute to the legend of Daniel Day-Lewis.
And we totally love him for it.


2. He's the Ultimate Inspiration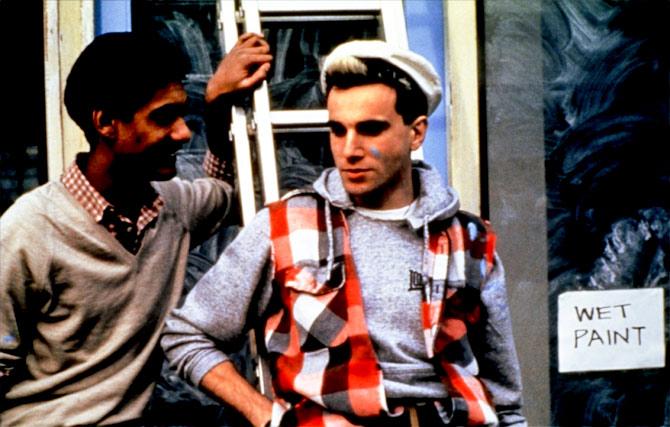 IMAGE: Daniel Day-Lewis in My Beautiful Laundrette.
Just look at the man's body of work. Gasp, yes?
He's collaborated with some of the best minds in the business -- Richard Attenborough, Merchant-Ivory, Jim Sheridan, Martin Scorsese, Paul Thomas Anderson, Stephen Frears, Philip Kaufman, Rob Marshall, Steven Spielberg, Michael Mann and demonstrated his versatility in ways that elevated the film to another level.
It's no surprise then the multifaceted thespian has inspired everyone from Jude Law and Tom Hiddleston to our very own Baahubali star Prabhas, to take risks, to go that extra mile.


3. We'll miss his eloquence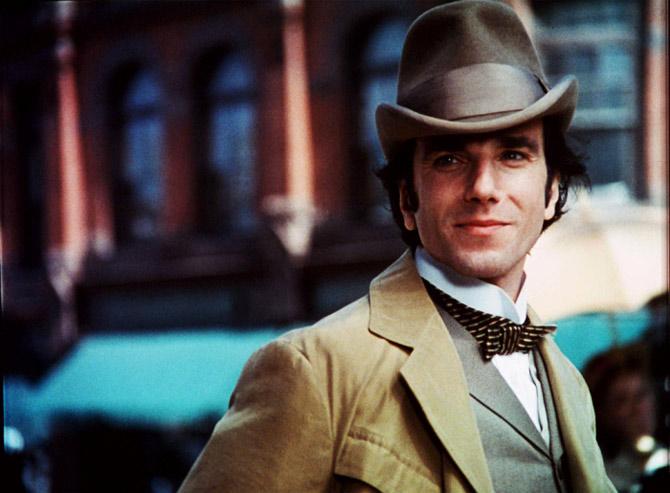 IMAGE: Daniel Day-Lewis in Age Of Innocence.
As someone who never cared for the trappings of stardom anyway, his decision to entirely distance himself from it frees him from the obligations to talk at all.
Our loss entirely.
Born to England's late Poet Laureate Cecil Day-Lewis and actress Jill Balcon, DDL has inherited some of his father's gift for words. His few but fabulously insightful interviews (and, of course, award acceptance speeches) are a case in point.
Sample these:
'Actors should never give interviews. Once you know what colour socks they wear, you'll remember it next time you see them performing, and it will get in the way. It is not in anyone's interest.'
'Acting was the only acceptable alternative to being a real person.'
'That's the closest I'll ever come to getting a knighthood, so thank you. My deepest thanks to the members of the Academy for whacking me with the handsomest bludgeon in town.'


4. That fourth Oscar!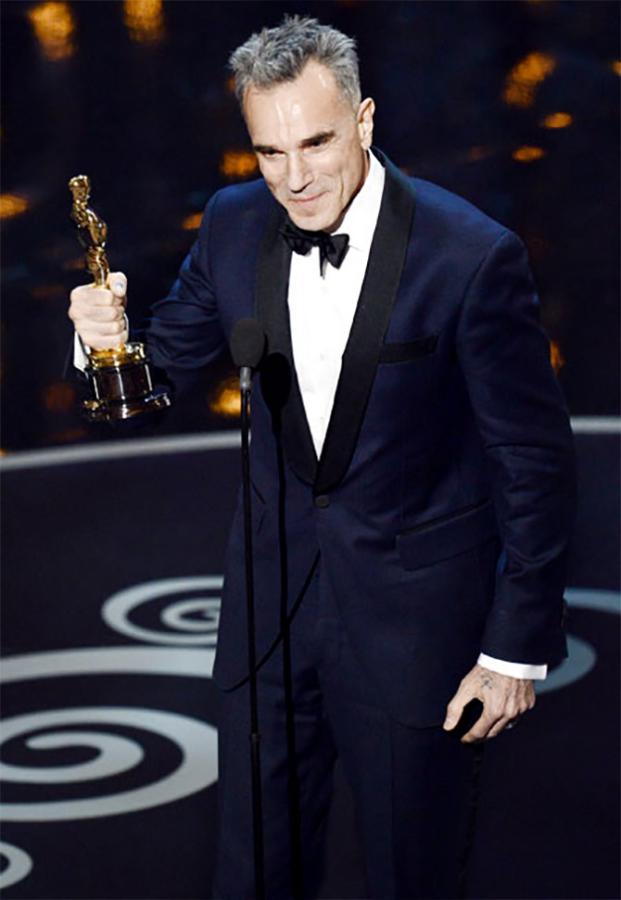 IMAGE: Daniel Day-Lewis accepts an Oscar.
Speaking of the handsomest bludgeon, Day-Lewis has already nabbed three Oscars for Best Actor in a Leading Role category (My Left Foot, There Will Be Blood, Lincoln), the highest ever among men.
One more and he'd stand alongside Katherine Hepburn who has won four Best Actress trophies to her credit.
Given his winning track record, the likelihood of that happening would not at all seems improbable if only he's up to more acting assignments.
We are too greedy to consider his impending last release, Phantom Thread, directed by Paul Thomas Anderson.


5. So many items to tick off from our Daniel Day-Lewis Wish-List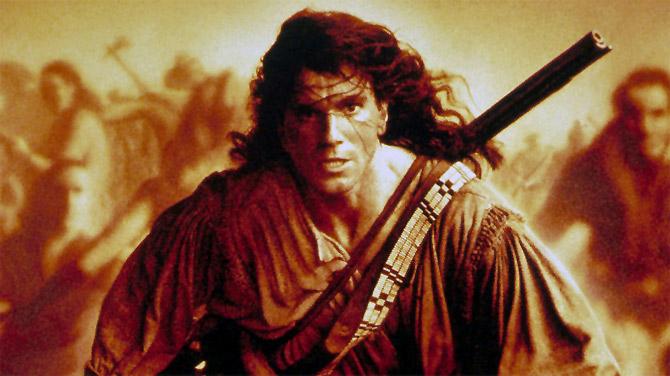 IMAGE: Daniel Day-Lewis in The Last Of The Mohicans.
One would have loved to see him in a science fiction film.
Or a project pitting him and fellow member of the Brit-Pack -- the ever-so-brilliant Gary Oldman.
Or even a Ken Loach drama, the distinguished English director he reveres and counts among his biggest influences.
Ah, the list goes on...