'I hope against hope that Indian film-makers don't take their future cue from the creator of this insufferable franchise,' says J Jagannath.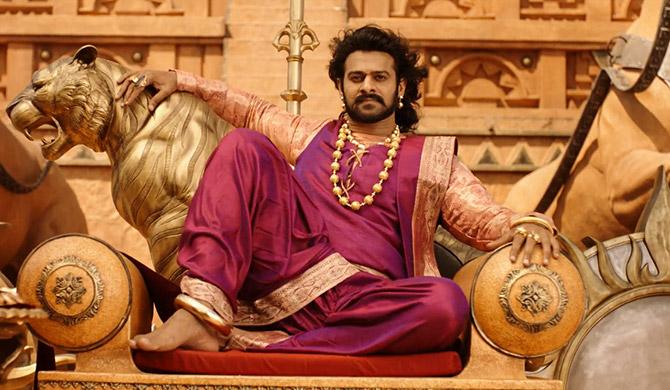 IMAGE: Prabhas in Baahubali: The Conclusion.
For the last four weeks, the most read stories have been the myriad ones on the kind of money Baahubali 2 has been minting at the box office.
At a time when the country is in the grip of mob lynchings and a new tax system where renewables (18 per cent) are taxed more than coal (5 per cent) and sanitary napkins are taxed at 12 per cent while sindoor is tax free, it's fascinating that people are obsessed with following the box office conquests of a frankly unspectacular movie.
As someone who hails from coastal Andhra, my heart swells that finally Telugu cinema is being recognised in the Hindi-speaking parts of the country without being subsumed under that hideous rubric called 'Madrasi cinema.'
But I wish the industry was recognised for something more compelling than a lethargic movie that rightly is -- to quote a Web site's headline -- 'three hours of Prabhas porn.'
But Baahubali is not exactly Telugu cinema. The characters could have come from anywhere in Indian mythology.
Comparisons with quintessential Telugu gems like Maya Bazaar, Daana Veera Soora Karna are uncalled for.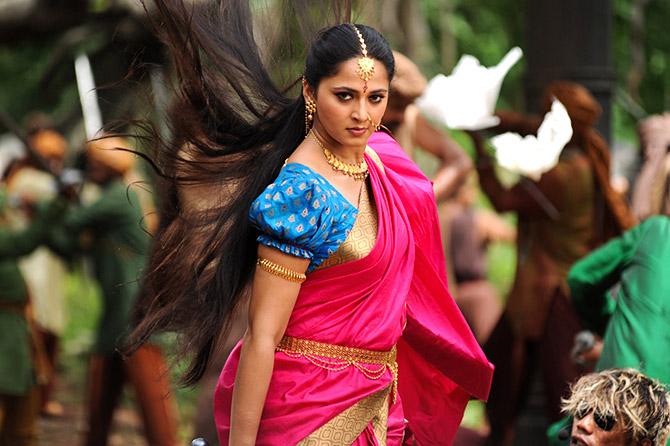 IMAGE: Anushka Shetty in Baahubali: The Conclusion.
Director S S Rajamouli is a one-trick pony, but that trick might just rock your 180-minute existence at the cinema, if you are in an easy-to-please mood, that is.
Right from his debut 16 years ago, Student No.1, Rajamouli has been the master of interval bangs.
Each movie of his moves along sedately in the first half, until things hit a deafening crescendo in the pre-interval sequence only to put its eager audience back into a lull.
I still get gooseflesh when my inadvertent nocturnal YouTubing activity involves me gaping at the intermission parts of Simhadri, Vikramarkudu, Magadheera or Chhatrapati.
The Baahubali movies don't even stand up to Rajamouli's underwhelming standards. However, the franchise ought to be a case study at Ivy League B-schools.
In 1960s, a clever person posted an ad in The New York Times asking for a dollar from the public for a secret that he would reveal days later.
He got truckloads of dollars only to reveal that there was no secret in the first place to prove that the public can be conned when a marketing strategy is spot on.
Rajamouli did something similar with his 'Why Kattappa killed Baahubali?' question.
It was the biggest moment in the sclerotic Indian pop culture history after Shah Rukh Khan's 'lungi dance.'
Alas, the answer to that all-important question had coitus interruptus written all over it.
Not a single person I know was blown away by the revelation, but then, you pay for your ticket upfront.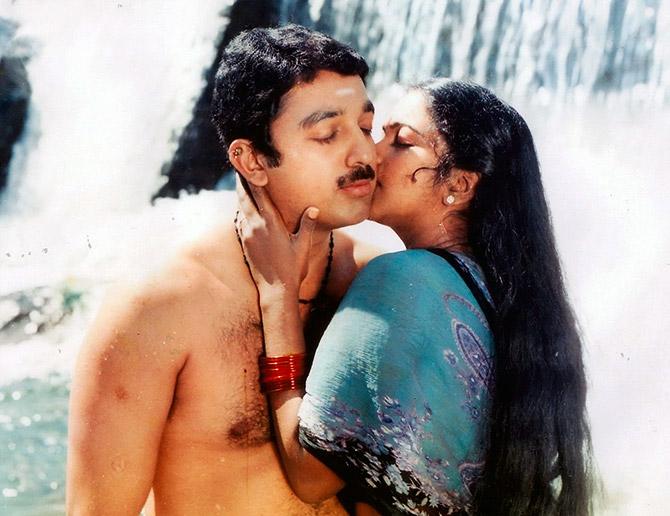 IMAGE: Kamal Haasan and Raadhika Sarathkumar in Swati Mutyam.
It's a minor tragedy that while mainstream English media was salivating over Baahubali 2 and its collections, not even a footnote was reserved for K Vishwanath who got the Dadasaheb Phalke Award.
Here's a man who made the country's most progressive cinema like Shankarabharanam, Swati Mutyam, Saagara Sangamam, Saptapadi, Sirivennela to name a few of his outstanding works.
Barring the Telugu media, where his works have been discussed threadbare to a beautiful effect, the English media has been near silent.
Ignorance isn't always bliss when the media is basically co-opting in making the audience choose junk food over fresh fruits and leafy vegetables.
This is basically capitalism at its despicable best.
---
---
In a New Statesman piece titled 'In Defence of Philistinism', Yo Zushi says that canons are formed by critical consensus and that none of the five most profitable films -- Avatar, Titanic, Star Wars: the Force Awakens, Jurassic World and The Avengers -- are by any means canonical.
You've probably seen them, but don't feel guilty, says the writer. 'They are, to be frank, dumb and devoid complexity yet millions of people love them,' writes Yo.
Unlike the West, here we seem to forget that 'event movies' are not cinema and that they cater to the basest human instincts, like Fast and Furious.
The whole hype surrounding Rajamouli's magnum crapus reminded me of a line from Robert Musil's The Man Without Qualities, which I am poring over at the moment: 'Much of a man's importance lies in his ability to make himself understood by his contemporaries.'
I hope against hope that Indian film-makers don't take their future cue from the creator of this insufferable franchise.