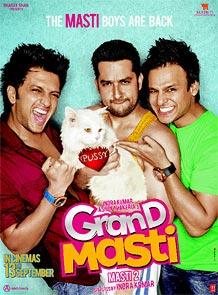 They say that cinema is a reflection of society. If that is true, what kind of society are we living in, asks Paloma Sharma.

It is late Monday night. I flip through the channels on my television, tired of watching the circus that news and entertainment shows have made out of something as severe as sexual assault.

The more I press the buttons on my remote, the more the lines between common sense of decency and what sells, blur. Somewhere in those shades of grey, everything on my TV seems to merge into one, single monstrous entity.

I stop at a music channel only to be hit by a most crass trailer for a film. Grand Masti, it is called.

'Grand Masti,' I wonder to myself, 'but for whom?'

The answer becomes amply clear as the trailer states "The Boys Are Back" and then goes on to introduce three middle-aged married men (one of whom has a child of his own) who are just looking for some fun.

The three 35+ 'boys', sexually frustrated after marriage, decide to go back to college (as what, professors?) and 'get some'.

Almost 90 percent of the trailer is made up of heaving cleavages, bouncing bottoms and double-meaning 'jokes' that are really just lazy, non-innovative attempts at humour.

Ironically, one of the cast members of Grand Masti, Vivek Oberoi, had given a detailed statement on his views regarding women's safety on December 28, 2012. Here are some particularly interesting excerpts:

"Every mother should teach her son to respect every girl. That is where it (the change) will start. If he says something (wrong) about a girl, then she should slap him. Then we will learn."

Quite funny that the role of the father in raising his own children and providing a positive example of masculinity (especially to his son/s) has been completely overlooked by Mr Oberoi.

Yet, he deems it perfectly all right to go on: "I think women can protect women in the future, the greatest service by instilling in their children, brothers and husbands, the right values for women. Respect for women is not an option, it is a necessity."

Right, because women are responsible for the behaviour/cultural values that the male members of their families hold ("tum hi hamare ghar ki izzat ho", geddit?) while men are not responsible for their own actions in any way.
Yup, that makes sense.
No, really.

After December 16, 2012, the gods and goddesses of Bollywood have made one thing amply clear -- they are anti-rape.

While a certain celebrated rapper/singer is making a beeline to disown songs chronicling his rape fantasies, a Bollywood star daughter was recently found making headlines for attending a protest against the gang rape of a 23-year-old photojournalist that took place in Mumbai's Shakti Mills.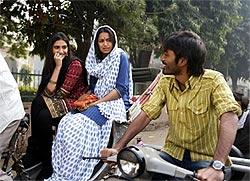 Incidentally, the same actor was promoting her film Ranjhanaa which, as Shobhaa De had pointed out in her column, glorified stalking. Aanand Rai, the director of the film, had replied that Ms De's views were "absurd and myopic" because "in a small town pursuing a girl until she says yes, is a sign of true love."

If only Mr Rai would look into the glazed, dead eyes of the thousands of nameless, faceless small town girls who were "pursued" by roadside romeos until their families would no longer let them go to school, were married off to men twice their age or worse, to the stalker himself, for fear of bringing "shame" upon their families.
If only Mr Rai could have opened the newspaper and perhaps his heart at the same time, to know how many girls in rural India are sexually assaulted and battered to death by their "lovers" and his friends, how many are shot in the head in broad daylight in open market places, how many are disfigured for life by acid burning away the once-soft skin of their faces and how many never got a chance to say "no".

Aanand Rai's statement was only the first scathing blow. The silence of Ranjhanaa's leading actors poured salt into the open wound.

I do not hold a grudge against the above mentioned Ms Kapoor for protesting because she is an equal citizen of India and has the right to do so, just as you and I do.
In fact, I am glad she did so. Bollywood stars are known for the cult-status they are uplifted to by devout admirers who swear by them, and hopefully their fans will emulate this positive action and take a stand as well.

But what does disturb me is the ease with which our matinee idols speak a few words of sorrow at such "incidents" and then go on to endorse the crassest of 'item numbers' (where we conveniently forget that 'item' refers to the woman who is dancing) that portray a completely false sense of a woman's sexuality.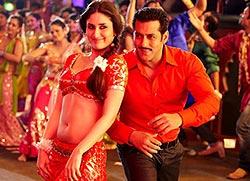 Just FYI, most women don't want to be compared to the "leg piece" from a tandoori chicken and glasses of "desi daaru". Sorry to burst your bubble, but item numbers are what men want to see women want, and they are certainly not 'liberating'.
But this blatant, unapologetic and completely socially acceptable hyper-sexualisation and objectification of living, breathing Indian females (who occasionally manage to wriggle into the 'fellow human beings' category) points to a more obscure truth that lurks beneath the surface -- Bollywood's audience is primarily male and that's the group that its products target.

Countless films have centred round the hero's quest for revenge against the rapists who brutalised his sister (and sometimes, the father who abused and abandoned his mother) whereas the feelings of the actual victims have been left out.
Looking back, Sushma Swaraj's "zinda laash" (living corpse) comment could have easily been picked out of one of these films.

However, times have changed, as have stereotypes. But have they really?
One only has to look at recent films, Cocktail, for one, to see how much we've really progressed. I'm not going to repeat criticisms of Cocktail here because any partially functional being with an IQ higher than an ameoba's can get the glaring Sexy v/s Savitri angle the makers of the film have chosen to play out.

But it isn't only films that have this rigidly patriarchal mindset (and how I loathe using that term), we all do. We are all products of patriarchy. But I (and I assume, you) are willing to stand up and change that.
I wonder if the same applies to the stars that millions of young people from around the world look up to.

Some of these stars were found gracing the red carpet at a non-memorable event for Gillette's 'Soldier For Women' campaign (talk about ego-pampering), and they actually thanked men for 'protecting' women. "Thank you for not abusing/raping a woman"? Doesn't that offend all the male celebrities who endorse it!?

No, none of us are perfect.
Even the most concerned stars make the most horrible of choices. For example, Aamir Khan, who spent a considerable amount of time discussing gender equality on his show, yet went on to do the famous scene in 3 Idiots where 'Chamatkar' is substituted with 'Balatkar', thus completely diluting the seriousness of rape.
And, let's admit it, we all laughed. But just because everyone did it -- does that make it right?

The immortals from Bollywood have often defended themselves by stating that they only portray in films what happens in real life -- completely absolving themselves of any social responsibility, completely ignoring the fact that they don't portray, but instead, endorse all that is wrong with our society.

Anyhow, they are private citizens of the nation and they seem to be absolutely (read absurdly) within their rights to do as they please. However, this lowly mortal can only humbly request that if they do choose to continue with the current line of action, our stars should refrain from double speak and making a mockery of social plagues that some of us happen to reflect very gravely upon.

They say that cinema is a reflection of society. If that is true, what kind of society are we living in?