What is it like to be a woman in a male-dominated profession like a police officer, asks Adrija Shukla.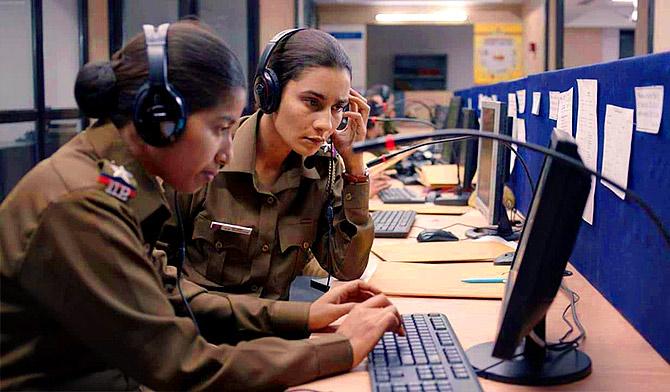 Netflix recently released a film, Soni, to take the viewers closest to the possible answer.
The film is a brutally honest representation of the scenario, which neither takes us too deep into the miseries of the women nor gives false hopes.
The best thing about the actors of the film is that one can relate to them.
We have seen the glimpse of these women everywhere around us.
These are not larger than life characters that do extraordinary things.
They are just regular women, who come up with their own way of dealing with things despite pressure from society and their own families.
The film, directed by Ivan Ayr, is a story of a sub-inspector Soni (Geetika Vidya Ohlyan), a hot-headed woman, who has anger issues.
After a point, Soni wants to teach every man a lesson who misbehaves with her.
She obviously has to face consequences for her actions.
Soni works under an IPS officer, Kalpana Ummat (Saloni Batra), who has to face a lot of flak because of Soni's actions. But Kalpana does not leave Soni's side. In fact, the camaraderie between the two women gains strength because of their dedication towards their work.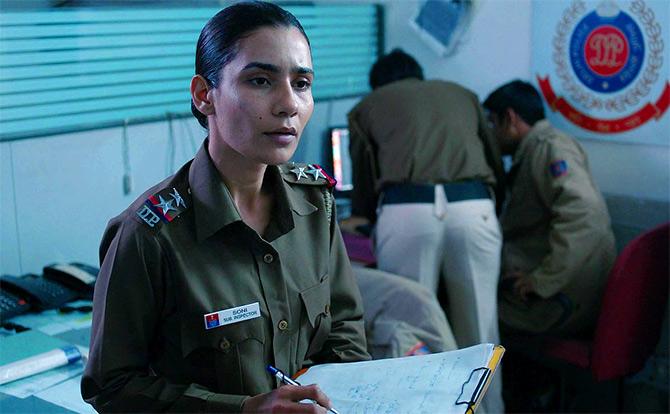 Kalpana is a level-headed woman. At home, her mother-in-law is worried that she has crossed her 30s, time is running out, when will she become a mother?
At the office, her husband tells her that her juniors are getting her into trouble because she is too soft in dealing with them.
But Kalpana knows what she wants.
During the film, this character feels suffocated because of the behaviour of the people but she doesn't shy away from performing her personal and professional duties.
With changing times, women have become more vocal about exercising their rights.
But a lot of stereotypes still come handy when women step into the roles that are conventionally performed by men.
Taking the example of the army, recently, General Bipin Rawat said the army is not yet ready for women in combat roles.
'We are not yet ready for that... Women are needed to be prepared for that kind of hardships. It is not easy. Let us not compare ourselves with the Western nations. They are more open,' he said.
'There are orders that we have to cocoon her separately. She will say that somebody is peeping, so we will have to give a sheet around her.'
I think in that case a better statement would have been that men, along with women, will also be needed to be prepared for that kind of situation.
General Rawat even said since the majority of Indian soldiers still come from villages, they will have a problem taking orders from a woman commander.
Apparently, when it comes to the show of power, it is pretty good to make a woman lead an all-men army services contingent on Republic Day.
Contrary to man, no matter how high-ranking officer a woman becomes, her gender never leaves her.
This reminded me of the time, when Prime Minister Narendra Damodardas Modi, while his visit to Bangladesh, praised his counterpart by saying that Sheikh Hasina was tough on terrorism, 'despite being a woman'.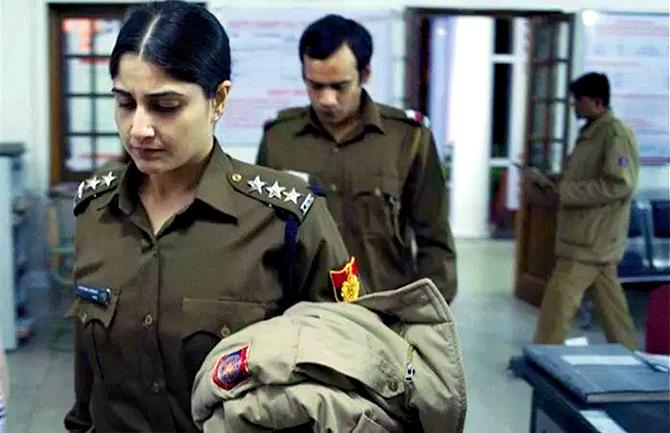 A few weeks ago, Congress President Rahul Gandhi sparked a controversy with his remark.
'The watchman with a 56-inch chest ran away and told a mahila, defend me,' he said.
The use of the word mahila for Defence Minister Nirmala Sitharaman in a demeaning manner angered many women activists.
If you have seen the video in Rajasthan, where Gandhi was giving his speech, the mic also captured the obvious loud cheering from audiences after his remark.
In one of the scenes in Soni, during duty at a check-post at night, the police officers stop the car of a drunk navy officer.
Being a senior on the duty, Soni tells the officer to come out of the car.
Her anger shoots up when the officer holds her hand.
She throws him out and beats him up.
She had to face repercussions for her decisions and being her boss, Kalpana, too.
When Soni is attacked at home, her estranged husband tells her had he been living at home, no one would have dared to do this to her.
Throughout the film, Kalpana's junior officers call her 'Sir', which seemed to be a practice in the police department.
She scolds her juniors for not following the protocol of giving women officer to an abandoned girl, found by a constable.
In one of the scenes, Kalpana's husband, who is also a high-rank police officer, asks her why did she even choose to become an IPS officer, when she can't behave like one.
Despite being dismissed as someone soft and weak, she does not stop dealing with people with empathy.
Sometimes I feel that in the fight of feminism and equality, women have been so busy proving themselves to be tough that no one now gives importance to this quality empathy anymore.
When Soni comes home after a spat with the navy officer, her neighbour gives her ultimate solution to her problems: 'Start wearing sindoor (vermilion). People will stop misbehaving with you.'
On the other hand, Kalpana teaches her 13-year-old niece to confront the students who made fun of her periods at school.
Maybe women helping women will make this world a little better.