A lesson for Jeetendra from Raaj Kumar, Shashi Kapoor delivering gas and Susan Sarandon-Jessica Lange's caustic retelling of the infamous Bette Davis-Joan Crawford feud, Sukanya Verma's super-filmi week turned out to quite a blast from the past.
Monday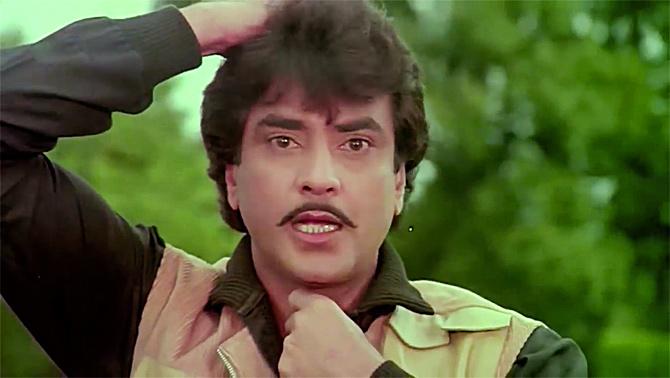 When one assimilates as much formula as Jeetendra has in a career spanning some 200 odd films, it's bound to leave imprints. At least that's what I tell myself to make sense of his bizarre statement from a 2013 interview to Rediff.com
"A lot of things have changed. Earlier, the dialogues had meaning. The lyrics had depth and were melodious and they had some meaning. Today's lyrics are not the same. There is less emphasis on words and more on rhythm and beats. Sometimes I wonder how actors can do lip sync."
Short-term memory loss, together with lost and found or last minute miracles, tops Bollywood's long list of resourceful tropes. And the Himmatwala hero sounds exactly like one of those amnesia-hit characters when he complains about the shoddy quality of song lyrics today.
Obviously, the quintessential Jumping Jack has no recollection of wiggling his hips to:
Sample 1: Ladki tu nahi lakdi ka khamba hai. Bak bak mat kar naak tera lamba hai.
Sample 2: Taki o taki taki taki taki re jabse tu aankhon mein jhanki.
Sample 3: Ooi amma ooi amma mushkil yeh kya ho gayi. Tere badan mein toofan utha toh saree hawa ho gayi.
Sample 4: Apna ghar hai swarg se sundar. Swarg mein kahan se aaye machar. Arre machar bhi aashiq hain tumpe kya karoon?
Sample 4: Mama mia mama mia. Pyar ki gaadi tez chalao, accelerator aur dabao.
Sample 5: Anchal ke andar kya hai? Anchal ke andar choli. Choli ke andar kya hai? Bataon bataon holi mein. Tabahi hai tabahi tabahi.
I don't blame Jeetendra's convenient lapse of memory. Who would take pride in such embarrassment? But it's like his Mere Huzoor co-star famously said, 'Jinke ghar sheeshe ke hote hain woh doosron ke gharron par patthar nahi phenka karte.'


Tuesday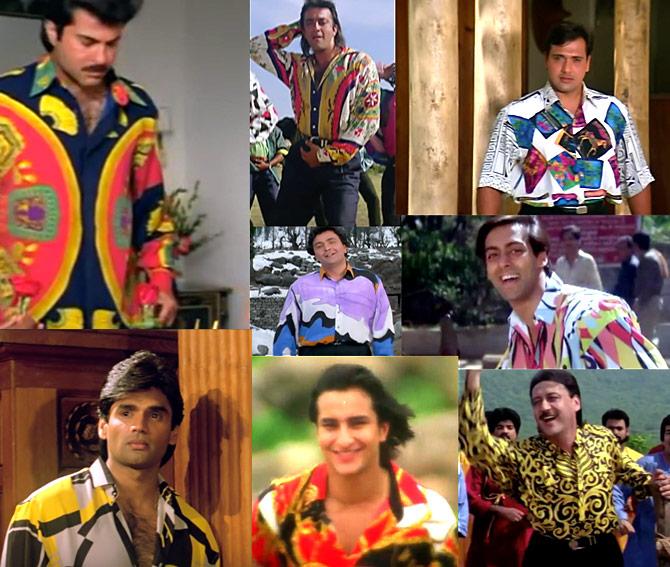 Theme of the day: I love everything about the 1990s.
Awkward realisation of the day: So, not everything.
Like that awful trend in menswear where heroes pranced about in recycled avatars of discarded scarves big on kitschy design or abstract prints.


Wednesday
On YouTube, you'll find videos where you can watch an entire movie in flat 15 minutes. It's like an abridged edition highlighting the premise, conflict and climax, wherein you get a fair idea if not the feel of a film.
Turns out 15 minutes are excruciating enough to debunk the 1969 flapdoodle, Raja Saab. Directed by Suraj Prakash, the Shashi Kapoor-Nanda starrer reunites the hit team behind Jab Jab Phool Khile to forgettable results.
Here's why you need not bother:
I could live with suave Shashi as a Kashmiri shikara paddler but as a cylinder lugging gaswallah, Raja Saab goes too far. He plays a dorky orphan with a silly hairstyle masquerading as a prince to woo Nanda, a genuine princess sporting the eeriest brand of blue contact lenses. But it's the sight of Shashi in her nightgown that attracts Nanda's daft attention and the two promptly fall in love.
On learning he's no royal, she discards her coloured contacts and pretends to be a cotton-clad commoner residing in a humble chawl until a snoopy neighbour rats her out, 'Aati hai chamkeeli sari aur neeli aankon mein aur jaati hai khadi bhandar ki sari aur kaali aankhon mein.'
Only in movies characters go berserk on learning their sweetheart owns a fortune. And so Shashi burns down the house they co-built, one that looks like it belongs inside Three Little Pigs, and refuses to come around till Nanda throws herself on his feet like a typically submissive 1960s Hindi film heroine.
In the end, she donates all her wealth to charity and the duo rekindle their romance in one of those piggy-inspired digs.


Thursday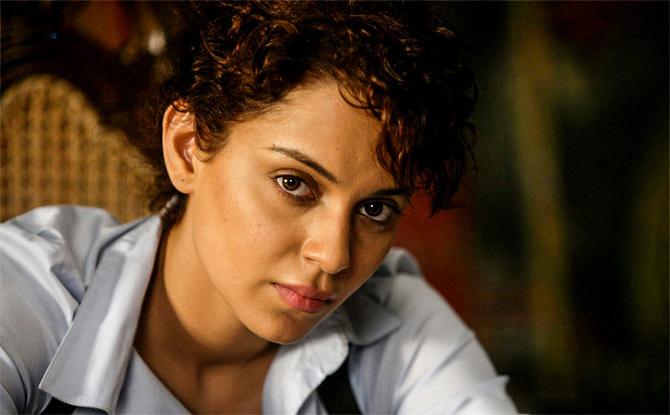 Kangana Ranaut turns 30 today. It's very rare to find a movie star's off screen presence as fascinating as the one on celluloid. But there's so much to celebrate about this spunky, original actress.
Of all the cool things to learn from her, my favourite is 'nobody can hurt you against your will.' It's a formidable quality but to achieve objectivity about your pain, treat it with humour suggests enormous mental strength and deep regard for the self.
It's why she would be a fine choice to play an updated version of Sridevi's diametric avatars in Chaalbaaz.


Friday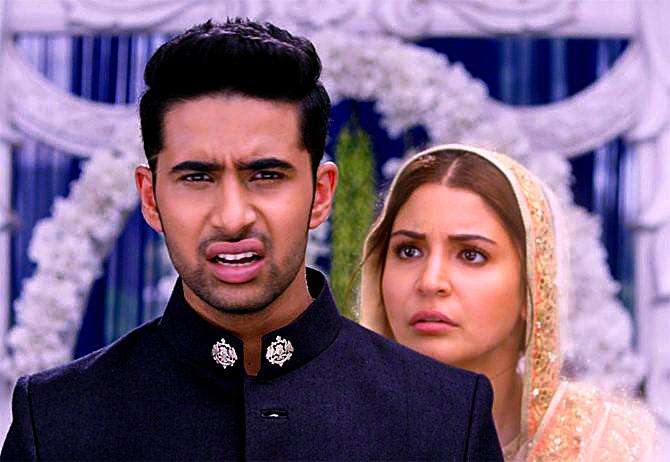 Well-behaved ghosts are no fun and a huge reason why Phillauri is such a let down.
Anushka Sharma may be one of the most angelic bhoots to grace silver screen but her home-production, fluctuating between a Punjabi family function and Punjabi village romance, is too slack to impress.
Like I wrote in my review, director Anshai Lal's 'insistence to maintain room temperature humour and downplay a frothy premise robs Phillauri of fizz in its comedy.
'Funny how after dodging dramatic vigour like a shortcoming, even at places where it would be viewed as benefit, Lal succumbs to a gimmick of a climax.
'For a story that circles around a spirit it's a pity how little one sees of it in the movie. '


Saturday

Watching the on-going TV series Feud, Susan Sarandon and Jessica Lange's robust recreation of Hollywood legends Bette Davis and Joan Crawford's acrimonious relationship during the making of What Ever Happened to Baby Jane has got me curious about the 1962 black and white horror.
More than five decades have passed, the genre has advanced into bolder, brutal territories but What Ever Happened To Baby Jane draws your rapt attention with its volatile intensity, macabre mood and powerhouse delivery of its two leading ladies.
Feud allows a shrewder, spicier understanding of their rivalry as well as the ruthless workings of Hollywood studios and opportunistic media. I feel renewed appreciation for Sarandon and Lange's efforts after seeing how closely they resemble the reality of it.
Would be fun to see someone here helming a script along the same lines. Imagine the sleepless nights showman Subhash Ghai must have undergone appeasing the mighty egos of movie heavyweights after he roped in thespians Dilip Kumar and Raaj Kumar to play friends turned foes in Saudagar.


Sunday
Catching up on Basu Chatterjee's breezy but simplistic Khatta Meetha on Amazon Video after decades.
The background score sounds increasingly familiar. Ah, I know. Composer Rajesh Roshan rehashed the said tune years later as Tanhayi Tanhayi for brother Rakesh Roshan's overblown action drama, Koyla featuring Shah Rukh Khan and Madhuri Dixit.
He's not alone.
Shankar Jaikishan adapted Awara's poignant background into Jis Desh Main Ganga Behti Hai's O Basanti pavan pagal whereas Shiv Hari romantic theme in Chandni took form of Lamhe's melodious Kabhi main kahoon.