Home > India > Movies > Interviews


Discuss |
Email |
Print | Get latest news on your desktop

The Rediff Interview

'Oye Lucky has a darker story'

Arthur J Pais | November 26, 2008


| | |
| --- | --- |
| Dibakar Banerjee | |
| | |
| | |
| | |
| | |
| | |
| | |
Less than two years after his first film Khosla Ka Ghosla [Images]!, the small budget, runaway hit, film-maker Dibakar Banerjee has made Oye Lucky Lucky Oye. The 37-year old film-maker spoke this week about his new film, how he had taught himself the film-making art and his next project. . 
Some people think that Oye Lucky Lucky Oye is an outright comedy.
It surely has comedic touches but it also has a deep and darker story. I have not made a preachy film but it is a fable of modern India. True, it is the story of the meteoric rise of a young thief who wants to have a glamorous life. On the surface it is an often funny and thrilling ride. But at its core it is about what the new and 'liberated' India is.
I see the country as a pressure cooker of unrealized dreams and ambitions. On one hand there is a class that has made great progress and earned a lot of money. It flaunts its new found wealth all the time. On the other hand, there is stark poverty. It is not easy for a common man, and particularly a poor person, to break through the innumerable barriers and achieve success. Of course there are some people who manage to succeed despite these barriers; they do so by being honest, enterprising and hardworking. But there are also people who want to do things in a quick way. They are also aware that many super rich and super successful people haven't reached the top playing by the rules. The rush to get rich and have a glamorous life has an awful effect on our society.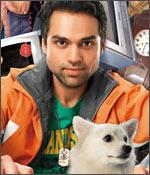 Despite these concerns,  I did not want to make the film didactic. I have told it as an entertaining satire.
I have made the new film with the same honesty as I used in Khosla Ka Ghosla!. But I am also a bit anxious to see if the audiences will see fully below the laughs and the adventures of my thief. I hope they will see what I am trying to show -- the darker side of the new India.
Your first film was an unexpected success; it was also well received by the critics. Did you have any worries when you began working on Oye Lucky Lucky Oye?
By the time Khosla was released, I had come to know more about how the system works. I had also come to know more about the business and the risks inherited. My writer Jaideep Sahni and I had gone into the first film project with an air of innocence. We did not think that we were breaking some of the rules of the Hindi language movies.
The man who produced the film was also new to the industry. Jaideep and I have been friends for a long time and he knew I was longing to make a film away from the traditional milieu. It was he who told that he had found a producer who was willing to make a film on a tiny budget Things worked out very well with our first film but on the second film, initially there was some fear in my heart. Jaideep was not there this time as he was busy with Yash Raj projects; he was contractually bound to work on certain films for Yash Raj.
By the time I was finalising the cast and crew for the new film, Khosla had become even a bigger success on video and TV. So there were higher expectations for me.
In the previous film we had turned away from the safety measures that are so inherent in most Hindi films; there were no item songs in the film, no typical romance or hype. I was worried how I would be able to handle the pressure on the new film. But instinctively I decided I was not going to be pigeon holed and run after safety measures like having stars play the leads.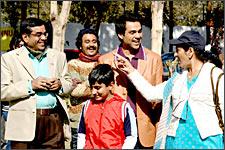 Are you against working with movie stars?
Not really. But for Oye Lucky I needed a good actor who would endure rough shooting. The pace of shooting this film was intense. We shot at 75 locations in 55 days in and around New Delhi [Images]. The standard movie star would not have been able to cope well with the pressure. We had excellent cooperation from Abhay Deol. He is relatively new to the movie industry and yet he has done an excellent job of playing a complex thief longing for social celebrity.
You also have Paresh Rawal [Images] in triple roles.
When the script was ready, it was just one part but I changed my mind, and persuaded him to do another role. And then came the third part. He thought it was all very complicated. I had to work hard to persuade him that he could do justice to the three distinct roles within the allotted time. And he was extraordinarily cooperative. But there was one big problem. He is a very big phobia of sticking a beard on his face.
How did you make him overcome the fear?
(Laughs).We had to work on him slowly, convincing him that he will feel comfortable after a little while. I also found out that he can be a very greedy man. He is greedy to take up challenging parts, working against the tide. As he pored over the script, he felt he could make a great impact. And that drove away his fear.
What are some of the most important factors you have discovered while working on your two films?
I have realized that there is a difference between pleasing the audiences and connecting with them. Many writers, directors and producers start with the thought that they should please the audiences. But I feel that the audiences want to be touched, they want to be connected. They are smart and they respond to honest and good story telling.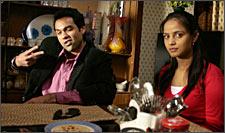 Who are some of the film-makers you admire most?
Whatever I know of cinema and film-making comes from watching interesting films. When I was 16, I watched with a few friends a video of Martin Scorsese's Taxi Driver  We thought it was full of sex (laughs), that it was a porn film. But as the film was progressing, we were stunned to see it was a great film. We were breathless at the end, and soon we were watching it all over again, completely astonished by the craft and the performances.
Another film-maker who has made a big impact is Ketan Mehta, especially with Holi. And I admire Vishal Bharadwaj's Maqbool. These two film-makers in particular showed me that one can afford to be daring and different and still be around to make more films.
Download Ringtones and Wallpapers
What next?
I want to make a thriller with a political background. I feel that despite the economic progress we are making, there is no room for real dissent in the country. It looks like people who are questioning the establishment are driven out of the mainstream or after a while they themselves join the establishment. Everyone seems to be itching to get into a Ferrari [Images]. At times the person who was victimised by the powerful people joins ranks with them and starts treating the other dissenters the way he was treated a few months or a few years ago. My thriller would address some of these issues, and the contradictions in us that affect our lives and the society at large. It will be as different from Oye Lucky as Oye Lucky was from Khosla Ka Ghosla!
Email |
Print | Get latest news on your desktop