Home > India > Movies > Report


'I have many reasons to feel happy about Oye Lucky!'

Arthur J Pais | November 25, 2008 15:31 IST
Last Updated: November 25, 2008 18:40 IST


| | |
| --- | --- |
| A scene from Oye Lucky! Lucky Oye! | |
| | |
| | |
| | |
| | |
| | |
| | |
Abhay Deol is serious about taking a sabbatical from Mumbai [Images] and continue taking art courses in New York, looking to work with great scriptwriters, and find out how he should handle his movie career.
Right now he is excited about two of his films that are to open soon -- Oye Lucky! Lucky Oye! and Dev D [Images], a modern version of the tragic Devdas legend; he gets the script concept credit  for the latter film directed by Anurag Kashyap.
Abhay stopped by Rediff India [Images] office a few days before going to India to promote Oye Lucky. He was just about 5 minutes late for the interview but he called to say he would be late.
"I am still getting used to New York and navigating through the city," he says. We ask him about the screen story he is writing. "I cannot go into many details just now," he says. "The writer I have in mind to turn the story into a script is very well known. I don't know if he will be convinced to work with me."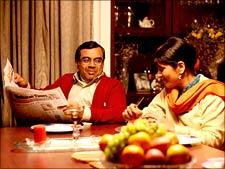 Abhay pauses for a second. "I think he is going to very very expensive."  Another pause: "No, I am sure he is going to be very expensive."
He also talks about how eager he is about the box-office performance of his next two films.
"I will then have to decide what I am going to do with my career," Abhay 31, who has had six films including Honeymoon Travels Pvt. Limited  released in two years, says. "And that is why I decided to live far from Mumbai and check out my options. If you are in Mumbai and tell people that you want to take a few months off, nobody will want to take you seriously."
He feels his gut level feeling about the big potential for Oye Lucky is not unfounded.
"I have many reasons to feel happy about this film," he says. "For one thing, it is made by a very big banner, and it is the first time I am working for a big company."
Download Ringtones and Wallpapers
It is produced by UTV whose hits have included the megabuck Jodha-Akbar and the miniscule budget Wednesday, not to forget Welcome to Sajjanpur, which the veteran film-maker Shyam Benegal [Images] says is the biggest success in a career that is more than three decades 
UTV is also distributing Dev D which Abhay thinks could be a good success, too..
"I believe that whether it is a big budget or small film, there should be a proper release plan for it," Abhay says. "UTV people know how to give their films a good push. I am convinced Manorama Six Feet, one of my films that I am proud of, would have done very well had it been given a good release."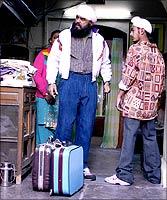 The new film, Oye Lucky, has plenty of black humour, it is inspired by the true story of a charismatic and gutsy confidence man and thief
"Another reason I took up this film was because I got an opportunity to work with a director (Dibakar Banerjee [Images]) who has done something," Abhay continues, referring to the small budget Khosla Ka Ghosla [Images] which became a runaway hit.
"There are two good reasons for me to accept a movie project," Abhay continues. "A good script and how I feel instinctively about the director."
Oye Lucky, Abhay continues, also has Paresh Rawal in a triple role.
"I felt when I worked in this film that I was surrounded by a lot of talent, and that has made my performance richer," he continues.
"The movie should have universal appeal," he continues. "But it is firmly rooted in Delhi [Images]. From the lingo to the locations, it has an earthy Delhi flavour and that was a good change for me." 
Dev D, Abhay says, tells the same story made famous by various former versions by film-makers such as Bimal Roy and Sanjay Leela Bhansali [Images] but he has updated to make it a contemporary film that could win a new generation.
"Once again I am working with a director of proven talent," he says referring to Anurag Kashyap whose Black Friday [Images] was a success with the critics over a year ago.
Abhay says the way he has been going around choosing his film projects has made some people think he is not interested in reaching big audiences.
"I surely want my films play across the board, in the big cities, in smaller towns, in multiplexes and single screen theatres,"  he says. "I may choose to work with a particular director for a number of reasons, and the promise the script shows. But it surely does not mean that I am thinking only of a particular kind of audience. Oye Lucky, I feel, could be one such film that will engage the audiences across the country."