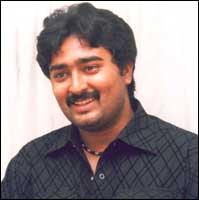 Prasanna, often described as the most happening Tamil hero, is, unlike many of his colleagues, sure about the roles he does. He is among the new engineer-turned-heroes like Arya and Karthik, the hero of PC Sreeram's Vaanam Vasappadum and Mani Ratnam's assistant Priya's Kanda Naal Muthal. The only feature that distinguishes Prasanna from the other two is that he did not complete his engineering course while the others did.

The actor, who debuted with Susie Ganesan's Five Star went on to become a hero for those directors who want the protagonist to don the boy- next-door look. 

Still riding on the success of his second film Azhagiya Theeye produced by Prakash Raj, Prasanna's new film Kasturiman with Meera Jasmine was released last week. It will soon be followed by Priya's Kanda Naal Muthal.
Prasanna spoke to Shobha Warrier about his new films.
Two of your films getting released within such a short time. This must be an exciting phase of your career...
I never imagined two of of my films to release at such close quarters. It is a thrilling experience. Actually, Kanda Naal Muthal was supposed to release months back. Also, the release of Kasturiman got delayed several times before it saw the light of the day on November 18. 

Did you see the Malayalam film, Kasturiman before shooting for the Tamil version?

Long back, I happened to see the Malayalam Kasturiman on television while I was channel surfing. I liked it immensely. Never did I imagine then that one day I would do the role of Kunchako Boban. I also did not know the title of the film was Kasturiman. 

When I got an offer for a Tamil film directed by Lohitadas, I still didn't know I would be enacting the role of Kunchako Boban in the Tamil version of Kasturiman. I came to know that only after I watched the CD given to me by Lohi sir!  knew I would be appreciated if I did the role.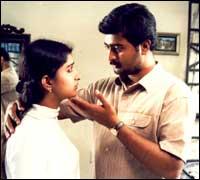 How was it acting opposite Meera Jasmine, a national award winner? Did it put any pressure on you as an actor?

It did not put any pressure on me. She never interfered in what I was doing. We did not have any problem. She was very cooperative as a co-star.

I was told she won the National award for her roles in Paadham Onnu Oru Vilapam and Kasturiman. I was conscious of the fact and I also knew that I should outdo what Chakochan (Kunchako Boban) had done in the Malayalam version. Therefore, I was always seeking help from Lohi sir, who was a great support. 

Films you have acted in are not the run-of-the-mill commercial ones and the characters you have portrayed look real. What exactly do you look for when you sign a film?

I am very particular about not to do the usual roles. There has to be something real about the characters. I can stand out only if I portray ordinary men when every other hero wants to do action-oriented commercial films. I always try to find out if I have anything to emote. For example, the role of the assistant director in Azhagiya Theeye. It was so real that many could identify with the character. 

Has it always been your dream to portray such characters?

From my school days, I have had one dream, to be an actor, though my family has nothing to do with films. My father was an employee of Bharat Heavy Electricals Limited and my mother a homemaker. I joined engineering college as my father wanted me to be a professional. While I was doing my second year in College, I saw an ad on Vijay TV that Mani Ratnam's production house, Madras Talkies was looking for new faces. I applied and was selected to play the lead in Five Star. 

Did you have your parents' permission to do so?

They knew I was applying. They were not at all happy. Though I dreamt of becoming an actor, when I faced the camera, I could not believe it. I was not scared but was very excited. Even before the release of Five Star, I went back to complete engineering because I had to fulfil my father's dream. But somehow I couldn't. My father was very upset. I knew that even if I had finished the course, I would not have worked as an engineer in my life. I would have come back to Chennai and knocked at some produceror director's door!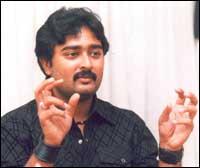 How did Azhagiya Theeye happen?

Time between Five Star and Azhagiya Theeye was a painful one. It is not that I did not get any offers, but those were not the ones I wanted to do. But when I heard about the film (Azhagiya Theeye), I went to Prakash Raj sir's office and enquired about it. I got the role.

I can't describe how I felt the day Azhagiya Theeye got released. It's a film very close to my heart. Till today, people recognise me as Azhagiya Theeye Prasanna. It was this film that gave me confidence about the kind of scripts I should choose.

The biggest compliment I got was from Prakash Raj sir. After watching the film, he said, 'You are going to do our next film too'. Those from the film industry had some good thing or the other to say about the film. Most assistant directors were moved by a particular scene, in which my mother hands me a few notes before going away. Most of them had the same kind of experience at least once in their career. 

Like Prakash Raj promised, you got the lead in Priya's Kanda Naal Muthal..?

Yes. It is so different from Azhagiya Theeye and I thoroughly enjoyed doing the film. 

Kastruiman just got released.  What is the best compliment you got from the industry?

Balu Mahendra sir, after watching the film patted on my shoulder and said, 'Come to my office some time'. I consider it a great compliment. Bala sir hugged me and said, 'Meera has an author-backed role. Without such backup, you have done a very good job.' I was happy hearing such words from accomplished directors.

When I interviewed Lohitadas and Priya, both of them said they wanted a hero with whom people could identify with and they could only think of you. What do you say?

It feels great. These are the compliments I look for.
Photographs of Prasanna: Sreeram Selvaraj