If Cyrus's protestations of having no knowledge of his imminent dismissal are to be taken at face value, he was extraordinarily naive and insulated from the ground reality.
There were enough straws in the wind to suggest that his relations with Ratan were fast deteriorating to a point of no return.
A fascinating excerpt from Coomi Kapoor's The Tatas, Freddie Mercury & Other Bawas: An Intimate History of the Parsis, which has just been reissued in paperback.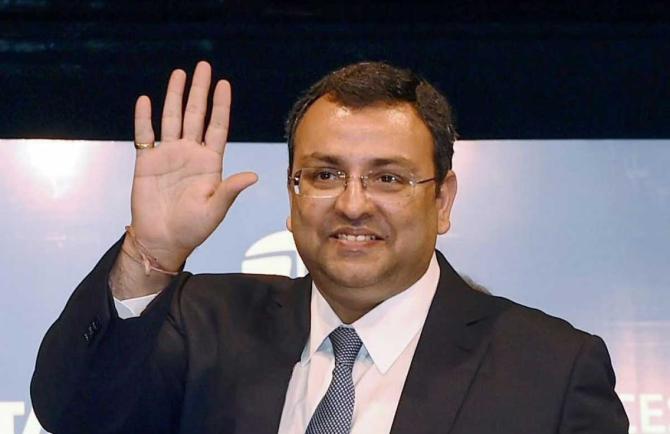 It remains an enigma as to why Ratan Tata named Cyrus Mistry as his successor, given that the Tatas had long been suspicious of the intentions of the Mistry family.
A prominent Parsi businessman recalled that 'The Tatas considered themselves saintly and noble and the Mistrys mere real estate people. Many of us suspected privately that this arrangement would come to grief at some point.'
Besides, the businessman added, 'Cyrus was only 44 and not quite experienced enough for the job.'
Cyrus initially declined the offer. His brother Shapoor, however, egged him on to accept, chiding him that as usual he was overanalysing things.
When an opportunity came his way, he should be ready to jump in.
Cyrus conceded that he does have a tendency 'to think things through in depth which gives everyone a hard time effectively'.
A friend describes Cyrus as 'serious, focused, meticulous and extremely well-read. He applied himself assiduously, but perhaps he didn't have the entrepreneurial spirit.'
Ratan retired in December 2012, leaving his successor to settle into the chairperson's job. But before he retired, Ratan ensured that the trusts had tightened their grip over Tata Sons.
The Articles of Association relating to the appointment and removal of future chairpersons were revised with Nusli Wadia's guidance, so that all appointments and removals of directors had to be cleared by the trusts.
The two main trusts, the Sir Ratan Tata Trust and the Sir Dorab Tata Trust, had the right to nominate one-third of the directors to Tata Sons.
Cyrus would become the first Tata Sons chairperson in the group's history who, during his tenure, was never made chairperson of the Sir Dorab Tata Trust, which together with the Sir Ratan Tata Trust holds 66 per cent of the shares of Tata Sons, giving the trusts near-absolute control of the group's holding company.
Ratan retained his position as chairperson of the trusts, and thus sowed the seeds for potential discord.
Mistry did not really have the powers a normal chairperson of the board would have had.
Nusli Wadia recalls that when Ratan asked him for his views on choosing Cyrus as chairperson, his cynical response was that Ratan had not really retired: 'All you have done is move the power centre from the board to the trusts.'
For the first year, Ratan remained in situ to mentor Cyrus, just as JRD had been there for Ratan.
Although Ratan claimed he had no intention of constantly looking over Cyrus's shoulder after that year of apprenticeship, this was not how things panned out.
The honeymoon was short-lived.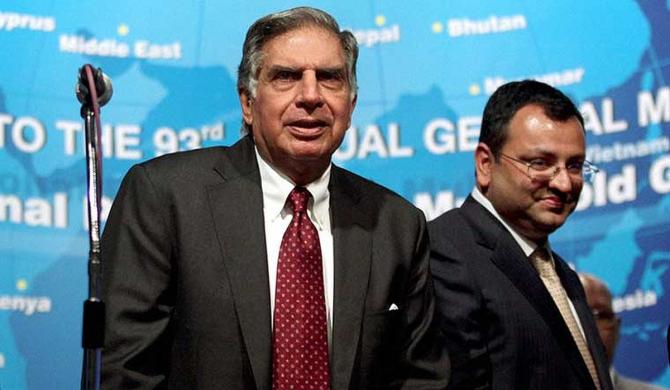 Cyrus consciously tried to keep a low profile.
'For three and a half years,' Cyrus told me, 'I never gave a press interview. I never tried to project myself as the face of Tatas. I didn't come to overshadow anyone. I came to make sure the group was put on an even keel.'
He worked overtime, poring over company reports and data. He was slow to take action, but gradually, as a meticulous and conscientious chairperson, he raised uncomfortable questions about individual companies.
This was not to the liking of the old guard, all of whom were close to Ratan.
Equally, it irked Ratan's confidants that Tata Sons board members and trust members were no longer automatically appointed as directors on individual Tata companies. This was seen as evidence of Cyrus trying to cut them out.
Another minefield on which Cyrus stepped was trying to set in order the expensive acquisitions in steel and telecom that his predecessor had made.
He was veering round to the view that it was in the company's best interest to exit from the European steel sector and to sell off the telecom company.
Cyrus also wanted to wind up the Nano -- Ratan's dream project. These decisions were seen as casting aspersions on Ratan's business judgement and legacy.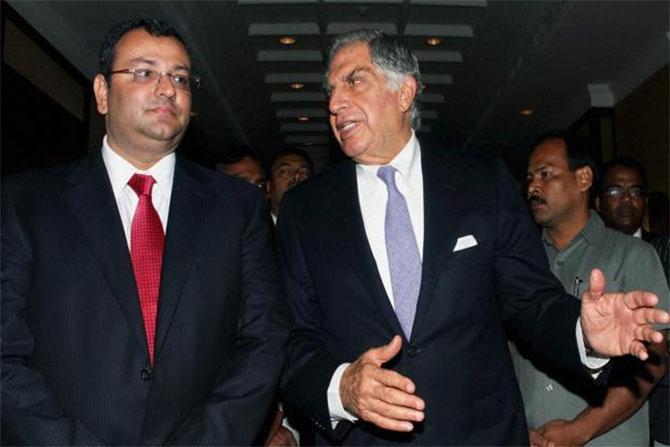 Cyrus was keen on institutionalising the Tata group so that it was not run by any single individual.
He suggested that a corporate governance framework be drafted to clearly spell out the role of Tata Sons, the role of the trusts and the role of the operating companies.
His fear was that 'after some years the trusts could be lost to the wrong people.'
He asked Nitin Nohria, dean of Harvard Business School, an academic whom Ratan relied on, to take responsibility for working out the framework.
Nohria has been a member of the Tata Sons board since 2013.
Though he sent several drafts to Nohria, Cyrus received no response.
Attempts to meet Ratan and discuss the issue also failed.
Finally, Cyrus decided to make a preliminary draft that could be put before the board at its meeting on 24 October 2016. That draft was never to be discussed.
A few minutes before the meeting, Ratan and Nohria walked into Cyrus's office. Nohria came straight to the point.
He told Cyrus, out of the blue, that he knew that relations between Ratan and Cyrus were not great and that the trust had taken a decision that morning to replace him.
It was suggested that he resign gracefully or prepare to be removed. A shaken Cyrus, who was given no reason for his sacking, is reported to have responded, 'You do what you have to do, I will do what I have to.'
Ratan's only comment was, 'Sorry that things have reached this stage.'
Cyrus's protests that the sacking was clearly illegal -- it was not even on the meeting agenda, but included in the clause of 'any other business' -- were ignored.
If Cyrus's protestations of having no knowledge of his imminent dismissal are to be taken at face value, he was extraordinarily naive and insulated from the ground reality.
There were enough straws in the wind to suggest that his relations with Ratan were fast deteriorating to a point of no return.
The move to oust him was systematically planned for over two months.
The trusts obtained legal opinion from two eminent jurists about whether the sacking would stand up in a court of law.
Most of India's leading senior counsels were engaged on retainers to ensure that they could not appear for the opposite side.
Three members from the trusts were actively involved in planning the ouster.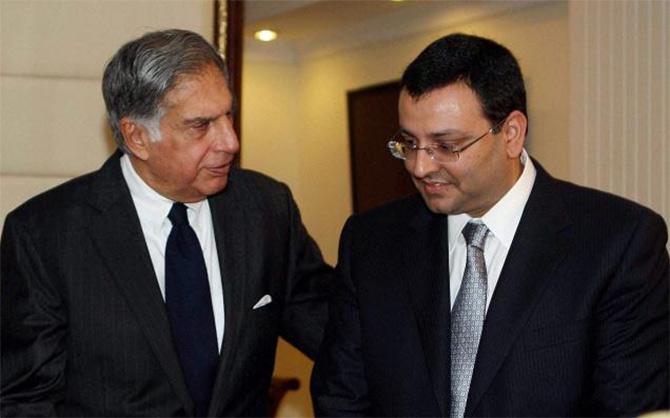 When Cyrus entered the boardroom, the cards were clearly stacked against him. The move to remove him was put to vote.
The directors, all Ratan appointees -- Ishaat Hussain, an old Tata hand and group finance director; Ronen Sen, former Indian ambassador to the USA; Vijay Singh, former defence secretary; Nohria; Amit Chandra; Ajay Piramal and Venu Srinivasan -- voted against Cyrus.
The only director who broke ranks and abstained was Farida Khambhata, a global strategist and the only Parsi on the board, apart from Ratan and Cyrus.
Ironically, the board had, earlier, given Cyrus a glowing annual evaluation as chairperson of the group, not once indicating its unhappiness with his performance.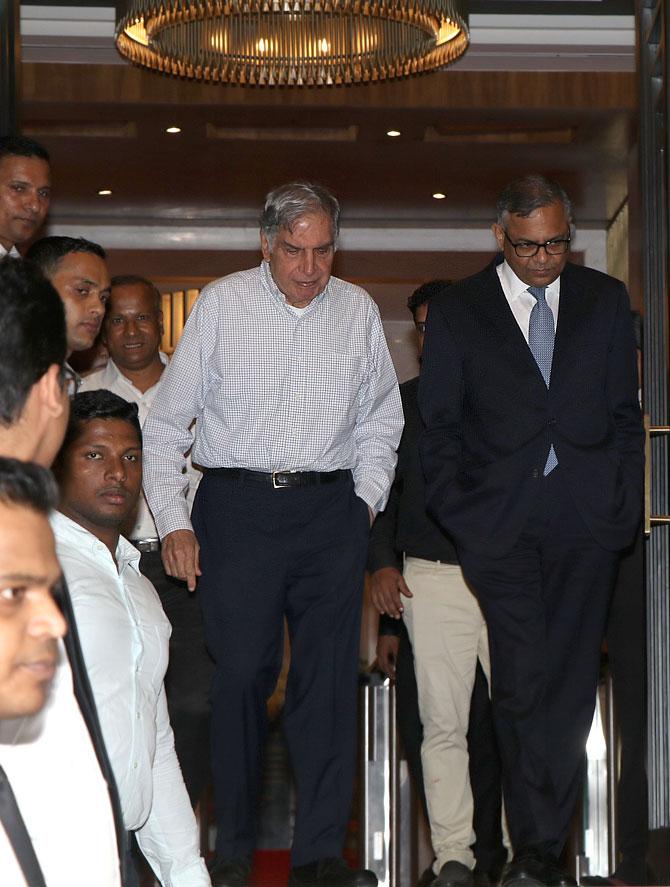 Cyrus, an introvert who had shied away from publicity all his life, was thrown unceremoniously into the limelight in an ugly, no-holds-barred fight.
He was badly shaken by the whole affair, and unable to conceal the shock and hurt he felt.
Within a day of his ouster, he wrote an explosive letter to the board, which was leaked to the media.
He accused Ratan of creating an alternate power centre in the group, questioned some of his past business decisions and even pointed out what he considered corporate malpractices.
Ratan's men hit back, suggesting that Cyrus was making excuses for his poor performance as chairperson, which was the reason the trusts were compelled to get rid of him. (In fact, Tata shares fared better during Cyrus's tenure than average on the Bombay Stock Exchange.)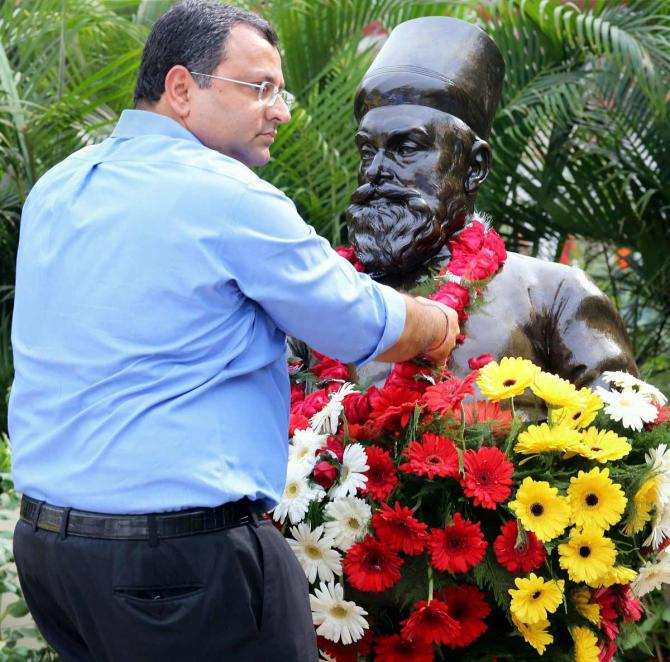 If he was hurt by the accusation that he could not fill the shoes of his eminent predecessor, Cyrus can now feel vindicated.
His successor, N Chandrasekaran, would go on to implement most of the measures Cyrus had already conceived in his recovery plan.
Many wondered why Cyrus continued to remain entangled in a long, messy legal battle, when he had his own businesses to look after.
His father-in-law, the leading lawyer Iqbal Chagla, would surely have warned him against what is perhaps a dead-end litigation.
But could Cyrus really afford to walk away from a legal battle when he had to protect his family's 18.37 per cent shares in Tata Sons?
The trusts seem determined to make the Mistry family's shareholding irrelevant.
Tata Sons has been converted into a private company, and the present rules, formulated after Mistry's removal, do not permit the Mistry family to sell its shares without the consent of the board.
Respected economic commentator Swaminathan A Aiyar wondered whether the entire debate on majority versus minority shareholders' rights misses the elephant in the room: 'Why trusts set up for charitable purposes given tax exemption status should be allowed to control one of India's greatest industrial empires.'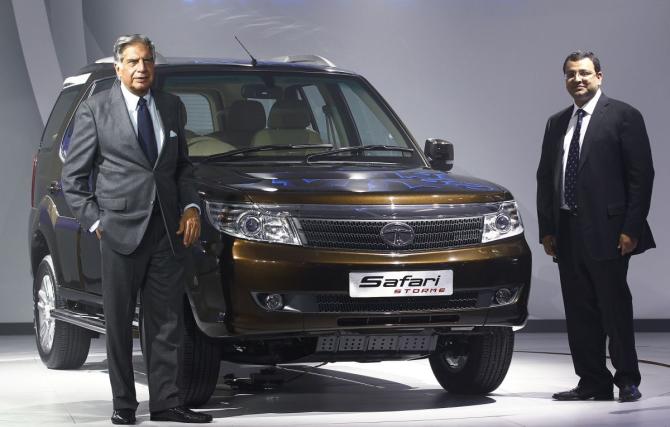 Critics of the sacrosanct Tata Trusts point out that their value today is highly disproportionate to the amount they spend on charitable activity.
In 2016, the Tata Trusts were valued at around Rs 350,000 crore, making it the third-largest trust in the world after the Bill and Melinda Gates Foundation and the Welcome Trust.
But according to official figures, it spent only Rs 750 crore on charities in 2016.
In contrast, the Bill and Melinda Gates Foundation donates some $3 billion annually. So are the trusts really functioning for the purpose for which they were intended?
Financial analysts agree that the trusts should be spending far more for charitable purposes, instead of creating fixed assets for earning more profits.
In 2013, the Comptroller and Auditor General had also questioned the ratio of the trusts' earnings and charitable works.
The Ratan-Cyrus clash once again put the spotlight on the trusts.
An over-riding concern is: Who gets to control the trusts in the future?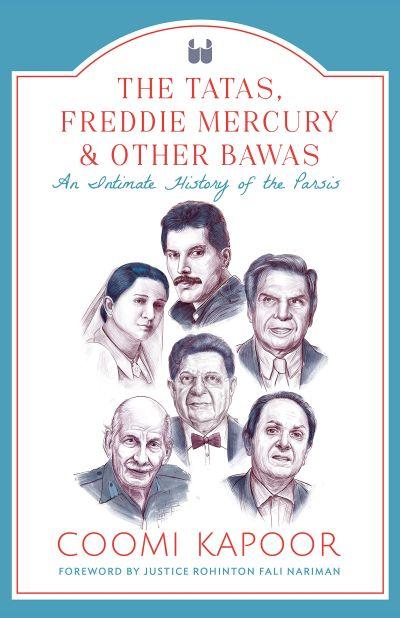 On 4 September 2022, Cyrus Mistry died in a tragic accident when the speeding Mercedes in which he was travelling crashed into a culvert on the Ahmedabad-Mumbai highway at Palghar.
Cyrus and his school friend Jehangir Pandole, a former national squash champion, who were sitting in the backseats, were not wearing seat belts and died instantly.
The driver of the car, well known gynecologist Anahita Pandole, and her husband Darius Pandole who were in the front were seriously injured.
The Mistry family was flooded with messages of sympathy. Commiseration from the business community, media and people from all walks of life affectionately recalled Cyrus as soft-spoken, highly intelligent and extremely humble.
From Prime Minister Narendra Modi to the chairman of the Tata group, Natarajan Chandrasekaran, the who's who of India condoled with the shattered family on their loss.
The public silence from Ratan Tata on Cyrus's death was noticeable. It seemed to indicate that Ratan was not yet ready to forgive or forget the embittered relationship.
Excerpted from The Tatas, Freddie Mercury & Other Bawas: An Intimate History of the Parsis by Coomi Kapoor, with the kind permission of the publishers, Penguin Random House India.
Feature Presentation: Aslam Hunani/Rediff.com