'Cut-throat competition, high spectrum costs, and frequent flip-flops in government policies have made it difficult for Vodafone to make money in the country,' says Surajeet Das Gupta.
Illustration: Dominic Xavier/Rediff.com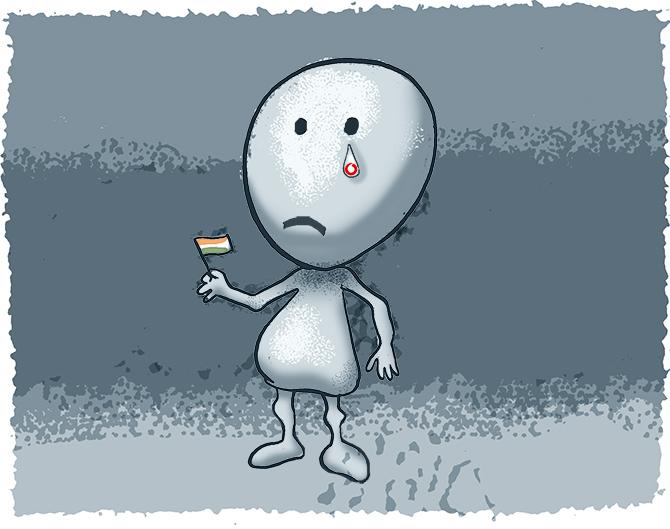 When Vodafone Plc in 2007 acquired a majority stake in Hutchison Essar, its (Vodafone's) Indian-born chief executive officer (CEO) Arun Sarin did not hide his exuberance after emerging as the winner against tough competition.
"We have got it at a reasonable price. And I am confident that the business will make a major contribution to the Vodafone group over the coming years," he said to the media.
Yet 12 years later, Sarin's strategy to bring the company to the world's fastest-growing markets has not only drained Vodafone's financial resources, but has not given any return to its shareholders.
That is why the UK company's current CEO, Nick Read, who had been involved in Indian operations earlier, does not have the patience of his predecessor, Vittoria Colao (who saw long-term benefit in staying in India), and is taking a tough call on the Indian business.
In a meeting with the media on Tuesday in London, Read did not mince words and said the Indian joint venture (it merged Vodafone with Idea last year and has a 45 per cent stake in it) was moving towards a "liquidation scenario" if the government did not give the company immediate financial relief.
The move comes on the heels of the Supreme Court handing down a judgment under which Vodafone Idea Ltd (VIL) has to fork out Rs 28,308 crore as adjusted gross revenue (spectrum usage charges will be extra), which is nearly equivalent to the EBIDTA (earnings before interest, tax, depreciation, and amortisation) of all operating telcos together in FY19.
So what has led to the changing perception of the top management of the world's largest telco about India, despite it being one of the largest foreign investors in the country?
Cut-throat competition, high spectrum costs, and frequent flip-flops in government policies have made it difficult for Vodafone to make money in the country despite it being able to move from fourth spot to the top in terms of subscribers (after the merger).
And it is also in an acrimonious battle with the government about retrospective tax, which has gone through various twists and turns, and courts and under which it has to pay over Rs 20,000 crore.
The matter is currently in arbitration.
Just a few years after Vodafone's entry, the Congress-led government disrupted the market by allowing new entrants on a first-come-first-served basis increasing the number of players from around six to more than 12, pushing down tariffs to unsustainable levels.
Then the Supreme Court cancelled more than 100 licences and said they were given illegally by the Department of Telecommunications.
The companies went out of business.
But they were hit by yet another disruption, which was more severe.
In September 2016, Reliance Jio entered the market, offering initially free service followed by rock-bottom tariffs (free voice for the first time) as well as cheap data powered by a brand new 4G network, which none of the rivals could match.
It also backed it up by giving 4G feature phones, again at nominal prices, while competitors like VIL had no matching offer.
The onslaught has continued, hitting VIL the most among incumbents as it has consistently lost both market as well as revenue share to its rivals, especially Jio.
It has lost around 4 per cent market share to be at 32.03 per cent in August this year against March last year.
The Jio attack also came at a difficult time, just when VIL was going through the process of integrating its networks, which would take time to bring in cost savings.
The shareholders put in more money through debt as well as through a fresh rights issue (which Vodafone subscribed) to finance upgrading its legacy network to 4G and face the Jio challenge.
But its debt soared to 20x of EBIDTA and cash losses hit over Rs 51 billion in the first quarter of FY20 even as revenue declined.
And what adds to Read's worries is the Supreme Court judgment, which has directed the telcos to pay their outstanding amount within three months.
That, the telcos say, will only increase the financial burden and force Vodafone to go for liquidating its Indian venture unless the government gives it financial relief in the form of reduction in licence fees, moratorium for two years on staggered payment of spectrum fee, and also refunds of its goods and services tax (GST).
The Vodafone Plc boss has made it clear that it will not make further investments in the Indian joint venture.
That is understandable as the parent company has taken write-downs in 2010 as well as 2016 of £6.8 billion, which is two-thirds of the purchase price of its Indian business.
And it has now written off the carrying value of its shares in the loss making JV in its half yearly results.
However, its competitor Jio has attacked them and said it has the money to pay - from monetising its 29.4 per cent stake, valued at $4.3 billion, in the merged tower entity between Indus and Bharti Infratel.
And Vodafone Plc has a market cap of $54 billion.
Yet Vodafone Plc, analysts say, also made some serious mistakes in its strategy in the country.
For one, it paid too much for its Indian acquisition as the Hong Kong-based company put it in competition with Reliance, which was the second-largest player, and the Hindujas, and both were keen to grab the stake.
Vodafone Plc's vision was to straddle the world and emerging markets, especially India, were key to its strategy.
It made its first tentative move in the country in 2005 by picking up a minority 10 per cent in Bharti Airtel, which many thought was the beginning of a new relationship.
But Sarin was clearly, say analysts, not looking to play a minority investor, and opportunity came knocking with Hutchison-Essar.
But it had to make a substantial payout, which, apart from buying out Hutchison, was followed up by buying the other partners in the Ruias.
The total was a steep £9.4 billion.
Many also say that it's management misjudged the potential of 4G market and also Mukesh Ambani's ability to comeback after a disastrous first entry with CDMA in which it had to write off its losses.
Marten Pieters the former CEO of Vodafone India in an interview to Business Standard in 2013 said that it is too early for 4G in India, the market is not ready.
However, during this time Bharti Airtel had already started offering 4G services in select cities and Mukesh Ambani had bought 2300 Mhz spectrum in 22 circles for 4G.
Vodafone kept away from buying the spectrum. When it did jump into the 4g bandwagon, experts say, Jio had already established its dominance.
And many wondered whether the merger of two companies with different management styles had worked at all.