To outgoing Vodafone CEO Vittorio Colao, negotiating big deals was an art form, as an international report pointed out after the $130-billion sale of Vodafone's 45 per cent stake in Verizon Wireless, says Nivedita Mookerji.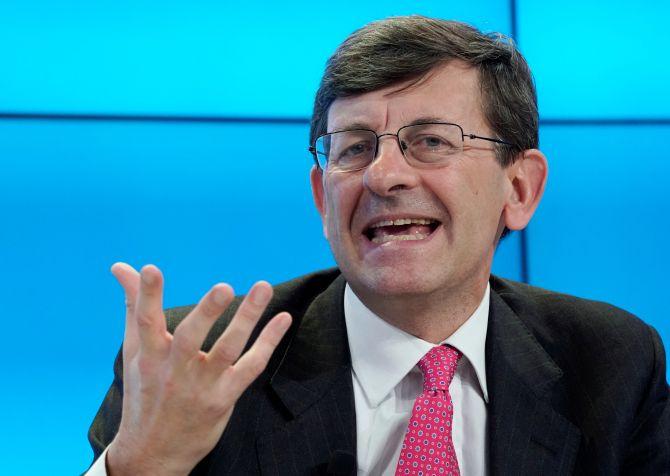 It was some time in the middle of October 2015, and reporters waited outside then telecom minister Ravi Shankar Prasad's office in the capital's Sanchar Bhavan.
In the minister's chamber was Vodafone global chief executive Vittorio Colao and his A team trying to bring tempers down.
Prasad was upset that the India head of Vodafone had said that "comments of the (telecom) minister and the secretary don't count as the view of the entire government."
The context was the government plan to penalise telcos for call drops.
Colao came out of the meeting and took journalists' questions with humour and wit, effectively making light of what seemed like a clash between the government and the telecom major.
He said that he advised Prasad not to worry too much and that even he was a victim of the call drop menace; reporters, of course, had a good laugh.
As for Prasad, who had earlier denied a meeting with the India head, said, "I very firmly told him, call drops need to be addressed and I want Vodafone to play a very proactive role.''
Those who have met him in informal settings such as at the Mobile World Congress, the go-to annual industry event in Barcelona, have spotted him cycling around without a worry.
Although more of a private person who's stayed away from the active social scene in London, Colao has always enjoyed animatedly talking about the finer points of telecom with people who understand the industry, including journalists.
A person who has known him for some years described Colao, 56, as someone easy to deal with in the most difficult situation.
But it is the strategic thinking of the six foot-plus tall Italian, who announced recently that he was stepping down as the top boss of Vodafone, that has made him stand apart.
The major deals that the group could strike under his leadership are also a result of that thinking, say people who have known him.
To him, negotiating big deals was an art-form, as an international report pointed out after the $130-billion sale of Vodafone's 45 per cent stake in Verizon Wireless.
In fact, it was said that Colao bonded with Lowell McAdam, Verizon Communications CEO, over a shared passion for cycling.
They even raced for miles together in the run-up to the 2013 deal, considered a milestone of sorts not just for Vodafone, but for the industry.
For India, the 10 years of Colao at the helm of Vodafone coincided with the country's telecom journey through good and bad times.
When he took charge in 2008, the controversial 2G licence allocation process had taken off and the rest is history.
Besides the turmoil in the telecom industry linked to the alleged 2G spectrum scam, Colao's stint has also faced severe competition from Reliance Jio.
Vodafone India numbers have suffered and the group had to write down several billions in losses.
In November 2016, Vodafone reported a first-half net loss of $5.5 billion, after writing down the value of its Indian business by the same amount due to the start of a price war sparked by Jio.
There have been further write-offs subsequently.
And, if Arun Sarin, Colao's predecessor, was identified with the Hutch Essar-Vodafone deal, the outgoing CEO will be known for the Vodafone-Idea merger.
The controversial retrospective tax tussle due to the Hutch deal also played out through the Colao regime, triggering many face-offs with the government.
His deal-making acumen is well-known and investment bankers are not known to "pitch deals to him", as a report quoting a banker said.
Another banker said he always had a back-up plan, so it's tough to catch him on the wrong foot.
But that doesn't mean Colao hasn't had his bad patches at work.
In 2004, he's reported to have had a showdown with then Vodafone chief Sarin over a proposal to acquire a company in Bulgaria.
Colao then moved to Italy's RCS Media Group as the top boss.
Things didn't go too well there as he tried restructuring some businesses. In 2006, he returned to Vodafone as head of Southern Europe.
He was named the CEO in 2008 when Sarin was stepping down following what was known as an unpleasant boardroom environment.
If Vodafone was emphatic about acquisitions, Colao made a departure by pulling out of the expansionist drive.
He sold a stake in China Mobile and also left France and Poland.
The Verizon stake sale was, of course, a turning point.
When Colao, who had started with McKinsey, will leave Vodafone in October, CFO Nick Read, 53, will take over.
Vodafone's announcement was not expected at this point though there has been some speculation around it.
The last time the buzz was strong was in 2013, after the Verizon deal, and the market hoped he wouldn't leave.
He stayed on for five years, but he announced his impending departure during the earnings call a few days ago.
Vodafone's management predicted potentially slower growth ahead on competitive pressures in Italy and Spain, among other markets.
But Colao made it sound like this is the right time for transition.
"The chapter that Vodafone is now starting to write is a completely new chapter," he told reporters, referring to the $22-billion deal recently to acquire cable assets from Liberty Global.
There's also the pending merger of Vodafone's India business with Idea Cellular that will take shape under Read.
Photograph: Denis Belibouse/Reuters.