The first phase of online video's growth is over. Netflix, Amazon, Hotstar, Voot, YouTube are all developing a new content ecosystem, finds Vanita Kohli-Khandekar.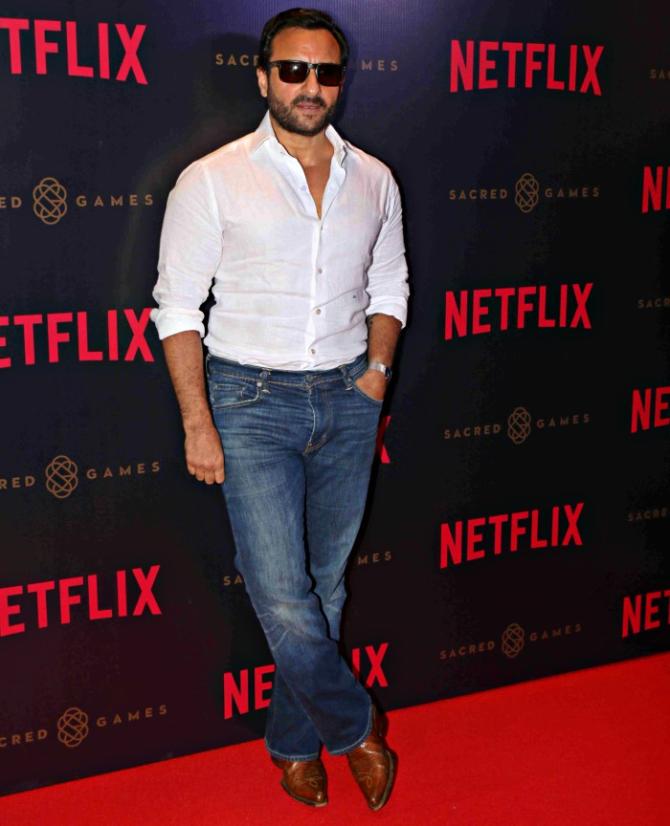 Netflix's global content budget for this year alone is $6 billion. Among its projects is the Saif Ali Khan-starrer Sacred Games.
Photograph: Pradeep Bandekar.
The action in the Indian online video market has been breathless.
Inside Edge, Amazon Prime Video India's first original series, came out in July. The 10 episodes of this critically acclaimed show based on a fictional T-20 team is one of the 20 new shows Amazon has lined up for release.
There is a long list of deals with film producers in Hindi, Marathi, Telugu and Tamil, among others.
Netflix signed one with Shah Rukh Khan's Red Chillies Entertainment earlier this year. It also just commissioned several originals, including Sacred Games based on Vikram Chandra's eponymous novel and starring Nawazuddin Siddiqui and Saif Ali Khan, among others.
Netflix's global content budget for this year alone is $6 billion, roughly three-fourths of the total TV business in India.
Hong Kong-listed PCCW's Viu has just ramped up the game with a high-decibel marketing campaign. Globally, both Apple and Facebook have announced their intention of getting into the original video game.
"The first phase (of online video's growth) is over. It has now been clearly established that there is a space for high-quality content on the mobile," says Ajit Mohan, CEO, Hotstar.
Every major player -- YouTube, Hotstar, Netflix, Amazon, Voot, among others -- is investing heavily in acquiring or commissioning content, much of it is subscription driven. This is the first big factor that marks this round of hectic growth in India's fledgeling ₹2,000 crore, hyper-competitive online video industry (there are over 35 brands and counting).
The other is the kind of shows being commissioned.
"We are pretty much developing a new content ecosystem," says Vijay Subramaniam, director (content), Amazon Prime Video India.
"The ability to create more complex storytelling has increased," reckons Satya Raghavan, entertainment head, of the largest online video player, YouTube India.
The online vs TV game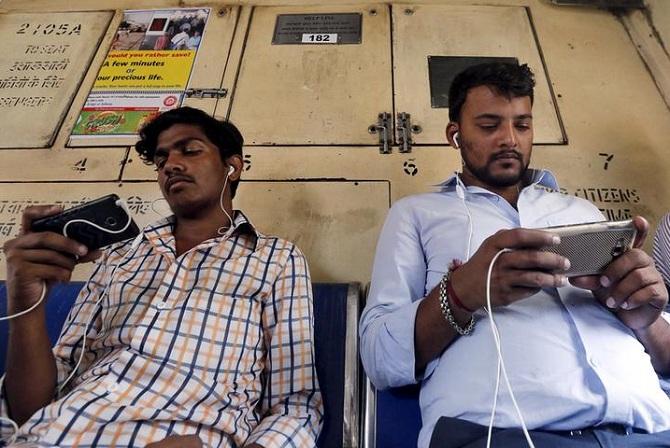 It has now been clearly established that there is a space for high-quality content on the mobile.
He is right.
Even Balaji Telefilms, known for its ability to offer hit shows on TV makes them differently online.
The Ministry, a political comedy created by AIB (for Amazon) or Again, a supernatural, female-led detective series (Netflix), wouldn't have found their way on Star Plus or Sony or Zee for two reasons.
One, the data that powers the content decisions at Amazon, which is the world's largest online retailer, or YouTube, owned by the world's most ubiquitous search firm, is different from the consumer research and ratings led approach of Star India or Sony.
"Every deal we have done comes from consumer insight and expectation. We realised our consumers love Salman Khan, so we went and did the deal (with Salman Khan Ventures)," says Subramaniam.
Although the sampling system works very well -- evident from the fact that most successful TV shows also do well online -- it has its limitations. When there is actual data on consumption and proclivities for a show or a product, it could make for market-shifting insights.
In 2013, film production firms uploaded about two or three promotional videos on YouTube around a film's launch. Now, they upload anywhere between 30 and 100.
"There is increasing evidence of a lot of correlation between engagement with videos and box-office collection," says Raghavan.
The second reason content choices are getting more cutting edge is that online offers more freedom creatively and commercially.
Sameer Nair, CEO, Applause Entertainment, explains that 20 years ago the daily soap became the default programming genre, killing fiction in the process. "Because there are no seasons, unlike on TV, we cannot explore crime, mature relationships or genres that don't fit the daily format."
In the US, subscription revenues or pay TV have been the big driver of high-quality drama such as the Game of Thrones.In India, since pay TV never took off, content remains ad-oriented and mass driven.
"In the US, if you want to buy high-quality drama off the shelf, there are thousands of options. In India, there are not even 10. So, you will see a lot more small dramas being commissioned," says Nair.
Three, Nair reckons that of the 165 million TV homes, 25 million are already paying between ₹1,000 and ₹2,000 a month on TV, mobile and broadband. These homes will spend ₹600 or more per month, which translates to $3 billion a year, on online video. Why? "Because this audience has lapsed from TV," he says.
So, although a bulk of the online traffic is driven by catch-up TV or by big events like the Indian Premier League, there are other clusters forming.
"Our data has shown that members in India are more likely to devour a TV series over three days against the global average of four days. This includes Narcos, Unbreakable Kimmy Schmidt and Bloodline, among other series," says Jessica Lee, vice-president (communications), Netflix Asia.
This audience wants to see similar shows in a local context, reckons Nair.
The online video challenges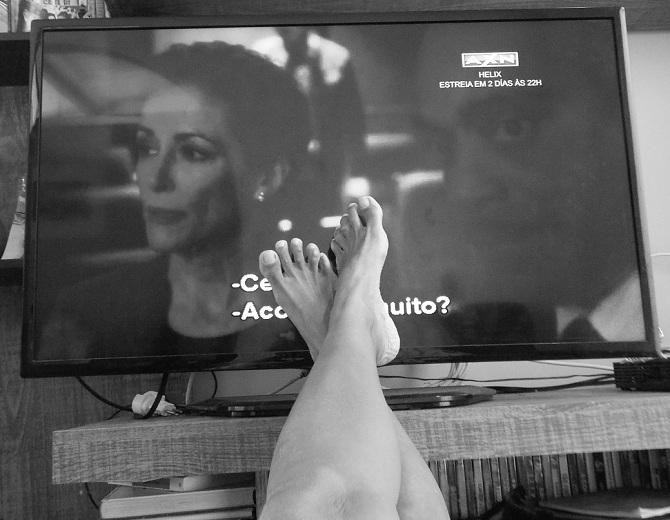 Helix, a TV series that aired on Syfy.
Despite the gains they have made, digital content providers still have to face the sheer stickiness of TV, which reaches a mammoth 875 million people in India.
Photograph: Pixabay.com.
The question is, as Hotstar's Mohan puts it, "Given the diversity of content consumption in India, the really exciting question is, can you balance the power of aggregation with matching consumers to the right content?"
Then there is the sheer stickiness of TV, which reaches a mammoth 875 million people in India.
Says Subrat Kar, co-founder of video intelligence firm Vidooly, "TV has a continuous engagement that is not there in an online series that ends in five to 10 episodes." That is why ad rates on video are a fraction of those on TV, making monetisation the biggest challenge, say analysts.
You could argue that the market is large -- 300-odd million people watching video on smart phones or other devices and ₹58,830 crore in ad and pay revenues for TV. But if one uses publishing as an indicator then only Google, Facebook and Amazon -- behemoths that sit on huge platforms for which video is simply one of the drivers -- will make money.
There are two things that offer hope for Hotstar, Netflix, Voot, AltBalaji or the others.
One, they are priced between ₹30 and ₹100 for a month. Unlike publishing, then, the context is largely pay.
Two, for smaller apps, without the marketing or distribution muscle of Star or Viacom18, focus helps.
For instance, a video app like Fastfilmz that offers only regional language films is focused on small-towns in the four southern states and is firmly pay-based.
"We cannot be building a subscriber base that is a mirror image of the big guys, because then it will always be a subset of what they offer. A company like ours will be valued on the quality of our subscribers," says Karam Malhotra, co-founder, Fastfilmz.
Whatever the model, one thing is certain: Video streaming will be an action-packed business for a long time.