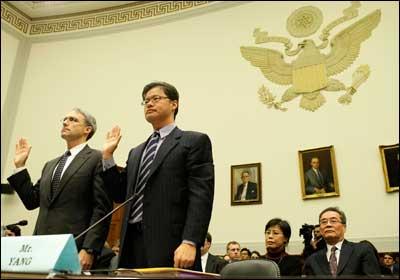 Internet company Yahoo! has settled a lawsuit with two Chinese nationals, a journalist and a dissident. The company was sued for passing on personal information of the two to the Chinese government, leading to their arrest.
While no details of the settlement were made available, Yahoo! will pay the legal fees of the two men, Shi Tao and Wang Xiaoning, and a relative who sued on their behalf. Both men have been sentenced to 10 years in prison. Yahoo! has also said it would 'provide financial, humanitarian and legal support to these families', reports The Times, London.
The United States firm had earlier claimed that it had no choice but to comply with requests from Chinese authorities to furnish information on the men's online activities.
Following the case, Yahoo! chief executive Jerry Yang received widespread criticism on Capitol Hill and was accused of being morally stunted. "While technologically and financially you are giants, morally you are pygmies," said Tom Lantos, the Democrat who chairs the House Foreign Affairs Committee.
The two men had sued Yahoo! as well as Alibaba.com, China's biggest online concern, in April. Yahoo! had acquired a 40 per cent stake in Alibaba.com two years ago. Yahoo! did not say if there would be a change in Alibaba.com's response to future government requests, only that it had no control over Alibaba.
Shi, a former writer for the financial publication Contemporary Business News, was imprisoned for allegedly posting details of a government order forbidding media coverage of the 15th anniversary of the Tiananmen Square uprising. Wang was arrested in 2002 in connection with anonymous e-mails and other political writings he posted online.
Mr Yang apologised to Mr Shi's mother at the Congressional hearing. "After meeting with the families, it was clear to me what we had to do to make this right for them, for Yahoo and for the future," Mr Yang said.
The writers' lawyer Morton Sklar said Yahoo! lost its will to fight the lawsuit after it was accused of misleading Congress. "There was a dramatic change in their position and that was strong incentive to settle. They did not want to be on the wrong side of this issue," he said.
"It took a tongue-lashing from Congress before these high-tech titans did the right thing and coughed up some concrete assistance for the family of a journalist whom Yahoo! had helped send to jail. What a disgrace," said Lantos.

Image: Yahoo! Inc CEO Jerry Yang (2nd Left) and General Counsel Michael Callahan (Left) are sworn in even as Gao Qin Sheng (2nd Right), mother of Chinese journalist Shi Tao looks on.

Photograph: Alex Wong/AFP/Getty Images