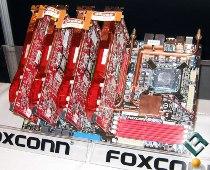 The woes of China's biggest foreign electronic firm, Foxconn, employing over 800,000 Chinese employees continued with one more young worker committing suicide taking the number of such deaths in the recent weeks to nine.
An employee of Foxconn Technology Group jumped to death from a building at the company's plant in Shenzhen on Tuesday, adding one more to the latest in a string of such deaths, official Xinhua newsagency reported.
It was the ninth such death and the 11th such fall at the plant in Shenzhen City, south China's Guangdong Province, this year.
Two Foxconn employees were severely injured in failed suicide attempts bringing to focus some of the stringent management practices, poor salary and tough living conditions.
Foxconn is part of Taiwan's Hon Hai Precision Industry Co and makes computers, game consoles and mobile phones for companies including Hewlett-Packard Co, Sony Corp and Nokia Corp.
Of Foxconn's 800,000 employees in China, 420,000 are based in Shenzhen. They work in shifts and live inside the massive factory complex.
Talking or answering phone calls during work time is forbidden and workers are not allowed to leave production lines unless the line supervisor temporarily takes their place, Xinhua quoted Foxconn employee Cheng Lin as saying.
Chen Hongfang, deputy director of Foxconn's labour union identified the dead man is Li Hai, a 19-year-old male who had only worked in the South China Training Centre in Foxconn's Guanlan plant for 42 days.
"Li was a vocational-school graduate from central China's Hunan Province. He fell from a building at Foxconn's Guanglan plant at 6:20 am," Chen said.
Sources familiar with the matter said Li left a note to his father in which he said he was sorry that he could no longer take care of him.
"I have no capabilities. I have got what I deserve," sources also quoted the note as saying, the newsagency reported.
The spate of suicides were being widely reported in China's state run print and television media outlets adding pressure to Foxconn management which in recent times brought a team of Buddhist monks to conduct religious ceremonies to drive out bad spirits if any.