BPCL's impending privatisation and RIL's stake sale to Saudi Aramco raise questions about the future of the West Coast Refinery, once touted as the world's largest.
Shine Jacob reports.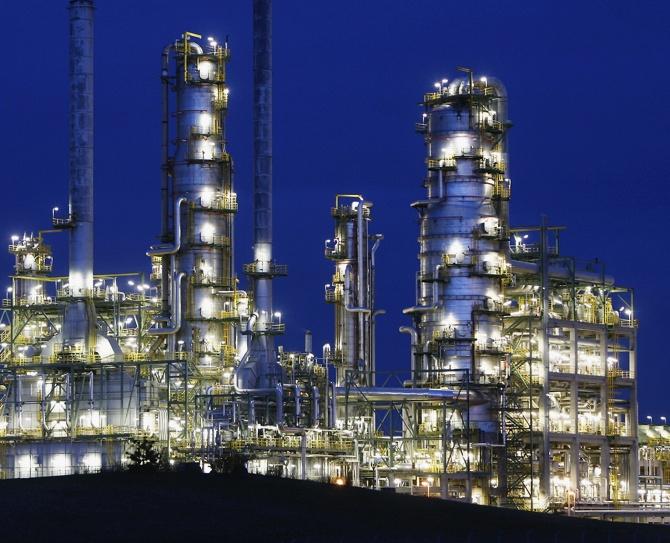 Two events have raised doubts about India's plans to build the world's largest refinery.
The 60 million tonne, $44 billion West Coast refinery project was announced in June 2018 in which Saudi Aramco and Abu Dhabi National Oil Company (Adnoc) hold 50% and Indian oil marketing companies Indian Oil Corporation, Bharat Petroleum Corporation and Hindustan Petroleum Corporation hold the remaining stake.
Since then, in August 2019, the Mukesh Ambani-led Reliance Industries announced plans to sell 20% stake in its chemicals and refining business for $15 billion to Saudi Aramco as part of a broader plan to become a zero-debt company by March 2021.
And in November 2019, the government announced it would sell its 53.29% stake in Bharat Petroleum.
Saudi Aramco is one among a raft of bidders such as French major Total, BP Plc, Vedanta, Exxon Mobil, RIL and the Adani Group.
All of this has made the prospects for the West Coast Refinery look bleak since the debate now hinges on whether a greenfield refinery is a better option than a brownfield one.
In other words, is BPCL a better option for buyers than the West Coast one?
Perhaps not, say industry experts citing the fact that BPCL is already a depreciating asset that was probably in its prime 20 years ago.
"If you build a new refinery, you will go for new technologies, more efficient units, production and crude handling will be more geared for the future," says a senior expert from a global consulting firm.
This is valid in theory, but this being India, the West Coast project has been stuck at the first hurdle -- acquiring land for the project.
Protests in the Ratnagiri region had forced the joint venture to shift location 140 km to the north to Raigad district.
The refinery-petrochemical complex of three crude oil units requires at least 15,000 acres of land, including marine storage and port facilities, and is yet to acquire a single piece of land due to protests from locals.
Now, however, the project may run into political problems. The Shiv Sena, which had led the land protests in Ratnagiri, heads a coalition government in Maharashtra.
So acquiring land in Raigad, too, may face problems. "We are going ahead with the technical work for the refinery. However, land has to be firmed up and we are looking at two-three locations. Saudi Aramco is fully part of the ongoing works," says B Ashok, chief executive officer for Ratnagiri Refinery and Petrochemicals, the name of the joint venture.
Based on an industry estimate, the value of BPCL's refining segment alone will come to around $400 a tonne, while another $200 to $300 a tonne can be added to the remaining infrastructure -- including terminals, pipelines and retail outlets.
This was reached based on the recent Essar-Rosneft deal and HPCL's plans for its Barmer refinery. BPCL does not have much exposure in petrochemicals.
On the other hand, to set up a greenfield refinery and petrochemicals, the cost may be around $600m to $700 a tonne.
"For any foreign investor, BPCL appears to be an ideal choice because it means immediate cash-flow added by a countrywide presence in marketing too. A project like West Coast may take at least five to seven years to get commissioned," says A K Sharma, former director (finance), IOC.
Based on current market cap, the value of 53.29% government stake in BPCL comes to around Rs 57,000 crore and another 20% to 30% premium is expected to stretch the value closer to around Rs 70,000 to Rs 80,000 crore.
Investments in IGL and Petronet -- in which BPCL holds 22.5% and 12.5% respectively -- are also factored in, could add to the deal value.
This valuation may not, however, be the price that buyers will pay.
According to a consortium of officers associations -- including the Public Sector Officers Association, Federation of Oil PSU Officers and Confederation of Maharashtra Company Officers Association -- BPCL's assets can be valued at around Rs 9 trillion.
Industry experts think otherwise.
"Looking at a conservative calculation, you will get around Rs 1.5 trillion as a replacement value for BPCL. But a greenfield refinery may give them more flexibility," says the official from the global consulting firm.
The 'greenfield versus existing' debate has been in the air for some time and mostly centred on plans for Saudi Aramco, the world's largest crude oil producer, to invest in India.
In April 2016, Petroleum Minister Dharmendra Pradhan met its then chairman Khalid al-Falih offered three options: Partnership in the West Coast refinery, participation in the expansion of the Bina refinery in Madhya Pradesh owned and operated by a joint venture between Bharat Petroleum and Oman Oil Company, or a petrochemical plant at Dahej, a port in south-west Gujarat where RIL owns a petrochemical complex.
RIl's deal with Aramco will give an edge to the Mukesh Ambani-led company in its crude sourcing capabilities and help improving its gross refining margin.
Aramco will also supply 25 MTPA of crude oil to Jamnagar refinery, as part of the deal, which will bolster RIL's formidable crude sourcing capabilities that have traditionally given it an edge over many other competitors.
Apart from the added security of supply, the deal could also bring RIL pricing advantages given that a key supplier will now also be an investor in the business.
This will also have a positive knock-on effect on the petrochemicals business, which has crude oil as the main raw material.
It will also, to an extent, cushion RIL from the uncertainties in the global crude oil market due to the US-Iran tensions. (This deal could be under a cloud after the government filed a petition in the Delhi high court seeking to block the deal over dues involving an unrelated case.)
Both the RIL deal and BPCL's impending divestment have changed the dynamics for Aramco. Of course, as an analyst suggests that, thanks to its initial public offering on Wall Street, Aramco has the cash to go ahead with all three deals.
There is good reason for this. India imports around 18% of crude oil requirement from the kingdom and a downstream presence will only firm their foothold in a growing market.
Based on an estimate by the Organisation of Petroleum Exporting Countries, India's crude oil demand will rise by 5.8 million barrels per day by 2040, and will account for 40% of the incremental demand globally. This explains the rising interest by global players in India.