'National assets, created over the years through tax-payers's money, should not be handed over to business houses at throwaway prices.'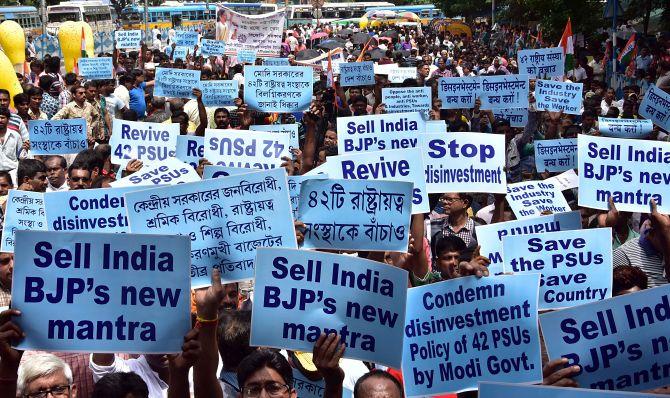 The Swadeshi Jagran Manch, the Rashtriya Swayamsevak Sangh's economic wing, is likely the bitterest critic of the Narendra Damodardas Modi government's decisions on the economy, be it issuing sovereign bonds, joining RCEP or the divestment of public sector giants.
The SJM has termed the Modi government's move to strategically divest five PSUs as imprudent and against the national interest.
"These are our strategic assets and they should not go into the hands of multinationals," Swadeshi Jagran Manch Co-Convenor Dr Ashwani Mahajan tells Rediff.com's Shobha Warrier.
You oppose the government's decision to divest five PSUs. Does that mean you are against divestment per se?
No. Our resolution clearly says the Swadeshi Jagran Manch is not against divestment.
Right from the very beginning, we are for privatisation though we prefer small scale industries and cottage industries. But we are of the opinion that in some cases, we have to go large, for instance, airlines, refineries, etc.
So, we are not against divestment or privatisation. However, we oppose the idea of strategic divestment. We also opposed the divestment process followed by NDA 1.
In 2001-2002, the Vajpayee government had divested a few public sector organisations with good results.
At that time, we opposed it because we felt the process was not transparent. There were only a few buyers. So, we felt the government did not get a good valuation. That was why then also, we had suggested that the government should do divestment only through the equity route.
When NDA 2 came to power in 2014, we had a detailed discussion with the then finance minister, Arun Jaitley. He agreed that what NDA 1 had followed was not a prudent method and that they had learnt from their past mistakes. He told us that whenever they would go for divestment, they would take only the equity route.
So, whatever divestment the Modi government did in the first five years was all done through the equity route.
But in the last leg of the Modi government, when they spoke about divesting Air India, we had said we were not against the idea of divesting Air India if it was done through the equity route.
What is the problem in a strategic sale if it is done in a transparent way when there is proper evaluation and when there are at least five bidders?
If you look at the way BPCL, which they are planning to divest now, is valued you will understand whether there was proper evaluation.
I am of the opinion that ownership of a company does not make it efficient or inefficient. It is the management that matters.
You always compare PSUs with private companies. So, if you compare BPCL and Essar, you will see that the profitability of BPCL has been rising consistently.
Essar is only half of what BPCL is in terms of refineries. Essar doesn't run petrol stations, but BPCL does and there are thousands of them.
You mean a profitable and professionally run PSU should not be divested?
That is not the point. The problem is, Essar, which is half of BPCL, is valued more than what BPCL's value has been sought now. Does it mean BPCL has been valued properly?
So, what you are opposing is the way BPCL is valued and not divesting BPCL...
Yes. If they had followed the equity route, this kind of valuation would not have happened. Whenever you make deals with strategic partners, the problem of valuation will arise. And there are only 2-3 buyers.
So, the question is: Why do you have to give up management this way when there is another way, when the equity route divestment will fetch you a very good amount?
If we look at the case of Hindustan Zinc that was sold during Vajpayee's time, its profits increased a hundred fold after Vedanta took over in 2002. So also Balco, IPCL, etc.
Yes, everybody says those companies became more efficient and profitable after divestment. We don't agree. The Rs 769 crores (Rs 7.69 billion) for which Hindustan Zinc was sold was at an undervalued price. You look at it now. Just 30% shares are equivalent to Rs 30,000 crores (Rs 300 billion) now.
Is that not because the company's profits increased 100 times after divestment?
It is not just the profit, there are other considerations also like revenue to the government.
What I am saying is we have very bad experiences with private sector companies when you look at the way they pay taxes, the way they manage all kinds of concessions etc while public sector companies do not hide anything.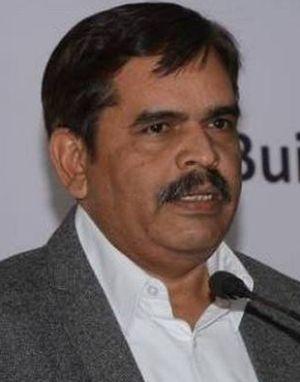 So, you are also against privatisation?
You are jumping to conclusions. What I am saying is when you give a PSU to a private business house, why do you want to sell it at a loss?
I will give you some examples of government companies which are run by independent boards. Take, for instance, L&T and ITC. Both are government companies, but run efficiently; the promoter is the government, but the management is not the promoter.
But why should governments be running businesses?
The government should not run businesses and these are not run by the government. As the private equity holding is 51%, bureaucratic control goes away and companies are run by independent boards.
Without bureaucratic control, things will improve.
The problem is bureaucratic control and not the ownership of the company.
National assets, which are created over the years through public sentiments and tax-payers's money, should not be handed over to business houses at throwaway prices.
If you sell companies like BPCL to the private sector, they are always inclined to make them cartels. We have seen this earlier also.
When cartels are made, consumers suffer. We have seen several cases of private houses looting public money.
Ownership does not make you good or bad. What is important is the way it is run.
So, our contention is, BPCL should be valued properly and should be sold through the equity route.
Why should NITI Aayog or other consultants come in the way of the government getting an appropriate price for the assets that are created by public sentiments and tax-payers's money?
Why should we sell them in the name of divestment at a lower price when they can fetch a higher price?
Why not the equity route?
If the strategic sale is transparent and there are more buyers...
It is not transparent and that's the problem.
If there are hundred buyers, it is transparent. Here you have only two or three buyers and they join hands and take away the national assets at throwaway prices.
Why should the government fall into this trap? Why can't they go through the equity route which they had followed in the last five years?
Now, let me tell you about Air India. The assets Air India has are not valued at all.
Over the years, Air India has acquired so many air slots for landing rights and these air slots were not valued at all.
When the consultants say Air India has a negative net value, they are lying. These consultants have not valued air slots at all.
Can you believe we sold one air slot at Heathrow for Rs 400 crores (Rs 4 billion)? And we have 70 such air slots in Heathrow and Birmingham alone.
We have more than 2,500 air slots internationally and there is an international practice of leasing of air slots. No mention of that is made by the consulting company.
But the Cabinet Committee on Economic Affairs has approved the strategic sale of the five PSUs...
I would say the Cabinet Committee on Economic Affairs, the Cabinet and the government had been misinformed and misled by the consultants.
So, when the government is going to sell them saying they had negative value, they are taking away all the tax with that.
What we are saying is you run Air India by a professional management, turn it around, come with an IPO and then sell Air India to retail investors.
We have an example of British Airways. In the 1980s, British Airways was in the same shape. In 1987, it was turned around and an IPO was issued, which was oversubscribed 11 times. It is now run very efficiently.
The attitude of cutting off the hands if they are unwell is not good. Treat them first.
At present the economy is slowing down, GDP growth is down and the government is desperate to turn it around. It is trying to create funds for infrastructure projects through the divestment of PSUs.
Who is stopping the government from infusing funds for infrastructure projects?
What we are saying is sell it through equity route so that they will get more money!
We want the government to get more money than selling at a lower price.
We are supporting the government's decision to invest more money in infrastructure projects.
We have always been critical of foreign consultants who have conflict of interests.
You spoke about the unfair advantage given to the buyers. What is it?
First, we shouldn't be allowing cartels to be made.
Next is these are our strategic assets and they should not go into the hands of multinationals.
It is very unfortunate that a company that has created Rs 60,000 crores (Rs 600 billion) in the last eight years is being sold for Rs 56,000 crores (Rs 560 billion).
Not only foreign consultants, NITI Aayog also made assessment of the PSUs to be divested.
I don't have any faith in NITI Aayog's recommendations. In fact, we have asked for junking the NITI Aayog report. NITI may look like a Hindi name, but many of the consultants are foreign!
You opposed the government on sovereign bonds, RCEP and now divestment. Is the Swadeshi Jaagran Manch going to be the Opposition?
No, we are friends of the government. In Hindi there is a saying that you must carry critics with you so that they can keep checking you when you go wrong.
We opposed RCEP from the beginning. Now, everybody is appreciating the government because they didn't accept RCEP. So, who is the beneficiary? Swadeshi Jagran Manch or me or the government?
We opposed the sovereign bonds and started a debate. Ultimately, the government decided against it. Who benefitted? The country? The government? Or the Swadeshi Jagran Manch?
Swadeshi Jagran Manch is a critic that tries to guide the government the right way so that the whole country gets benefitted!
Is the Swadeshi Jagran Manch going the Left way?
The Swadeshi Jagran Manch is not the Left. The Left will never accept divestment either way. So, are we Left?
There is no Right or Left in our thinking. There is a general feeling that Right means multinationals, corporates, globalisation and big markets. If that is right, we do not like to be called Right.
We are just nationalists. This is the nationalist way of looking at things, and not the rightist way.
---
Shobha Warrier covers business for Rediff.com. Author of Dreamchasers: Entrepreneurs from the South of the Vindhyas, she can be contacted at shobhaw@rediff.co.in