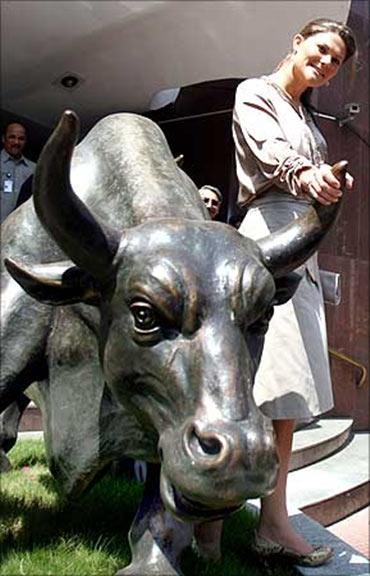 Indian benchmark indices may witness bouts of volatility this week as traders roll over positions in the derivative segment on expiry of near-month contracts, say experts.
Rate-sensitive sectors are likely to see activity in the run up to RBI's monetary policy review on April 1. Besides, buzz around the much-awaited Lok Sabha elections will keep traders busy and sharp upswings in benchmarks may lead to demand for defensive sector scrips, they added.
Jayant Manglik, President-retail distribution, Religare Securities Ltd said: "Volatility will come into play due to derivative expiry of March month. We expect banking, FMCG and IT to perform better alongside with selective midcap and smallcap counters."
The BSE benchmark Sensex over the course of the week shed 54.48 points to end at 21,755.32. The NSE Nifty index settled at 6,494.90, a tad below the key 6,500-mark.
"Market may witness volatility ahead of RBI monetary policy and upcoming Lok Sabha elections too in April. Going ahead, global cues and Q4 FY'14 results will also impact market trend," said Rakesh Goyal, Senior Vice President, Bonanza Portfolio Ltd.
This week, 6,475 shall be crucial deciding level in near term for Nifty and the index is likely to witness further selling below this level, he added.
While Lok Sabha elections will be held from April 7 to May 12, stock market participants are seen betting on the next government getting a strong mandate. This has triggered chunky FII inflows and major indices have gained over 5 per cent in past one-month period.
Trends in investment by foreign institutional investors (FIIs), the movement of rupee against the dollar and crude oil price movements also hold key, said brokerage Sharekhan.
Last week, the US Federal Reserve signalled it would raise interest rates by the middle of 2015. The Fed also voted to cut its monthly bond purchases by $10 billion to $55 billion. Market participants feel the sooner-than-expected signal in hike in rates by the Fed might affect fund flows.
According to Jignesh Chaudhary, Head of Research, Veracity Broking Services said: "The Federal Reserve gave indication that it may raise US interest rates from the middle of next year. If rates rise, then we could see capital outflows from emerging markets."