The lack of a strong diversity policy on the part of companies, a limited pool of women candidates as well as socio-cultural factors contribute to their low numbers.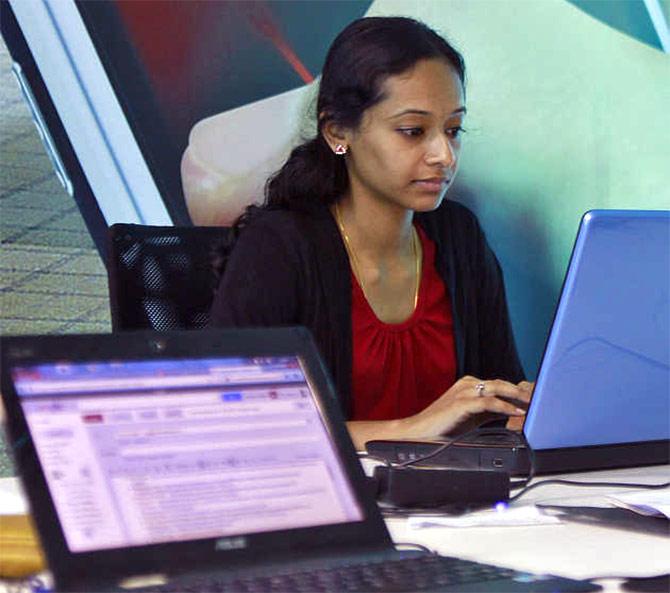 When furniture retail giant IKEA decided to set up shop in Hyderabad a few years ago, the company wanted to make it a gender-equal unit.
"They wanted to hire 50 per cent women in each and every role in the store," says Ameesha Prabhu, chief executive officer at TRRAIN, a non-profit trust and one of the organisations which helped IKEA recruit 150 women to fill those positions.
Most Indian companies don't seem to have such a gender equal policy.
An analysis of disclosures by listed companies reveal that women got only 37 out of every 100 new jobs created in FY19.
This is an improvement over FY18, when less than 25 female employees were hired for every 100 new jobs.
The companies created a total of 115,000 new jobs in FY19. (See chart 1)
Business Standard collected the data from the annual reports of 77 companies across periods as part of a yearly exercise to determine the representation of marginalised groups among companies that are part of the S&P BSE 100 index.
Some companies count only permanent employees, while others include contract and other employees when reporting their total number of workers.
The analysis shows that women constitute 22.51 per cent of the total number of workers in these companies in FY19 — an abysmal figure even though it is better than the last year's when it was 21.73 per cent.
What's more, in 47 out of the 77 companies, women account for less than 10 per cent of their total workforce (See chart 2).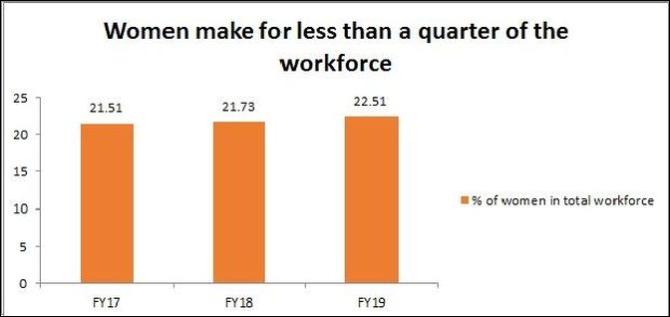 Clearly, Indian companies have a long way to go when it comes to the inclusion of women.
"Some organisations at the forefront of gender inclusion are focusing on hiring 50 per cent at entry level.
"But these are few and far between," says Kalpana Tatavarti, founder, Parity Consulting and Training, an organisation that helps companies build an inclusive workforce.
There are many reasons for low participation of women in the workforce.
The lack of a strong diversity policy on the part of companies, a limited pool of women candidates as well as socio-cultural factors contribute to their low numbers.
B S Nagesh, founder, TRRAIN, feels that more girls need to enrol in engineering colleges.
"In the service and IT (Information Techonology) industries, a lot of women are joining at the entry level.
"However, in the manufacturing industry, the pool shrinks at the entry-level recruitment itself," he says.
Deepa Krishnan, head-marketing, digital & loyalty, Tata Starbucks, sums up the impediments for women workers into 3Ms - marriage, maternity and mobility, all of which contribute to keeping them out of the workforce or making them drop out.
"Mindsets and biases of employers who feel that it will be difficult for women to work in remote areas where their factories are located add a further barrier to the few women who choose to make their careers there," says Tatavarti, referring to sectors like heavy engineering, manufacturing, real estate and oil and gas.
India's female participation in the labour force is lower than some of the world's poorer countries.
According to the latest figures from the World Bank, women's representation in the country's overall workforce is 21.79 per cent, which is significantly lower than that in countries like Pakistan, Sudan and Bangladesh - all with smaller gross domestic product numbers than India's. (See chart 3).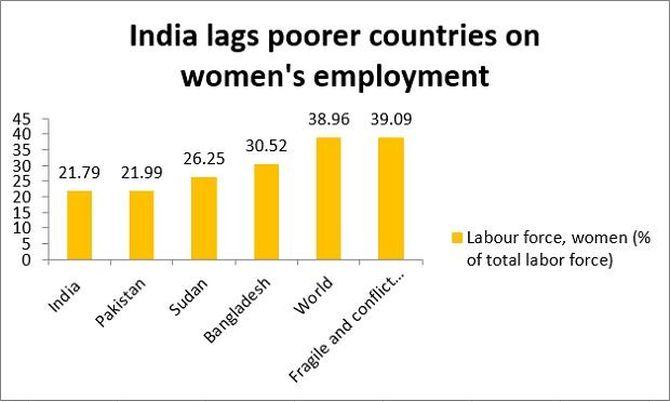 Tatavarti feels that India's well-meaning policies, including the Maternity Benefit Amendment Act, 2017, and the Sexual Harassment of Women at Workplace (Prevention) Act, 2013, may have affected employers' willingness to hire women, especially because the laws have not come with a corresponding shift in attitudes amongst those who are hiring.
It is not uncommon to hear managers say, "It is better to not hire women, it sounds like too much hassle," says Tatavarti.
Image used for representational purposes only.
Photograph: Sivaram V/Reuters