Civil aviation ministry has proposed that deputy director generals and Indian Air Force officers be allowed to apply for the top job.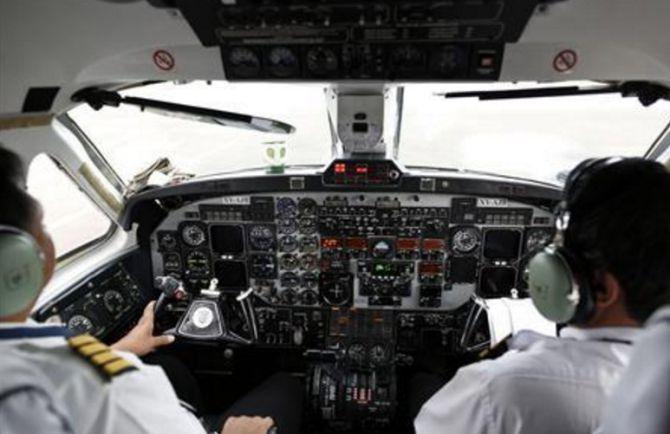 Ahead of two crucial audits, the Ministry of Civil Aviation (MoCA) has proposed to allow deputy director generals (DGs) and officers of Indian Air Force (IAF) to apply for the post of chief of India's aviation regulator.
The current head of the Directorate General of Civil Aviation (DGCA), Arun Kumar, has been promoted as secretary and is expected to move out some time soon.
DGCA has four Deputy DGs with experience in different fields of aviation.
The proposed rules also allow senior IAF officials of the rank of air marshal and air vice marshal to apply for the post.
The US Federal Aviation Administration (FAA) will audit India's aviation safety mechanism this year.
And then the UN's aviation watchdog, International Civil Aviation Organisation (ICAO), will conduct a safety audit by early next year.
"During the last audit, ICAO pointed out that the director general's post doesn't have fixed recruitment rules and tenure.
"We are fixing this before the audit," said a senior government official.
The audits come after the Air India Express crash of 2020 in which 20 people, including the pilot and co-pilot, were killed when the flight from Dubai with 190 people onboard overshot the runway at Kozhikode airport and fell into a gorge.
The investigation pointed to glaring systematic faults and non-adherence to protocols as the reason for the crash.
ICAO and FAA's internatio­nal assessment programme evaluates the overall adequacy of a country's laws, administr­ative rules and regulatory sta­ffing.
In the case of India, with passenger traffic growing at annual double-digit rates, FAA and international review tea­ms have consistently identified shortage of experienced government personnel in Ind­ia's civil aviation regulator.
In 2014, FAA had downgraded India's aviation safety ranking, finding regulatory oversight to be inadequate.
A downgrade by aviation regulators will put a hurdle for Indian airlines' overseas expansion plans, most importantly Air India's, which has widespread operations in the US and Europe.
Air India's privatisation process is in the final stages and Tata Sons is the favourite to win the bid.
Following the downgrade, there have been several dema­n­ds from the industry to set up a civil aviation regulator that is headed by an aviation expert and is independent of the MoCA.
Regulators in deve­loped markets are headed by experienced aviation professionals.
For instance, the FAA is headed by Steve Dickson who has nearly three decades of experience at Delta Air Lines and who retired as senior vice president of flight operations.
The last technocrat to head DGCA was the late Kanu Gohain (2006-08), who had 35 years of experience in the industry.
Despite the government allowing professionals and IAF officials to apply for the DG's post, past and present officials of MoCA and DGCA are sceptical since the selection committee comprises three Indian Administrative Service (IAS) officials.
Also, the appointment will not be through the Union Public Service Comm­ission (UPSC) selection board.
"This is just an eyewash to satisfy the ICAO and FAA officials," said a former senior DGCA official.
"The selection committee is headed by a Cabinet secretary and has a secretary and a joint secretary of MoCA as members.
"The candidate will also not be interviewed by UPSC, which makes it clear that it will be an IAS officer nominated by MoCA," he added.
The government had diluted the eligibility for the DG's post in 2007.
Prior to this, the candidate required a minimum of 12 years of experience in aviation.
The government brought it down to five years, following which Nasim Zaidi, a career bureaucrat, was appointed director general of civil aviation.
To be fair, Zaidi had six years of experience as India's representative to ICAO in Montreal, Pawan Hans and the Airport Authority of India.
After Zaidi, the government kept the recruitment rules in abeyance, and since then largely career bureaucrats, often senior officials of MoCA, head DGCA.
However, a chief operating officer of an airline said it is beneficial to have a bureaucrat with civil aviation experience heading DGCA rather than a professional since the position demands high integrity.
"Often those who have exposure in civil aviation have some association with an airline, which can be problematic if the person is made the DGCA chief.
"Also, the head of DGCA should have leadership qualities and ability to coordinate with multiple ministries and foreign governments.
"Only an experienced IAS official can do that," he said, adding that Arun Kumar, also a career bureaucrat, had shown great ability to balance aviation safety and commercial interest of the industry.
"The current DG has been good. He gives danda (stick) very often but also knows when to offer a carrot," he said.
"That is an ability the regulator of a growing market like India should have."
Photograph: Soe Zeya Tun/Reuters