The start-up story appears to be losing its sheen due to corporate misgovernance, financial mismanagement and gender discrimination. Sangeeta Tanwar and Ritwik Sharma report.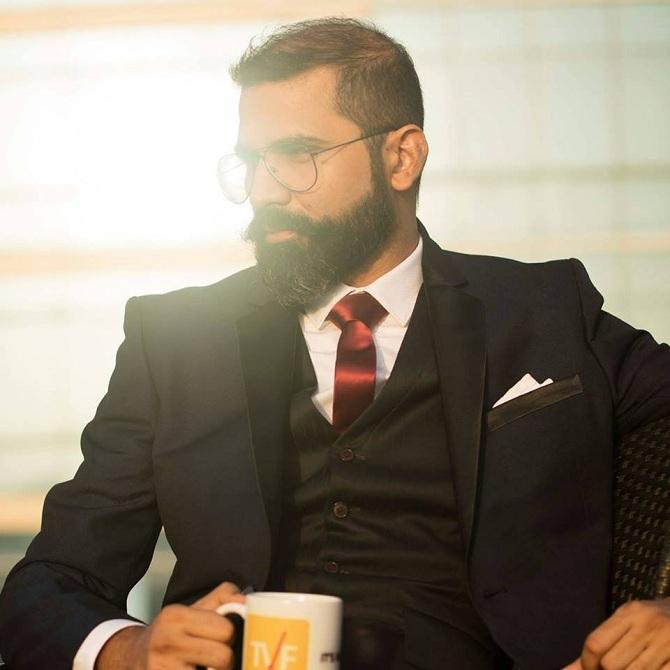 IMAGE: One of the most shocking developments in the start-up world has been the sexual harassment allegations levelled against TVF founder Arunabh Kumar.
The Indian start-up story appears to be losing its sheen with recent cases of companies struggling with issues related to corporate governance, financial mismanagement and gender discrimination.
One of the latest instances involves alternate stay aggregator Stayzilla, which faltered on account of non-payment of dues to vendors. An apparent case of financial imprudence took a turn for the worst with the arrest of the firm's co-founder Yogendra Vasupal.
An equally shocking development has been the allegation of workplace harassment by female employees of online content company The Viral Fever against its founder Arunabh Kumar.
Also, social media was abuzz with news of ShopClues co-founder Radhika Aggarwal being accused of professional and personal wrongdoing by her estranged husband and one-time co-founder Sandeep Aggarwal.
These incidents follow the unruly boardroom battle that played out in full public view not long ago between Housing.com founder Rahul Yadav and the investors.
The question is, what makes start-ups so vulnerable?
How best can they promote transparency, adopt sound corporate policies and put in place human resource (HR) practices to avoid crises?
Rishab Gulshan, partner and director, Boston Consulting Group, says most start-ups in India suffer from the "curse of the known".
What this essentially means is that entrepreneurs by their very nature are driven by the need to change the status quo. That is where their ability to change comes from. But at times they take it to extremes.
He explains, "While you can disrupt with technology, there are areas or functions where one can safely follow existing processes. In such cases, there is no need for a start-up to expose itself to risks by innovating."
For example, if a start-up is building a sales team, there is no point in reinventing the wheel. Rather it pays to take advantage of the experience and best practices available elsewhere while adapting them to its context. They can get things first time right without exposing themselves to unnecessary risks.
Start-ups are based on ideas, but it takes a lot to build organisational processes like workflows, goals, deadlines, investments and reviews.
"Start-ups are far more likely to succeed if their founders understand, admit and compensate for their personal limitations -- they must build teams of talented, experienced and energetic next-level leaders who have specialised knowledge," says Kunal Sen, senior vice-president, TeamLease Services.
Many, including Aloke Bajpai, CEO, ixigo, believe that the story being sold by the start-up world is that of accelerated growth at any cost. But such a culture has its own downsides -- it created unprecedented pressure and takes the focus away from inculcating values that can outlive the founders.
"There is no point in creating a false impression about the firm doing well at a time when the business is not in a good shape. At times of crisis, be honest and truthful in sharing the right information with different stakeholders. Promoting transparency goes a long way in building trust with employees, which comes in handy during a crisis," says Bajpai.
He recalls the global financial crisis of 2008 when the online hotel and travel aggregator had to take tough decisions including downsizing staff. With trust in the management, a large number of people took a pay cut and stuck with ixigo and survived the turbulent times.
It is critical to keep channels of communication open as it helps build trust, transparency and security among employees during a crisis, says Zishaan Hayath, founder, Toppr.
He adds that compliance with the law of the land is the first step towards building a good, safe and progressive culture. Start-ups should focus on it without any compromises. The starting point for this could be hiring an experienced chief financial officer and HR head who will be quick to point out any financial irregularity and discriminatory practice at the workplace.
A huge majority of start-ups in India are less than five years old and are still establishing work cultures and processes.
James Agrawal, managing director, BTI Consultants, says, "Start-ups are working under severe pressure as they are yet to show return on investment to investors. The HR in most start-ups primarily focuses on recruitment. The emphasis on talent development and culture building is limited. This needs to change and the focus has to be on talent development."
Being process-oriented and ensuring all sub-unit goals are aligned with organisational goals go a long way in mitigating risks, says Abhishek Agarwal, senior vice-president, global delivery, Judge Group.
Lack of clarity in goals and measures to achieve them are the biggest challenges for young companies, he adds. Most start-ups end up firefighting because of this.
They also carry a reputation of hiring talent with bloated packages -- paid out of investor's money. Being cost-conscientious is critical in order to avert financial crisis.
The best way to deal with gender discrimination, Bajpai feels, is to ensure the cases get reported. Also, the management should ensure it doesn't hurt the wronged person more and the investigation has a tangible impact.
Nearbuy (a coupon company), for instance, follows a zero-tolerance policy. "The last sexual harassment case was reported two years back when a senior was fired within 24 hours of the issue being reported and found to be true," says CEO Ankur Warikoo.
Unlike other industries, start-ups appear to be a victim of their own success, attracting a lot of media attention. In all of this, what is worrying is an attitude to soft-pedal on regulations, which can be detrimental to the sector's growth.
"Any start-up which has taken money from institutional investors should be as much accountable for corporate governance as any other publicly listed company. If they have taken money, they are legally bound. There should be laws to this effect, just as in case of publicly listed companies," says Warikoo.