Union Minister for Human Resource Development Kapil Sibal on Monday said he doesn't expect leading foreign universities like Harvard and Stanford to come to India.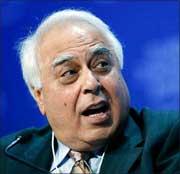 "We don't expect Harvard and Stanford to move to India the moment the Foreign Education Bill is passed. There can be twinning arrangements, joint ventures, huge investments in training programmes, joint degrees and other benchmarks of quality coming here," he said on the sidelines of the 38th Shri Ram Memorial Lecture in the PHD Chamber of Commerce and Industry in New Delhi.
Sibal's statement is significant in the light of the fact that the Foreign Education Institutions (Regulation of Entry and Operations) Bill, 2010, was tabled in the Lok Sabha two weeks back. The Bill aims to regulate entry and operation of foreign educational institutions imparting or intending to impart higher education in India and allows foreign education providers to set up campuses in India and offer degrees.
The topic of the lecture was 'Inclusive Education for the Marginalised' and Sibal said though the world had faced a financial meltdown the previous year, the real meltdown happened in the area of human resources.
Criticising the private sector, he said: "The worst law schools in the country are private law schools. The private sector is wanting and not contributing. It has not contributed to R&D. The private sector will have to find a practical way to collaborate with the government."
He added private sector had not done much in education because the economy was not liberalised till 1991 and the poor quality of education provided by the private institutions is a matter of concern. The country needs to build 700 universities and 35,000 colleges in the next 10 years to bridge the demand-supply gap.
On primary education, he said that there will be a requirement of 12 lakh (1.2 million) teachers to implement the Right to Education Act and state governments have been directed to hire teachers even if they are not qualified to teach.
"These teachers will then have to acquire their qualifications in five years. In fact, we might make a law to have 25 per cent reservation for the disadvantaged students in secondary education in another eight years," he said.