Full service carrier Vistara expects to add a total of 10 planes as well as hire more than 1,000 people in the current financial year and has shelved plans to fly to the US, according to a top executive.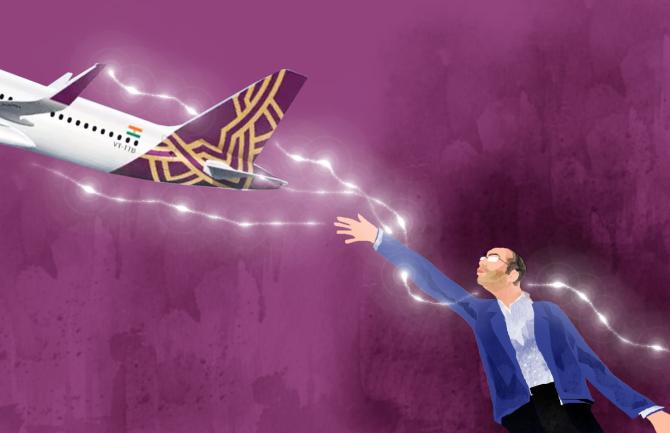 Currently, Vistara, which is set to be merged with Air India, has a fleet of 61 aircraft and a staff strength of over 5,200.
During an interaction in Istanbul this week, Vistara CEO Vinod Kannan said there has been a ready pool of talent, especially pilots and cabin crew members, with the collapse of Go First.
"Just like Air India and IndiGo, we also recruited them.
"We wanted to make sure that we took the right number, right people.
"We went through the usual process that every airline will do. Then, there is the entire job market for the cabin crew where freshers are coming in. We still attract good talent," he told PTI.
Around 50 pilots from Go First have been recruited by the airline.
Elaborating on Vistara's hiring plans, Kannan said the airline would add a total of 10 aircraft and would need around 1,000 staff in this financial year.
"We need around 1,000 staff... till the end of this financial year... out of 10 aircraft, 1 has come and 9 more have to come, out of which 3 are wide-bodies. The rest are A320s," he said.
Vistara, a joint venture between Tata Group and Singapore Airlines, has a fleet of 61 planes and no aircraft are on the ground, he added.
The fleet has three owned and one leased wide body aircraft.
Kannan said the airline has decided not to fly to the US as planned earlier.
"The main reason is that to fly to the US, I need a lot of aircraft. One single daily operation from India to the US will need at least three aircraft.
"I have to wait for three aircraft to come and I don't know it will be spaced out.
"By the time it will start, the integration (will be) happening," he noted.
Against the backdrop of the ongoing process of merger with Air India, post which Vistara brand will cease to exist, Kannan said the people who built the Vistara brand are going to be there and it is always good to leave on a high.
To a query on what Vistara brand is, he said it is "something that was built with a lot of attention, care, pain, sweat, money and a lot of money was put in. Thankfully, we are in a situation where people realise that we are a good brand to travel with".
"Air India needs people from Vistara.
"They are growing... whether people have the job, that is not the issue.
"The issue is what job they will have," he said.
In November 2022, Tata Group announced the merger of Vistara with Air India, and pursuant to the deal, Singapore Airlines will have a 25.1 per cent stake in Air India.
Subject to regulatory approvals, the deal is expected to be complete by March 2024.
About airfares, the Vistara chief said it is always a matter of supply and demand.
"Airfares are sky high because of a few reasons.
"One is Go First as on routes they were operating, capacity has come down; secondly the seasonality demand, in May, all the destinations Go First used to fly are super peak... as much as we want, capacity has not come back to the same extent as what Go First has taken away.
"Biggest solution (to have) is capacity addition," he said.
Earlier this week, the civil aviation ministry asked airlines to devise a mechanism to ensure reasonable pricing of air tickets amid a surge in airfares in certain routes.