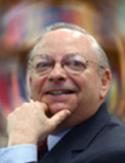 The USA-India Chamber of Commerce has felicitated Dr Barry Bloom of Harvard School of Public Health in recognition of his longstanding and deep commitment to helping to improve public health and biomedical science in India.
The award was presented by Dr Martin Mackay, pesident Global R&D, Pfizer and Karun Rishi, president, USA-India Chamber of Commerce, at a function in Boston recently.
Bloom, who was sent to India in the late 1960's to create first course in immunology at the prestigious All India Institute of Medical Sciences, in his acceptance speech said one of the most impressive things in India is its incredible creative range of public private partnerships.
"Whether it is high quality high throughput model where paying patient on one side and poor patient on the other side get the best possible care at hospitals like Apollo, Narayana Hrudayalaya and the upcoming Medicity. This is a kind of unique model. I don't know anywhere in the world that this kind of model has been developed," he said.
However, that model of high tech surgery and high quality institutions is not going to change public health statistics in India, Bloom said.
Emphasising the need for a stronger interface between the industry, academia and NGO, Bloom said the US can learn a great deal from public private partnerships in India.
Felicitating Bloom, Rishi said he has four decades of selfless service to improve public health and medical education in India. Bloom's involvement with India goes back to 1969 when he first visited India.
"The journey never stopped and for over 40 years Barry Bloom continued his passion and commitment to help train whole generation of immunologists at the All India Institute of Medical Sciences," he said.
Recently he helped establish Public Health Foundation of India a unique public private initiative to create world class school's of public health in India.
Image: Dr Barry Bloom