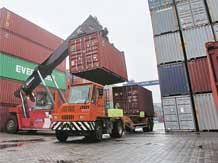 In its much-awaited Annual Special 301 Report, the US Trade Representative on Wednesday maintained status quo on India, by keeping it on a "priority watch list" for an allegedly lax intellectual property rights regime but refrained from labelling it a "priority foreign country", which might have led to sanctions.

However, the report expressed "growing concerns" over India's IPR protection and enforcement.

The report said India's IPR laws and its enforcement would be closely monitored by initiating an "out of cycle" review.

India has been on the 'priority watch list' since 1989, when the Special 301 was first released.

Special 301 is a trade and industry practices report maintained by the USTR. In that report, the US designates certain countries under two categories — 'priority foreign country' and 'priority watch list'.

This is meant for the IPR violators and offenders.

The first designation is meant for countries which are worst offenders and might face trade sanctions.

India was previously designated a 'priority foreign country' in 1994.

"The (Barack) Obama administration is committed to meaningful and sustained engagement with trading partners -- from China to India to Canada -- with the goal of resolving intellectual property-related concerns so that Americans and American companies can compete on a level playing field in those markets," said USTR Michael Froman, while releasing the report.

Sources told Business Standard that earlier in the day, Commerce Secretary Rajeev Kher spoke to Deputy USTR Michael Punke, also its permanent representative to the World Trade Organization.

The US has kept 10 countries in the 'priority watch list' -- Algeria, Argentina, Chile, China, India, Indonesia, Pakistan, Russia, Thailand and Venezuela.

US policymakers had been threatening India since the end of the last year on the 'priority foreign country' label.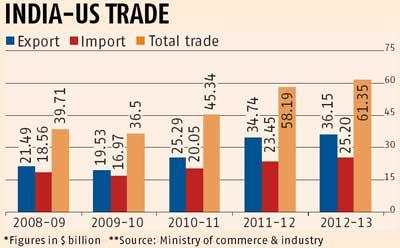 "A lot of jingoism had been going on of late concerning this (Special 301)
report.
"The US very well realises that putting India under 'priority foreign country' list would have meant unilateral action.
"But India stood its ground and maintained that its IPR laws are WTO-compliant. We have a strong and robust IPR regime," said Biswajit Dhar, director general, Research and Information System for Developing Countries.
The Obama administration had been miffed with India over a number of issues. Bilateral trade ties started getting impacted since 2011 when the US government raised the fees for professional visas -- H1B and L1.
Since then, India and the US have dragged each other to the WTO's disputes settlement body, significant among those being New Delhi banning America's poultry imports and Washington levying extra duties on steel items from India.
Since US President Barack Obama's visit to India in 2010, American companies started becoming vocal about India's IPR laws and patents regime.
This reached its peak in April last year, when the Supreme Court rejected a patent application made by Swiss company Novartis for its cancer drug, Glivec.
"The US is basically trying to mend ties with India now.
"They very well realise that if (Narendra) Modi comes to power next, it will have to have good ties with India.
"As a first step, they removed US Ambassador Nancy Powell and now are maintaining status quo for India in Special 301.
"The indications are clear," said Chintamani Mahapatra, chairperson, the Centre for Canadian, US and Latin American Studies in the School of International Studies, Jawaharlal Nehru University.
The previous meeting of the India-US Financial and Economic Partnership was in Washington in October, 2013, where many US firms had been vocal about the "deteriorating innovation climate" in India.
American companies have been raising questions on India's IPR laws since the controller general of patents, designs and trademarks decided to grant a compulsory licence to Natco Pharma to produce and sell generic versions of Bayer-Onyx's cancer drug, Nexavar.