'If you are looking to fulfil imminent long-term commitments, the new online Ulips are the right product for you,' notes Santosh Agarwal/Policybazaar.com.
Illustration: Dominic Xavier/Rediff.com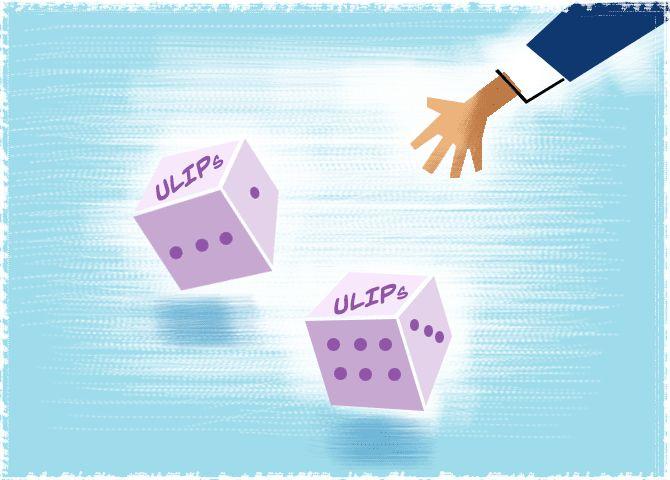 Unit-linked investment plans (Ulips), once the poster child of a lousy investment option, are now transforming into an attractive, low-cost investment product.
The journey of change has been a steady one.
The second generation came in after the regulator capped charges.
The real change, however, began with the launch of low-cost Ulips in 2015, including the online version, which addressed the transparency-related concerns of customers.
Now we have the fourth generation of Ulips -- the enhanced online version -- that were launched towards the end of the last calendar year.
To attract customers, insurers decided to remove policy administration and premium allocation charges completely.
The fourth-generation online Ulips have started winning over investors with their low-cost model.
While Ulips sold through the offline channel now charge lower fees than a few years back, the current online products are even cheaper.
Since the launch of online Ulips, there have been numerous debates on which type are better for investors.
To understand why online Ulips score over their offline counterparts, it is essential to understand the benefits an online model offers.
Ulips were notorious for the exorbitant policy administration charges they levied.
These charges were to a great extent responsible for investors losing money or getting returns that were lower than the amount invested.
The regulations that the Insurance Regulatory and Development Authority of India introduced did address this issue and capped the charges.
There is still a stark difference between online and offline plans.
In an online plan, for example, the total cost inclusive of all charges, such as fund management, premium allocation, etc, is capped at less than 2 per cent.
For an offline plan, the charges can go up to 10 per cent.
If you factor in the higher charges over the long term, they can impact your returns significantly.
To make their products more appealing, some insurers have a structure where they contribute to the investor's funds.
For example, one of the online plans adds 1 per cent, 3 per cent, 5 per cent and 7 per cent of the premium in years one to five, six to 10, 11 to 15, and 16 to 20, respectively.
Due to extremely low cost, better transparency and increased flexibility, the new age online Ulips stand a better chance of offering higher returns as compared to their offline counterparts.
You may also be able to earn better returns than other investment products available in the market as there's no tax on investment, accrual and withdrawal.
This model of taxation is known as exempt-exempt-exempt (EEE).
ONLINE VS OFFLINE PLANS
Online Plan
Offline Plans
Plan Name
Bajaj Allianz Life-Goal Assure
TATA AIA Life-Fortune Pro
Age (years)
30
30
Policy term (years)
15
15
Pay term (years)
15
15
Premium (Rs)
100,000
100,000
PAC
Nil
Starts at 6%, reduced gradually*
Admin charge#
Rs 400 a year inflating at 5% every year
0.75% a year of annualised premium
Annual FMC (%)
0.95-1.35
0.65-1.20
Commission
No
Yes
Return of mortality
Yes
No
Cost (%)
1.62
2.18
Fund Value @8% (Rs)
2,549,209
2,430,290
Note: PAC is premium allocation charge and FMC is fund management charge. All charges are a percentage of premium. *It's 6% for 1st and 2nd year, 5.5% for 3rd and 5th year, 4.5% for 6th and 7th year, 3.5% for 8th and 10th year and 2% from 11th year onwards. #This is subject to a maximum limit of Rs 6,000 annually
Typically, one Ulip has multiple fund options like mid-cap equity fund, large-cap equity fund, debt fund, and so on.
In online versions of Ulips, you can change from one fund to another as and when you wish.
This feature allows you to change your investment strategy depending on your age and requirement.
The switch can be done instantly, saving valuable time, while it takes longer in the offline version.
Suppose that you invest in a Ulip at the age of 25 and decide to allocate a bigger portion of your premium towards small-cap equity funds.
After a few years, you may want to move to large-cap funds for portfolio stability.
You can switch between these funds instantly by going online and logging into your account.
Investors can also choose strategies like life-stage investing, wherein the money is automatically shifted from equities to debt as one gets closer to the end of the term.
Switching from one fund to another is tax-free in insurance policies.
The product is designed for individuals who are well-informed, understand finance, and prefer to take decisions on their own, rather than consult an agent.
To maximise your gains from this investment, it is important that you identify your need and purpose.
Child's marriage, education, or post-retirement cash flow are some of the reasons why you may need lump-sum cash in the future.
If you are looking to fulfil imminent long-term commitments, the new online Ulips are the right product for you.
But you need to stay invested in them for at least 10 years if you wish to realise their true potential.
Most investors consider all Ulips to be the same and don't read the policy documents carefully.
Since a percentage of the premium is invested in the market, there is an underlying risk associated with these investments too.
Understand all aspects of the plan well before putting in money.
When you invest in stocks, mutual funds or any other investment vehicles, you follow a strategy.
Typically, investors assess their financial goals, risk appetite and time horizon of investment before signing on the dotted line.
Ulips also invest in the markets and investors, therefore, need to consider the same parameters before investing.
When it comes to Ulips, investors have a plethora of options to choose from.
Remember, every plan can have different features and benefits.
Before you buy an investment plan, ensure that you compare the plans shortlisted by you to find the one that is best suited to your needs.
Some factors that you must compare are policy term, pay term, charges, the return of mortality charge benefit, past year returns, etc.
The new online Ulips are by all means an improved version of their traditional offline counterparts.
They offer a convenient option for investment in multiple asset classes at low charges.
Also, the inherent flexibility with minimal/nil charges for switching and changing fund allocation makes them a formidable investment option.
With a lock-in period of five years, these insurance plans are a great investment tool for long-term investors.
Santosh Agarwal, associate director and cluster head, life insurance, Policybazaar.com