Cook is scheduled to meet top honchos of India Inc later during the day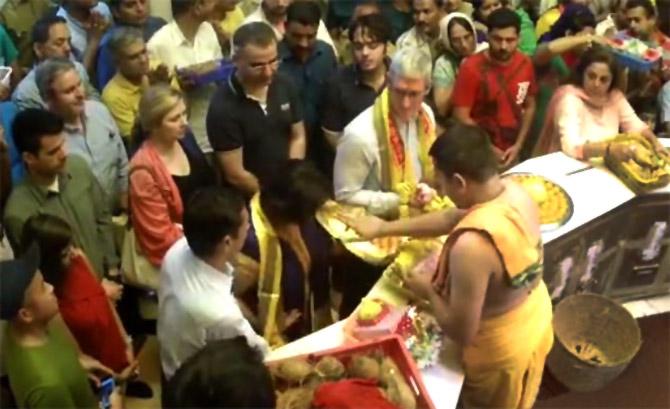 Global tech giant Apple Inc's chief executive Tim Cook started off his maiden five-day visit to India with a visit to the famous Siddhivinayak Temple in central Mumbai on Wednesday.
Cook was seen with Anant Ambani, the son of Reliance chairman Mukesh Ambani, at the temple devoted to Lord Ganesha.
Sources said the temple visit of Cook was unplanned and so was the chance of meeting junior Ambani.
He arrived in the city late last night from Beijing and is staying at the iconic Taj Mahal Hotel in the city.
He was seen wearing a light blue shirt and a stole with Sanskrit scriptures, which is generally worn by Hindu devotees.
Indian spirituality is not really new to the American company known for cutting-edge scientific innovation. Its famed founder, late Steve Jobs, had a fling with it over four decades ago, and some accounts say that he had also stayed at the commune of a Hindu ascetic at Haridwar during the trip.
At Prabhadevi's Siddhivinayak Temple, Cook was accompanied by Sanjay Kaul, the head of country operations for the tech giant, which witnessed its first quarter of dip in sales of its flagship iPhone.
India, however, figures as a bright spot amid the slump and recorded a 56 per cent jump in sales here with the revenue crossing a $1-billion mark for the first time.
While some media reports said he would be meeting Mukesh Ambani, a RIL spokesperson said the company chairman is away in the US.
Cook is scheduled to meet top honchos of India Inc later during the day, including Tata Sons chairman Cyrus Mistry, TCS chief executive N Chandrasekaran, Vodafone India head Sunil Sood and some start-up entrepreneurs, before flying off to Hyderabad for engagements on Thursday.
Cook may also meet Maharashtra Chief Minister Devendra Fadnavis. He is also likely to dine with Bollywood actor Shah Rukh Khan at the superstar's sea-facing residence in Bandra.
He is also scheduled to meet Prime Minister Narendra Modi on Saturday before winding up his visit.
Photograph: Courtesy, Siddhivinayak Temple