The total number of professionals working in India's $100 billion IT-Information Technology Enabled Services (IT-ITeS) sector grew by 7 per cent to 2.97 million in the last fiscal, Parliament was informed on Friday.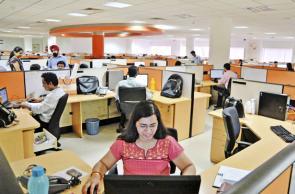 The IT-ITeS sector, which contributes about 8 per cent to the country's economy, provided employment to 2.77 million professionals in 2011-12 fiscal, Minister of State for Communications and IT Milind Deora said in a written reply in Rajya Sabha.

"The Indian IT-ITeS industry has been progressively growing and is able to secure new projects from various foreign countries," Deora informed the House.

For the entire 2012-13 fiscal, 640,000 professionals were employed in the domestic market, while, the number of persons working in the foreign markets in the IT-ITeS sector stood at 23,24,000
during the period, he added.
IT-ITeS exports are estimated to have risen by 23.4 per cent at about Rs 4.11 lakh crore (Rs 4.11 trillion) in 2012-13 fiscal against Rs 3.32 lakh crore (Rs 3.32 trillion) in the 2011-12 fiscal.
In Dollar terms, exports are estimated to be up 10.2 per cent to about $75.8 billion in 2012-13, from about $68.8 billion in 2011-12, he added.
The government in the National Policy on Information Technology 2012 envisages to increase IT industry revenues, through exports as well as the domestic market, from $100 billion to $300 billion by 2020.