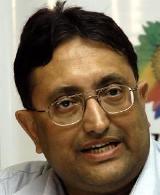 In September 2008, when Sudip Banerjee, then the president of Wipro Technologies, had decided to join a relatively less known IT services company, L&T Infotech, he had said it was perhaps the last challenge he wanted to take.
Banerjee was one of the people instrumental in shaping the future of Wipro's IT business in its early days. He joined Wipro in 1983 and headed Enterprise Solutions, its largest business division.
His tenure at L&T Infotech, however, was not as long as it was at Wipro, his second job after a four-year stint at HCL.
He quit the company a little over two-and-a-half years of joining and, though there is no clarity on whether or not he would like to take another 'challenge', he is brimming with confidence.
On his decision to part with the company, Banerjee says too much travelling (between his Bangalore home and the company's Mumbai headquarters) was taking a toll on him.
However, during this short stint at L&T Infotech, Banerjee, an alumnus of Shri Ram College of Commerce, Delhi University, and an MBA from AIMA, played a major role in turning around the company's image in the mid-sized segment.
In 2010-11, when most of the big players were struggling to grow their bottom line after the global economic slowdown, L&T Infotech clocked a healthy growth rate of 30 per cent.
Besides sharpening the focus on existing verticals, he created many sub-verticals that metamorphosed L&T Infotech from a software company to an IT services company covering broader areas like testing, infrastructure services, consulting and business process transformation.
The company expanded its delivery footprints in areas like Belfast in Northern Ireland, Dubai and Singapore.
In the last 12 months, the company has added around 5,000 employees, increasing its headcount to more than 14,300.