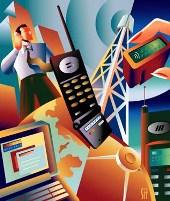 Norwegian firm Telenor will be forced to exit India if telecom regulator Trai's proposals to auction airwaves at 13 times the price used in 2008 are accepted, Telenor Group Executive Vice President Sigve Brekke said on Monday.

"If these recommendations become policy, then the government of India will be forcing Telenor Group to exit. It will be almost impossible for us to participate in the upcoming auctions," Brekke said in a statement.

The Telecom Regulatory Authority of India last week recommended that the government should auction 5 MHz of airwaves in the 1800 MHz band and companies will have to pay a minimum Rs 3,622.18 crore (Rs 36.22 billion) for every unit of spectrum.

This is about 13-fold increase over what they paid in 2008 when licences were given under the then telecom minister A Raja, when permits were bundled with 6.2 MHz of 2G spectrum for Rs 1,659 crore (Rs 16.59 billion).

Telenor said it has invested over $3 billion since buying a majority stake in the telecom business of Indian real estate major Unitech -- Unitech Wireless -- in 2008 which was
renamed as Uninor.
It holds around 67 per cent stake in Uninor whose all 22 telecom licences was cancelled by the Supreme Court on February 2 along with other 100 licences belonging to various telecom companies.
The apex court has asked the government to conduct fresh auction for the spectrum by August 31 and licences of the company will remain valid till September 7.
Telenor had said it will participate in the fresh round of auctions, though with a new minority Indian partner (in compliance with Indian laws).
Brekke, who also heads the Group's Asia operations, added that the government will not be following the Supreme Court order if the Trai proposals were accepted.
"We believe that with these recommendations, the government will not be following the court order.
"We hope that the government will look at issues such as only 5 Mhz in the auctions, participation not just for fresh license seekers but all operators and impractical rollout obligations, in addition to the reserve price, when it devises the auction rules," he added.
Telecom Commission, the highest decision-making body in the sector, is meeting today to decide on the recommendations put forward by Trai.
The Indian JV of the company had over 38 million subscribers on its network by end of January 2012 as per Trai.