Singtel had acquired an economic interest in Bharti Airtel back in 2000.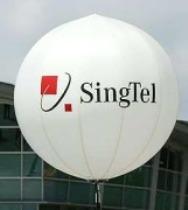 India's telecom sector continues to hold promise for strategic foreign investors.
On Thursday, Singtel announced it would acquire Temasek's 7.39 per cent stake in Bharti Telecom, which owns 45.09 per cent in Bharti Airtel.
Singtel is acquiring Temasek's 7.39 per cent stake in Bharti Telecom for Rs 330.13 per share at a value of S$844 million (US $659 million).
Prior to the deal, Singtel held 40 per cent stake in Bharti Telecom, Sunil Mittal and family held 51 per cent, Temasek another 7.39 per cent and other entities held the remaining 1.61 per cent.
After the transaction with Temasek, Singtel will hold 47.39 per cent in Bharti Telecom.
Singtel had acquired an economic interest in Bharti Airtel back in 2000.
After this purchase, the combined stake of Singtel and its subsidiaries in Bharti Airtel will rise to 36.3 per cent, from 33 per cent now.
A statement from Singtel said the deal was in line with the group's long-term strategy to increase its exposure to high-performing associates in its portfolio of leading telecom businesses in the region.
Singtel is also acquiring Temasek's 21 per cent stake in Thailand's Intouch Holdings.
For both these deals, Singtel will pay S$2.47 billion to its parent company Temasek. Temasek owns 51 per cent in Singtel and analysts claim it is merely a move to consolidate all telecom investments under one entity.
Bharti Airtel's stock closed the day at Rs 352.40, up 2 per cent in a mildly positive market.
The rationale behind the deal happens to be the lure of both these emerging markets, which are seeing higher data adoption.
Thailand and India are fundamentally attractive markets, which are reaping the benefits of rapidly increasing smartphone penetration and mobile data adoption by a growing middle class.
No fresh fund infusion will happen in Bharti Telecom.
Commenting on the deal, Chua Sock Koong, Singtel Group chief executive officer, said: "Singtel has been a strategic partner to both AIS and Airtel for more than 15 years.
"We have built deep and trusted relationships, worked well together through the years, sharing knowledge and expertise and we have grown together, from strength to strength.
"Today, they have a combined mobile customer base of more than 380 million across Asia and Africa.
"This is a unique opportunity for us to deepen our relationships with two great market leaders."
In February this year, Bharti Telecom announced it would acquire an additional six per cent stake Airtel.
In a stock exchange filing in February, Singtel had said it had subscribed to the rights offer of Bharti Telecom through its wholly-owned subsidiaries to enable Bharti Telecom to "further acquire equity shares of Bharti Airtel".