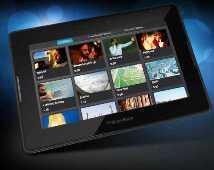 BlackBerry-maker Research in Motion said on Friday it would discontinue selling the 16GB version of its tablet PC PlayBook.

"RIM will no longer be making the 16 GB model of the BlackBerry PlayBook tablet.

"The 16 GB PlayBook will continue to be available for distributors and retailers while quantities last," RIM said.

It, however, added that it remains committed to the tablet space and will continue with the 32 GB and 64 GB models of the BlackBerry PlayBook.

PlayBook has received lukewarm response globally.

Compared to about 40 million Apple iPad users, BlackBerry hadjust 0.80 million tablet users in 2011, according to research firm Gartner.

Gartner expects the global tablet PC market to grow to 369.25 million units in 2016, with Apple contributing almost 46 per cent (169.65 million) units.

RIM, on the other hand, is expected to account for just 4.86 per cent (17.83 million).

The Canadian firm is offering the 16GB version of the device in the country at about Rs 13,990.

Launched in June last year, the company slashed prices of the PlayBook by year-end to boost demand.

The 16GB version was originally launched in India at Rs 27,990.

In March this year, RIM again slashed prices, this time of its 64-GB version, by around 18 per cent to Rs 19,990.

The 32 GB version is available at about Rs 15,990.

The move comes amid speculations of a buy-out even as the company struggles to catch up with global rivals like Apple and Samsung in the smartphone race.

It has also warned that it is likely to face an operating loss in the first quarter and has hired investment banks JP Morgan and RBC Capital Markets to assist in reviewing the company's financial and business performance.

RIM is scheduled to posts its first quarter earnings on June 28.

Reports also suggest that RIM is likely to slash around 2,000 jobs worldwide as part of massive restructuring plan that will begin in the couple of weeks.

The company, however, has said it will continue to spend and hire in key areas such as those associated with the launch of its new operating system BlackBerry 10, and those tied to the growth of its application developer community.
Image: BlackBerry PlayBook | Photograph, courtesy: RIM.com