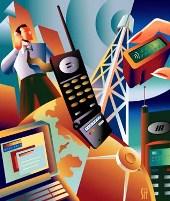 The government on Wednesday alloted spectrum to four operators, including Reliance Industries Limited-owned Infotel, in all 22 circles and Bharti Airtel in four, paving the way for starting high-speed mobile broadband.
According to senior officials in the department of telecommunication 20 Mhz of spectrum has been given to the four firms -- Infotel, Bharti, Aircel and Tikona Digital, which have licences to offer services.
The other two -- Qualcom and Augere (Mauritius) Limited -- would be given the radio waves as soon as they procure telecom licences, they said, adding there is no other problem with their cases.
The government had recently held auction for selling spectrum for 3G and Broadband Wireless Access services and had collected over Rs 1,06,262 crore (Rs 1,062.62 billion).
With the BWA, the operators can offer mobile broadband services that can facilitate high-speed wireless transmission of data.
The speed can be as high as up to 40 Mbps.
The operators have already started talks with the telecom vendors like Samsung, Motorola, Ericsson and few Chinese firms like Huawei and ZTE for deploying either Wimax or Long Term Evolution technology platform.
Both Long Term Evolution and Worldwide Interoperability for Microwave Access are broadband wireless access (BWA) are similar but rival technologies.
Infotel, acquired by RIL, was the only successful bidder in all of the 22 circles in the BWA auction conducted recently. Bharti had got in four, Aircel in eight and Tikona in five.
"With this, Reliance can now offer fourth generation wireless Infocomm services across the nation," Mukesh Ambani had recently said addressing the annual general meeting of the firm last month and had indicated that to build this the company would look at partnerships at various levels.
RIL had paid Rs 4,800 crore (Rs 48 billion) for acquiring 95 per cent stake in Infotel by way of creating fresh capital and on top of this the company paid over Rs 12,848 crore (Rs 128.48 billion) to the government towards spectrum fees.