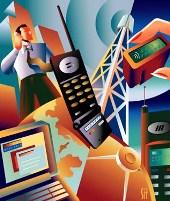 Wimax Forum, a body representing Wimax players, alleged on Tuesday that global equipment maker Qualcomm has intentions of hoarding spectrum and slowing broadband growth in India as the technology to be used by them would take at least another 3 years to be ready.
Qualcomm has possible intentions of hoarding spectrum should it win the spectrum in the forthcoming auction, Wimax Forum chairman C S Rao said.
"This in turn would slowdown the broadband growth in India as TD LTE (technology being promoted by Qualcomm) is not ready and does not have a single commercial rollout any where in the world," Rao said.
Players like Qualcomm had put in bids for BWA spectrum, which is generally used for offering Wimax services that enables fixed or fully mobile internet access, for rolling out another competing technology -- TD LTE.
TD-LTE (Long Term Evolution), is beyond third generation mobile broadband standard and is usually also referred to as 4G.
However, Qualcomm president India & South Asia Kanwalinder Singh said, "In India, 3G have already trounced Wimax in the race for mobile broadband. LTE, a compatible evolution of 3G. . . .
The 3G and LTE ecosystem is particularly compatible with India's need for affordable mobile broadband."
"Wimax will be a stranded investment due to lack of interoperability with 3G and existing wireless technologies, where as TD-LTE offers a seamless mobile broadband experience to consumers and protects operator investment in 3G", he said.
The WiMAX forum also said that TD LTE is not ready and would not be ready for three years.
"Ercisson wants this country to continue using 3G for their selfish corporate gains and they do not have the national interest of national broadband proliferation through WiMAX," Rao further added.
However, when asked about the availability of LTE, Haken Eriksson, chief technology officer of Swedish telecom equipment firm Ericsson, said, "LTE as technology is already launched, and is just months away from large scale deployments."
The auctions for BWA spectrum is due on April 11.