IT budget cuts, an improved ecosystem and more maturity have boosted the demand for open source applications in Indian enterprises, writes Brian Pereira.
The economic downturn may be regarded as a blessing in disguise for the open source community and proponents of open source software. The skeptics (read commercial software vendors) have suddenly become silent and are in fact willing to support open source, ironically finding that this move somehow works to their advantage.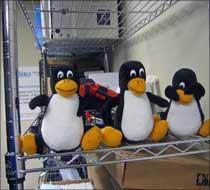 Decision makers no longer drag their feet when making a choice between proprietary or open source. And employees are gradually accepting open source.
In the past, companies turned to open source solutions to break free from the shackles of proprietary software vendors. Open source seemed like the promised land to those who could no longer deal with monopolistic practices, expensive software licenses and the arm twisting tactics of commercial software vendors.
Remember how a major database vendor started talking about licenses on a per-CPU basis in the days when companies started using parallel processing systems?
These days however, enterprises embrace open source for entirely different reasons. IT budget cuts during the downturn have forced companies to consider alternatives like free software, even for mission-critical applications.
Says Pravir Vohra, Group CTO, ICICI Bank, "We migrated from Microsoft Office to OpenOffice.org in 2002 - 2003. Our employees opposed the change vociferously. But they gradually learnt to accept it and this transition has saved us a lot of money."
Sheela Foam, manufacturer of Sleepwell mattresses, will enjoy a saving of Rs 50 lakh because of its migration from a proprietary ERP software to an open source solution running on the Red Hat Enterprise Linux platform.
Enterprises such as LIC, Axis Bank, HDFC Bank, ICICI Bank, YES Bank, Central Bank of India, Canara Bank, The Future Group and Bharti Airtel are also adopting open source solutions.
Sun Microsystems claims OpenOffice.org, its free office productivity suite, is downloaded 100,000 times a day. A year ago, Sun saw just half that number of downloads. Sun also claims that downloads of Glassfish, its open source application server, have doubled in the last one year, and that of MySQL, the open source database, have increased by 30 per cent. All the Fortune 500 companies are now using free software.
But it's not just about the savings. An Indian organization deployed Linux and Asterisk, a solution that converts a PC into a full-fledged EPABX system. This not only helped it reduce costs, but also allowed the company to add new features easily by just installing additional software modules rather than purchasing additional hardware.
The subscription model of open source makes it an attractive proposition in times when enterprises increasingly shift from a CAPEX to an OPEX model. In fact the pay-as-you-use or pay-for-what-you-use concept is also driving the adoption of models such as Software as a Service.
Open source subscriptions include free updates, support and a range of services. But the real attraction is the fact that enterprises are free to tinker around with the software, tweak it and adapt it to their needs. They can start paying for the software when they are comfortable with it.
Analyst View
Asheesh Raina, Principal Research Analyst, Software (Asia Pacific), Gartner
From a technology perspective, open source is getting more matured, worldwide. The architectural stack is getting more traction and we see more mission-critical applications used in enterprises. The same trend has percolated to the Indian enterprises albeit to a lesser extent, in terms of traction.
Open source has become more pervasive. We realise that open source is displacing revenues - in the application development and middleware spaces - from proprietary software. Indian enterprises are dedicating more resources for exploring open source initiatives within the organisation.
They are keen to use open source to leverage the cost containment and also pass on the benefit to the end user and customers.
Open source has grown a lot in the last five years. There are a lot more resources around it, right from training centres to support.
The BFSI sector has always been a big technology spender. The trend continues and they will spend the most on open source. Issues such as manageability, integration, interoperability, training, and skilled resources are still in the process of getting resolved. There are a few things that need to change.
Earlier people went in for open source because they wanted to break away from vendor lock-in. But now this intent has changed and cost-cutting has become the primary focus.
The transition is also easier now because open source has become more mature. The ecosystem is more developed because there are more private parties offering support, training etc. But there is still potential for more improvement.
Going forward I see that the traction will be higher but the complexities will also increase. There are multiple licensing agreements in open source and its users are expected to honor certain conditions. At the individual level you can get by, but as an enterprise, there are many conditions that you need to fulfill for the licensing agreements. Sometimes it also becomes a commercial software.
I think the ecosystem around it will be more on the usage aspect rather than the technology aspect.
Changing attitudes
It's benefits like these that have changed the attitude of enterprises towards open source solutions.
Opines Prakash Advani, partner manager for Central Asia, Canonical, "Initially there was a certain amount of resistance (towards open source) due to user resistance to change, but this has changed in the recent past."
Says Venkatesh Hariharan, corporate affairs director at Red Hat, "In the downturn people have more time to look at alternative options.  People are now looking at revitalizing systems and also at re-skilling. Getting people trained on new platforms is a new priority, so there's a lot more interest in open source. Around five years ago, there were a lot of questions about scalability, whether the business model will work etc. Those issues are no longer discussed and people are looking more closely at open source."
Five years ago, few IT managers were willing to consider open source solutions for business applications. There were many issues to be sorted out: support, skilled manpower, interoperability and integration. However, the scenario has changed today, thanks to a stronger ecosystem and greater maturity.
The shortage of skilled manpower was a stumbling block to open source in the past. But the ecosystem that offers training and support is much stronger today. Companies like Red Hat for instance, have good training programs. Red Hat offers training and certification at 300 locations across the country. It claims close to 15,000 Red Hat Certified Engineers in the country - the highest in the world.
Opines Asheesh Raina, principal research analyst, Software (Asia Pacific), Gartner, "The grey issues, such as licensing and support, have been addressed. There are many private  vendors trying to support these initiatives. Many proprietary software vendors are also trying to align their products with open source. They are no longer fighting against it."
Vendors of proprietary/commercial software cannot ignore the fact that the downturn has forced enterprises to go the open source way. In fact vendors have partnered with Linux developers. A notable example is the partnership between Microsoft and Red Hat.
Bowing to customer demand, Red Hat and Microsoft recently signed reciprocal agreements to ensure that there is interoperability between the two companies' virtualization platforms. According to the agreement each company will join the other's virtualization validation/certification program and will provide technical support for their mutual server virtualisation customers.
Traditionally the Telecom, Government and BFSI sectors have been the biggest adopters of open source. But the cost-benefit (and other aforementioned factors) is now driving other verticals to adopt open source solutions.
So, it seems like open source has finally arrived in the business world!