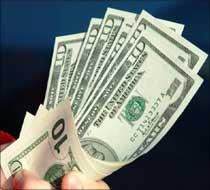 Struggling handset maker Nokia Corp on Thursday posted a net loss of Euro929 million ($1.21 billion) for the January-March quarter of 2012 due to greater-than expected competition coupled with decline in sales.

In the year-ago period, the company had posted a net profit of Euro344 million, Finnish company said.

For three months ended March 31, 2012, Nokia's net sales fell 29 per cent from year-earlier to Euro7.35 billion.

The company, which has been struggling over recent years to compete with rivals Apple, Samsung Electronics and HTC, attributed its quarterly loss to greater than expected competitive challenges coupled with charges related to restructuring activities.

"We are navigating through a significant company transition in an industry environment that continues to evolve and shift quickly. Over the last year we have made progress on our new strategy, but we have faced greater than expected competitive challenges," Nokia CEO Stephen Elop said.

The company said it sold 82.7 million mobile devices during the first quarter, down from 108.5 million devices the in the year-ago period.

Nokia's smartphone shipments declined to 11.9 million in the quarter under review from 24.2 million a year ago.

Nokia has registered decline in mobile phone sales across the geography.

However, the decline
was more prominent developing regions such as India, China and North America.
"The sequential decline in our mobile phones volumes in the first quarter 2012 was most pronounced in India and Europe," the company said.
Nokia said average selling prices for smartphones slipped to Euro143 in the first quarter of 2012 from Euro146 a year-ago, while average prices for basic mobile phones were decreased to Euro33, down from Euro40 in the same quarter of 2011.
The company had announced to cut more than 14,000 jobs worldwide in the last one year in order to save over Euro1 billion for the full year 2013.
Nokia said it plans to accelerate and substantially deepen devices and services cost savings, consistent with strategic focus.
It would share further details as quickly as possible.
During the quarter, the company was burdened by Euro1.08 billion one-time restructuring charges,including about Euro772 million for Nokia Siemens.
In terms of geographical analysis, the company's revenues fell 21 per cent to Euro1.82 billion from the Asia Pacific operations, 65 per cent from China to Euro787 million, 28 per cent from West Asia and Africa to Euro2.35 billion.
Overall sales of handsets in the Asia pacific region declined by 4 per cent to 26.1 million, 62 per cent in China to 9.2 million units, 50 per cent in North America to 0.6 million units and 32 per cent in Europe to 15.8 million units.