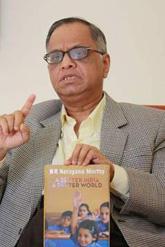 Infosys' chief mentor N R Naryana Murthy has hired Arjun RamegowdaNarayanaswamy to manage his Rs 600-crore (Rs 6 billion) venture capital (VC) fund -- Catamaran.
Narayanaswamy, a Massachusetts Institute of Technology graduate, joined the Catamaran board in December 2009. A senior Infosys official confirmed the appointment.
Murthy, in early December, had told Business Standard that "an extremely bright young man from MIT will manage the fund." Murthy had further added that VC fund was the best way to help youngsters and create jobs in the country.
Murthy will retire from the Infosys board in August 2011 on turning 65, and is expected to abdicate the chief mentorship too. After 2011, he will continue to be the largest shareholder of the company in his personal capacity.
Murthy, who till date has raised around Rs 600 crore by selling part of his as well as wife Sudha Murthy's stake in the company to support his venture capital interest, qualified his remarks by saying he will not invest in companies which compete with Infosys.
Murthy said the fund would start investing from March 2010, not only in early-stage companies needing angel funding, but also in late-stage companies.