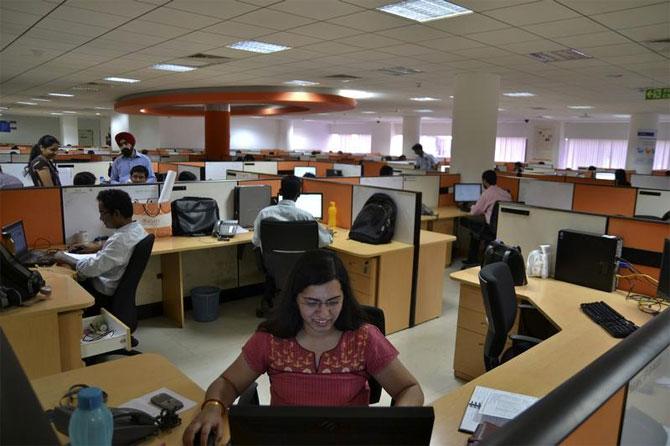 In India, regulatory innovation is ensuring that there is fast-paced development on the digital front.
No industry will be immune to disruptive innovations, whether the oil industry, auto industry or financial sector, in the next few years.
And, in India, incumbents and newcomers will have equal access as the country will leapfrog from being a "data-poor nation to a data-rich nation in just five years," according to Infosys co-founder and former chairman of the Unique Identification Authority of India Nandan Nilekani, below, left.
Making a presentation on 'The coming great disruption' as the Chief Guest at the Business Standard Annual Awards 2015 function in Mumbai on Thursday, Nilekani said all this would happen because value was shifting from enterprises to consumers.
Nilekani said disruptions caused by WhatsApp, Skype, Uber and Apple reflected this.
"WhatsApp manages 30 billion messages a day.
"This is much more than all the top telcos manage today.
"These guys are talking of offering voice. Just imagine what will happen," he said.
In a speech peppered with interesting anecdotes and data, Nilekani said new-age technology markets work on a winner-takes-all basis.
The company that establishes itself early enjoys disproportionate rewards, evident from the fact that Uber, with a valuation of $60 billion (Rs 4.11 lakh crore) is way ahead of rival Lyft valued at just $5 billion (Rs 34,279 crore).
Costs in the financial sector would also come down sharply.
For example, the onboarding or Know Your Customer process in the mutual fund industry costs around Rs 700-1,500 per person currently, leading to restriction in the number of people investing in these.
Consequently, only 10 million investors are there in the industry.
This number can go up to 100 million because through the electronic route, the cost will be coming down to Rs 10 per person. So, inclusion will happen due to market forces.
"For the first time, the government's goal of financial inclusion and market goal of expansion are happening at the same time," added Nilekani.
In India, regulatory innovation is ensuring that there is fast-paced development on the digital front.
For example, 14 banks were set up in the past 45 years. Since 2014, licences have been given to two banks and 21 small and payments banks, ushering in a new era of differentiated banking.
With the advent of technology, immediate payment service has surpassed money orders.
In 2014-15, around Rs 58,000 crore (Rs 580 billion) was transferred through IMPS, whereas Rs 12,000 crore (Rs 120 billion) was routed through money orders.
Paytm, set up in 2010, did more purchase transactions, 36 million, than HDFC Bank (30 million).
The latter number includes credit and debt transactions at point of sale in 2015. IMPS is set to overtake sales through cards as well.
This trend is evident in media as well. Google rakes in more advertising revenue than the entire US print media (in dollars).
In India, the combined circulation of the top 10 Indian newspapers is 24 million whereas Daily Hunt, a news application, has 22 million active monthly users.
Nilekani said there were four sources of disruption: New technology (mobile, data and algorithms); reduced costs (paperless process and digital reach); market forces (consumer behaviour); and regulatory changes (new players and approaches).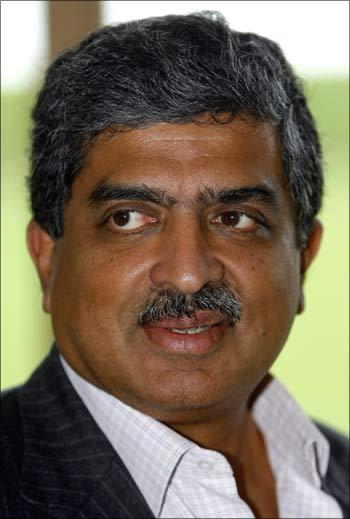 "India is set to take advantage of the digital revolution because of the exponential rise in the number of smartphones in coming years as this is rising exponentially and we are moving toward a cashless system," said Nilekani.
In the past 18 months, smartphone numbers have grown from 40 million to 150 million, with 41 per cent of e-commerce sales happening through the mobile in 2014, which was more than in countries like China, UK, France, Brazil, Australian, US and others. And e-commerce is set to grow four times by 2020.
Nilekani said a lot of potential existed going forward as only three per cent of mobile recharges and utility bills were paid for digitally and five per cent of personal expenses were made electronically.
A billion people are expected to be covered under the Jan Dhan Yojana by end 2016, with direct benefits transfer going digital through Aadhaar, an initiative of the UIDAI.
Already three million transfers take place a day through the DBT.
The annual estimates of money that would be transferred through this route will be Rs 3 lakh crore (Rs 3 trillion) through four billion transactions.
Other initiatives of the government like the goods and services tax network, Bharat bill payment system and electronic toll collection system, will also increase the digital footprint.
MARKET IS REWARDING DISRUPTIVE INNOVATORS
It will happen at speed and scale
These are 'winner takes it all' markets
Consumers will be in charge
Distribution via smartphone
Market value will be created and destroyed
In India:
We have open platforms
India provides a level playing field
We will go from data poor to data rich
Lower cost will fuel growth by 10 times
Incumbents and newcomers have equal access
The top image is used for representational purpose only. Photograph: Reuters